If you really want to celebrate winter, then it's time for a trek.
Tap into your inner adventure junkie and head straight to our majestic Himalayas.
Yes, the cold can be truly brutal. And trekking at this time may feel daunting.
That's why we have put together fairly easy, single-day trek options for the ultimate snow experience.
The most welcoming aspect is that you won't even need to get a guide for these beautiful hikes, because the trails are pretty straightforward. Doing a trek by yourself complies with the true spirit of trekking.
A word of caution: Even though these are easy gradient Himalayan treks and perfectly suitable for first timers, it's important to know that trekking in general is strenuous physical activity.
Before you embark on any of these journeys, make sure you have attained the required physical fitness to enjoy your trek to the fullest.
Seven quick itineraries for single-day Himalayan treks to soak in the beauty of our frosty paradise:
Deoria Tal Trek
The trek to Deoria Tal (tal is lake), which lies near the Himalayan village of Sari in the Kedarnath region of Uttarakhand, takes you to an altitude of 2,450 metres.
It is a great choice for adventure seekers and nature lovers alike, for the panoramic views of the Chaukhamba peak and the surrounding Himalayan range. The reflection of the peaks in the lake adds to the stunning beauty of the landscape.
In winter you can find ample snow on the trail and snow may be falling as you trek depending on the weather.
You have to reach Sari, which is the base village, located near Ukhimath, and then begin ascending. The whole trek is about 3-4 km in distance and the route is well-marked. It will take you two or three hours to ascend.
If you spend another hour at the lake and one or two hours to descend, you are talking about a maximum six hours.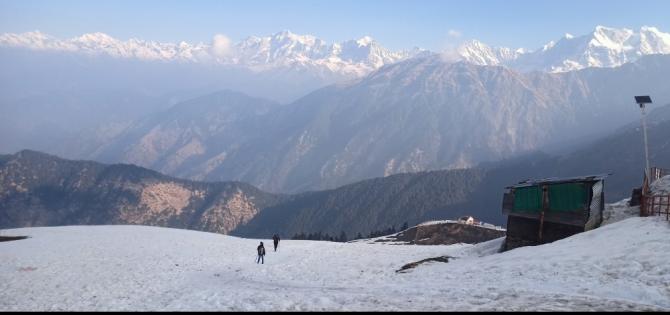 Chopta Tungnath-Chandrashila Trek
The trek to Chopta Tungnath-Chandrashila starts from Chopta village, which is just a few kilometres ahead of Sari in Uttarakhand.
Located at a height of about 3,690 metres, the trek difficulty level is easy to moderate, and it is very do-able in a day if you start early in the morning.
Throughout this trek, you will be following a well-defined trail for about 12 km to complete the trek to Chandrashila and back to the base village, Chopta.
A visit to the holy Tugnath temple, notable for being the highest Shiva temple in the world, is the major attraction of the trail and it lies right below the summit point of Chandrashila. One can see the grandiosity of the Kedarnath range and Nanda Devi range up close during the trek.
Lamadugh Trek
Shepherd's trail is another name for the Lamadugh trek and is considered one of the best trekking spots near Manali for first-timers.
At 3,018 metres, the trek is five hours of climbing from the Hidimba Devi temple in Old Manali. It's a glamourous neighbourhood and you will be treated to great fodder for the eyes and moments of lush greenery!
After a climb up to Lamadugh, you will arrive at a site of beautiful meadows and witness the Dhauladhar and Pir Panjal ranges. The raging Beas river flowing through Kullu and Manali valley adds to the scenic beauty.
Spend some time by the Beas with your packed lunch before beginning the descent back to Manali. That's an easy, day trek accomplished! 🙂
For more information on Manali read this travelog: Rediscovering Manali.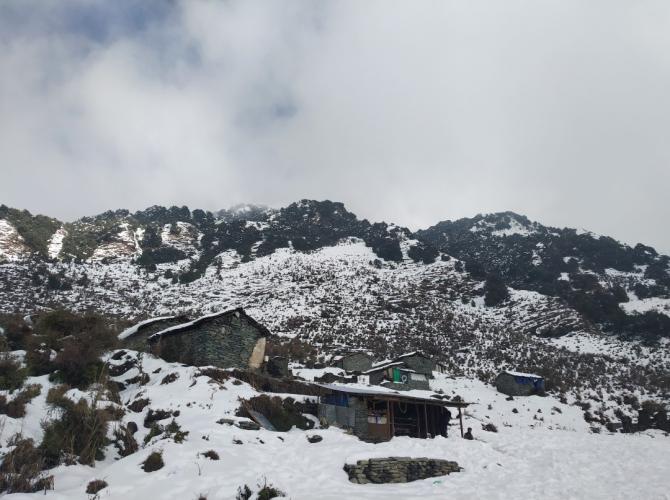 Triund Trek
Positioned at 2,850 metres, the Triund trek is one of the easiest Himalayan treks.
The bonus points are breathtaking glimpses of the snow-laden Dhauladhar range and the gorgeous Kangra valley. There are steep little patches at some points, but still the trail gives you a good taste of an adventure suitable for novice trekkers.
McLeodganj, which is the residence of His Holiness the Dalai Lama, marks the starting point of the trek.
On your return from the day-long hike, you can explore the town's Tibetan culture. The place is filled with colourful monasteries, bustling local markets, cafes, and then there's the lovely hospitality of its people.
For more information on McLeodganj read this travelog: My trip to McLeodganj.
Nag Tibba Trek
Situated in the lower Himalayan region of Uttarakhand, Nag Tibba lies at an altitude of 3,022 metres and receives a good amount of snowfall during winter.
It is a popular weekend getaway near Dehradun and Mussoorie. Travellers reach Pantwari, a quaint village that's a four hour drive away from Dehradun.
Park right there and start your trek. The 8-km long trail goes through sprawling forests of oak and deodar before reaching a lookout point that offers mesmerising sightings of the white Himalayas.
You can spot Bandarpoonch peak, Gangotri peak, and the Kedarnath Peak from Nag Tibba peak. This trek derives its name from a temple which is dedicated to a serpent god.
For more information on Mussoorie read this travelog: Mussoorie Diary.
Naina Peak Trek
One of the standout spots in Uttarakhand's popular hill station Nainital, Naina Peak attracts hordes of travellers who want to see an elevated view of the famed kidney-shaped Naini Lake.
At 2,615 metres, Naina Peak is the highest peak in Nainital and remains blanketed in snow during the peak winter months.
Also known as China Peak, the trail upwards is a steep but easy one. It takes about an hour to reach the summit. The trail passes deodar and cypress trees, pine forests, and rhododendrons.
Reaching the top is worth all the effort. You are rewarded incredible dekkhos of snowy mountains, Nainital, and a gorgeous sunset. This trek screams perfection!
For more information on Nainital read this travelog: Honeymoon travels: Trekking in Nainital.
Bijli Mahadev Trek
The Bijli Mahadev trek to 2,450 metres is named for the Lord Shiva temple, situated at one end of Mathan hill in Kullu district.
Located in the inner reaches of the Kais wildlife sanctuary, the hill is surrounded by not one or two, but four different valleys: The Parvati valley, Garsa valley, Bhunter valley and Kullu valley. The staggering tableau against a backdrop of the Himalayan peaks will leave you bewitched. The region has rich flora and fauna.
The trek is open throughout the year but is heavily enshrouded in snow in winter. A steep climb of 5-6 km from Kinja village takes you to astounding vistas of the Pir Panjal range as you reach the pinnacle of this trek.
Being a pilgrimage site, it has a well-established trail and there is no fear of getting lost. Many small shops are available for quick refreshments during trekking. And the temple is rather pretty.
Important Tips:
Hydration: It is vital to keep yourself hydrated during high-altitude trekking. Water sources are scarce up in the mountains so carry enough water.
Go steady: A pole or stick can be useful while descending. It provides a good grip for a steady trek. It also helps to avoid knee-related injuries. Carry one or two depending on your needs.
A good grip is very important: Equip yourself with a pair of sturdy, waterproof trekking shoes for a better trekking experience.
Wear enough warm layers.
Replenish your energy at all times: Always carry small edibles like chocolates, cookies, dried fruits etc as instant energy boosters.
No littering: Keep a paper bag or disposable pouch to keep all the waste from your trek and dispose of it once you're back at your starting point.
Mayur Sanap is a man of many treks. In Maharashtra he has hiked to several popular and lesser-known peaks in the Sahyadri region, and that includes two visits to Kalsubai, Maharashtra's highest peak. In Kerala, Anamudi. In Karnataka, Mullayanagiri. In Rajasthan, Shanti Shikhar.
He prefers the Himalayas and has reached various upper-ish regions of the Himalayas in Himachal Pradesh, Uttarakhand, and Nepal, ticking off the many treks on his wishlist.
He has done six out of the seven the treks listed here — all except Nag Tibba, but that's his next destination and he has gathered all the data he needs for the trek and has shared it here.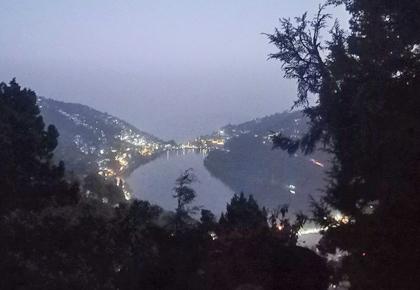 Source: Read Full Article