Bigg Boss 14 has none of the sheen of the last season. The contestants are trying hard to provide entertainment, but it's all hit and miss. Last week, there was another entertainment task inside the house. Neeti Mohan, Shaan and DJ Chetas had come. The contestants had to keep dancing all along. Nikki Tamboli was very involved in the task. She danced her heart out throughout on the floor. Nikki Tamboli outdid the rest in the dance department. The others were busy planning and discussing about who is best qualified to be the next captain. This left viewers upset. People also pointed out that these housemates were downright disrespectful towards the guests.
After that, she slept really late. This left Aly Goni really irritated. He told her time and again to get up. Nikki Tamboli pretended to sleep without giving a damn. She did a lot of drama. Finally, Aly Goni got upset and said that he did drag her out of bed. This statement left Nikki Tamboli upset. She started a fight with him. There did not seem to be any need for it as Aly Goni had indeed requested her politely. Around 73 % of viewers also feel that she did some drama just for footage.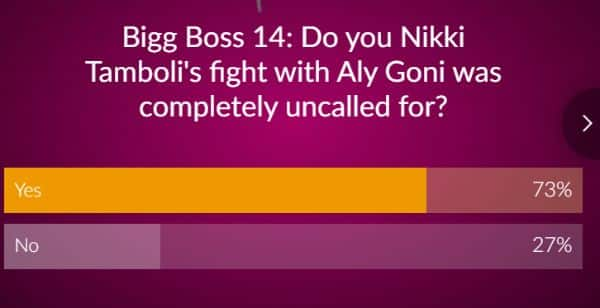 Viewers feel that Nikki Tamboli yelled at Aly Goni just to create some drama. There has been a rift between Jaan Kumar Sanu and Nikki Tamboli on the show. It is obvious that she is fed up of him. It looks like she is trying to be friends with Aly Goni or atleast create content with him. As it is, very few people are giving content on the show.
Source: Read Full Article