Bigg Boss 14 has finally got the audience interested in the show. The contestants are now playing a good game in the house. Kavita Kaushik had entered the show as a wildcard but was evicted in a week as the audience did not like her ugly fight with Eijaz Khan. She was pissed off with Eijaz Khan's behaviour and screamed at him. She used dirty words and also pushed him. However, she returned to the show again. But her fight with Eijaz Khan is still continuing. Recently, Bigg Boss introduced the jail in the house and asked the housemates to choose two contestants who should be punished for their behaviour that week. Kavita took Eijaz Khan's name and called him a false and fake person, who always plays a victim card. She went on to say him 'Bakwaas' person, who shed crocodile tears and tells everyone about his personal things. She also accuses him of having a fake relationship angle with Pavitra Punia.
Eijaz could not take it and angrily asks the housemates how can they let Kavita speak all such nasty things about him. He asks them why they are quiet. Kavita Kaushik then went towards him and screamed that he should play alone like her and not ask others for help from everyone. She even warned him that he should prey that she should not meet her outside the Bigg Boss house. These harsh words from Kavita Kaushik hurt Eijaz. Hence we had asked fans if they feel that Kavita Kaushik's outburst against Eijaz Khan was right or not. Fans have given their verdict and they feel that it was not right. 63% of people feel that Kavita Kaushik's outburst was not right while the rest 37% feel it was right.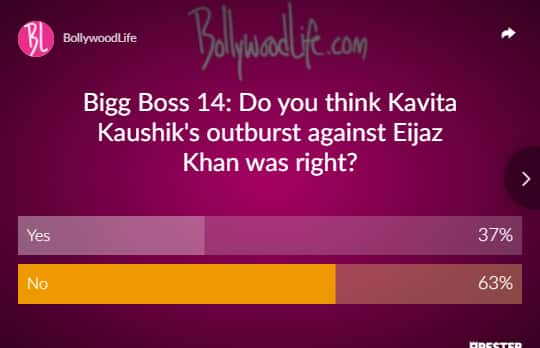 Well, these fights are not over yet and we saw even in yesterday's episode, Eijaz and Kavita had a heated argument. It seems the house has already got its enemies forever.
Source: Read Full Article