Bigg Boss 14 began on October 3 and has been the talk of the town now. The show has been the most awaited one and the premiere episode was loved by the audience. Post that we have seen so many interesting things happening in the house. In the first week itself, Bigg Boss nominated all the contestants for eviction and later gave them a chance to win immunity. In the first task, Abhinav Shukla won and later Bigg Boss gave the girls of the house a chance to get immunity. They had to impress Sidharth Shukla to win this task. The girls left no stone unturned to win this task. It was a three-round task wherein in the last round, we saw Jasmin Bhasin, Nikki Tamboli and Pavitra Punia fighting it out. They were given glasses filled with juice and had to move around in the garden area. The one who had more amount of juice left in the glasses will win the round. However, in order to put Nikki out and support Jasmin, Shehzad Deol emptied 3 glasses from Nikki's tray and later she threw all of them and also spoilt Pavitra's glasses.
Pavitra went on to spoil Jasmin Bhasin's game. In the end, there was no winner left but Jasmin and the entire house agreed that Jasmin had the tray till the end. But Bigg Boss left the decision with Sidharth. He decided to announce Nikki as the winner as her game was spoilt by Shehzad Deol. We had earlier asked fans if they feel Sidharth was right in this. Fans have given their verdict and said that Sidharth was wrong in choosing Nikki Tamboli over Jasmin Bhasin during the immunity task. 85 % of people feel he was wrong while thee rest have supported his decision. Take a look at the results: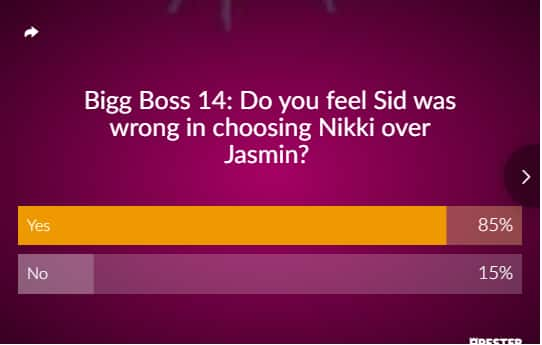 Talking about Nikki Tamboli, she is the first contestant who has been confirmed by the seniors and now has powers just like the seniors have.
Source: Read Full Article