In an Instagram Story, the 'Magic Mike' actor admits that while he's a fan of the comedian, he acknowledges how hurtful the comedian's comments about trans people are.
AceShowbiz –Channing Tatum has weighed in on the controversy surrounding Dave Chappelle, who has been criticized for his transphobic remarks on his new special on Netflix. Taking to his Instagram account, Channing admitted that while he's a fan of the comedian, he acknowledged how hurtful Dave's comments were.
In an Instagram Story on Sunday, October 17, the "Magic Mike" actor wrote, "I understand that Dave is a very dangerous person to talk about at the moment." He continued, "I understand and hate that he has hurt so many people with he has said."
Referring to a clip of Dave sharing the advice his mother gave him when he was a "sensitive" child, Channing went on to say, "Any human can hurt someone (usually cause they're hurt) but any human can heal and heal others just the same. This little piece healed me back in the day. I can't forget that."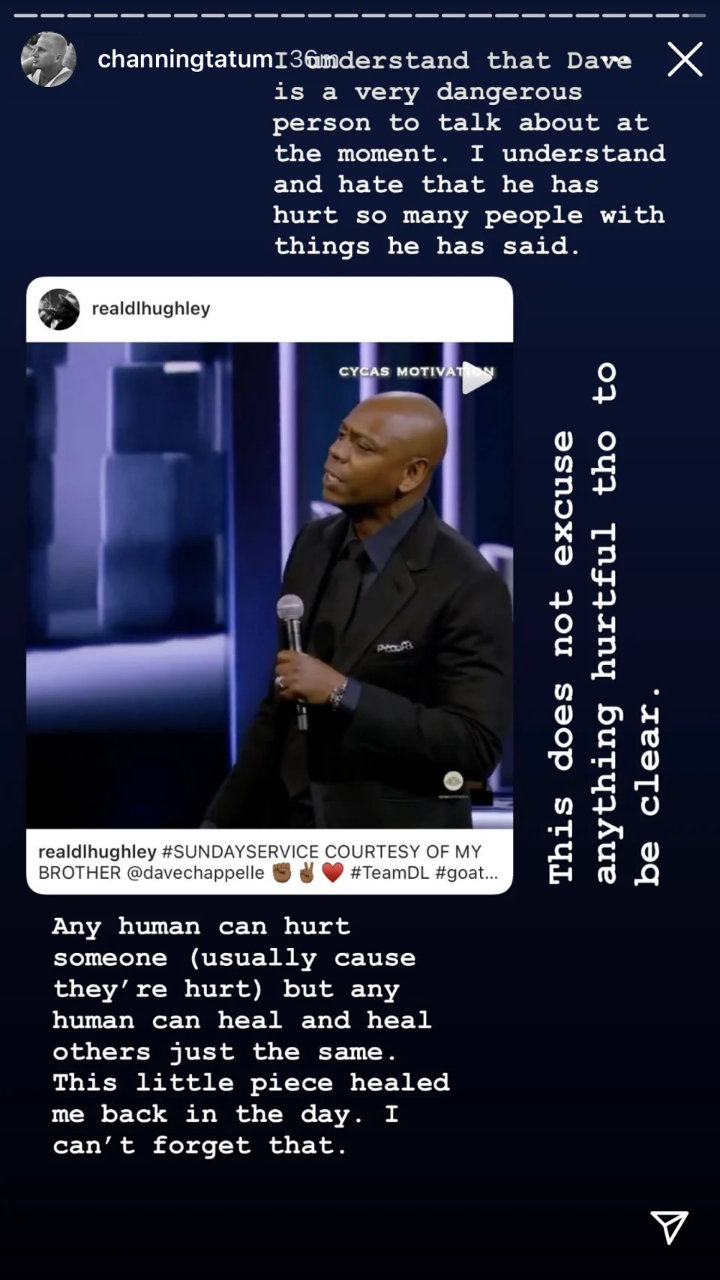 Channing Tatum commented on Dave Chappelle controversy.
In the video, Dave said, "I was a soft kid. I was sensitive, I'd cry easy and I would be scared to fistfight." The comedian continued, "My mother used to tell me this thing… 'Son, sometimes you have to be a lion so you can be the lamb you really are.' I talk this s**t like a lion. I'm not afraid of any of you. When it comes word to word, I will gab with the best of them, just so I can chill and be me."
"And that's why I love my art form, because I understand every practitioner of it. Whether I agree with them or not, I know where they're coming from. They want to be heard. They've got something to say. There's something they noticed. They just want to be understood. I loved this genre. It saved my life," he added.
Dave landed in hot water for his remarks on "The Closer". "Gender is a fact. Every human being in this room, every human being on earth, had to pass through the legs of a woman to be on earth. That is a fact," he said on the special, before making fun of the genitalia of trans women.
Additionally, Dave defended "Harry Potter" author J.K. Rowling, who has been labeled TERF (Trans-Exclusionary Radical Feminist). "They canceled J.K. Rowling — my God," he said. "Effectually she said gender was a fact. The trans community got mad as sh**, they started calling her a TERF. I'm team TERF… Gender is a fact."
Source: Read Full Article