'Delhi-ites are anything but boring.'
Simran Dhir is a Delhi-based lawyer who recently published her first novel Best Intentions.
Set in the heart of India's capital city, Gayatri Mehra is the lead character of the story — the eldest sibling and a spunky lawyer, who enjoys editing a history journal. She is single, loves her freedom and is annoyed when her parents emotionally blackmail her into meeting prospective grooms for marriage.
Her sister Nandini, who is married to Amar, the younger son of Gyan Singh Grewal, a rich lawyer turned politician, is not happy and wants a divorce.
Meanwhile, one of Gayatri's features in the journal attracts the ire of a right-wing group led by a godman for which she seeks help from Akshay, Grewal's eldest son.
Gayatri dislikes Akshay and initially struggles to get along. As time passes — predictable as it may sound — both develop feelings for each other.
But hey, there's a twist. Enter Vikram Gera, an ambitious London-based banker who takes a shine to Gayatri but also has a bigger plan, unaware of Gayatri's emotions.
How Gayatri navigates her way through these life adventures and situations is what Best Intentions is about.
You may read an excerpt from the novel here.
Simran, pictured left, below, I'd love to believe has a few things common with Gayatri — both are lawyers who love history and are based out of Delhi. But the similarities end there.
After graduating from the National Law School of India in 2007, Simran worked for a law firm in London for a few years before returning to India.
Simran lives with her husband and five-year-old son in Delhi where she practises competition law.
While her first book may have all the ingredients you would need for a Bollywood potboiler — politics, romance, action and a powerful villain — Simran says she doesn't plan to quit law to become a full-time author.
"My legal work keeps me in touch with the real world — a writer's life can get quite lonely," Simran tells Rediff.com's Divya Nair in an e-mail interview.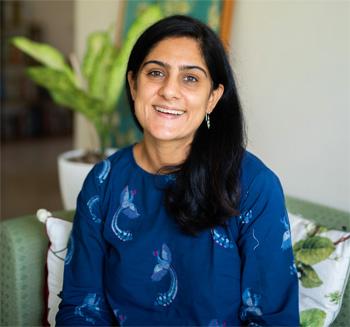 This is your debut novel. How did the idea for this novel come about and why did you decide to write it?
I started writing because of an urge I felt to write a story.
I had taken some time off work, and started to visit a small history-focused library in Delhi in 2014. Sitting there, I would read and study the books, and spend some time writing too.
The characters came easily to me, as if the story was already sitting in my head somewhere.
From idea to execution, how much time did you take to finish the book?
I started writing in 2015, and finished in 2019.
I was also working as a lawyer through this period, moved cities, and had a child, so there was a lot of other stuff going on too.
What was the most interesting part of becoming an author?
The fun part was coming to my laptop each day not knowing what I was going to write that day.
The story flowed easily from beginning to end, sometimes surprising me with where it was going.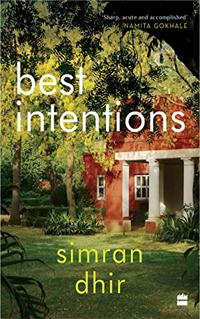 How have your personal experiences shaped the book and its characters?
The setting of the book is Delhi that is familiar to me, one that I love.
The Punjabi families and their manner of talking and living is also influenced by people around me.
The conflict in the book between a black-and-white sort of politics and a politics with nuances is something that I have thought about deeply.
Like the characters in your book, even modern young Indian women and men, with the firm ability to self-determine their lives, face some of the age-old issues of pressure to 'get married' from their parents. What's your personal take on that?
Indian middle and upper class society does seem to be in a bit of a flux, with times changing faster than mindsets.
On the whole though, parents mean well when they 'pressure' their children, as they are mostly looking to ensure that their kids have family around even after they are gone.
Of course, stretching this to unreasonable limits and forcing unsuited matches is where things start to go wrong.
Your book seems to more than mildly parody the well-to-do Delhi lifestyle and outlook. Is there anything that irks you most about the Delhi social scene?
I don't think anything about Delhi society irks me.
People are always fascinating except when they are boring.
Delhi-ites, at the risk of generalising, are anything but boring. So their quirks — such as exaggeration, showing off, excesses of all sorts — provide great fodder for a writer.
I hope my affection for these Delhi characters comes across in the book.
At some point, did you also want to quit law to pursue writing?
I find that my legal work keeps me in touch with the real world — a writer's life can get quite lonely.
I also happen to enjoy the field of law that I practice, so it's never been a conflict for me to be both a writer and a lawyer.
How would you describe Delhi and the Dilliwallah to a Mumbaikar?
It's tough to generalise, but I think a Dilliwallah is all heart and some jugaad, mixed with a generous helping of rude language.
What's the best career advice that you have ever received? Also, is there any advice you could offer our younger audience about becoming a lawyer — for those who are planning to choose law as a career?
I'd advise aspiring lawyers to develop basic skills like articulation of arguments, writing skills and logical thinking.
What's next? Another novel?
Yes, another novel, also set in Delhi, but with a different cast of characters from the lot in Best Intentions. Let's see how it goes!
Source: Read Full Article