This Eid-ul-Fitr try out these tasty dishes.
Rediff.com reader Reshma Aslam shares 5 recipes for some amazing dishes you can make on Eid, or any other day.
Khubani ka meetha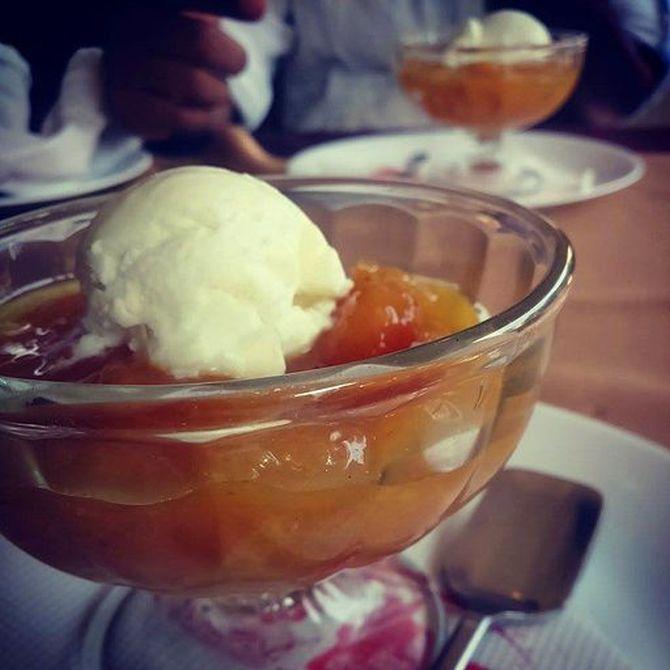 Ingredients
250 gm khubani (apricots)
One litre of water
One scoop of ice cream (vanilla preferably)
2 cups sugar
Few almonds (sliced for garnishing)
Method
Soak the khubanis overnight in a litre of water.
In the morning, deseed it. Put it in a pan and cook on low flame with the water in which it was soaked. Cover the pan.
When some water of the khubanis has dried up, add sugar and cook till water completely dries up.
Keep on mashing the khubanis with the spoon.
Once a dry and pulpy form is obtained, remove it from the gas.
Put it in a serving bowl or glass.
Top it up with a scoop of ice cream and sliced almonds. Serve.
Chicken Kabsa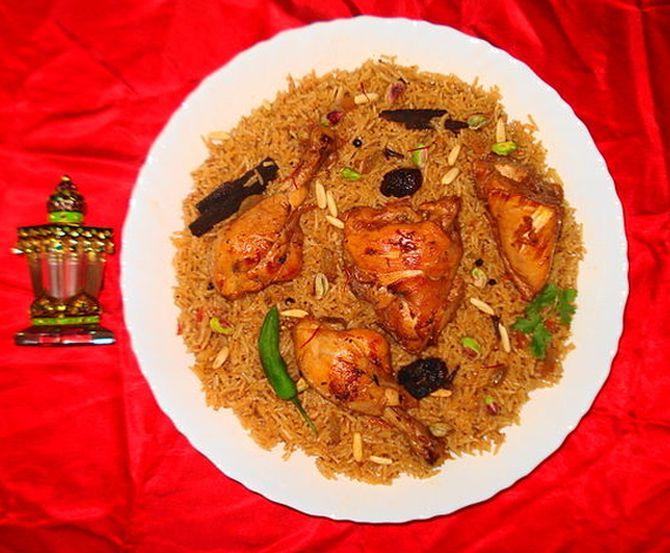 Ingredients
1 whole chicken (cut into pieces)
2 tbsp oil
2 tbsp tandoori masala
1/2 cup thick curd
1 tbsp chilli powder
1 tbsp ginger garlic paste
1 tsp turmeric powder
2 tsp coriander powder
1 tbsp Schezwan sauce
1/2 tbsp chilli sauce
2 tsp vinegar
1/2 sella basmati rice
1 cup capsicum and carrots (chopped)
2 boiled eggs
Some chopped coriander leaves (for garnishing)
Some more oil for deep frying
Salt to taste
Method
Wash and drain chicken pieces well. Make big gashes all over the chicken.
Take a mixing bowl and add the chicken pieces, salt, ginger garlic paste, tandoori masala, chilli powder, turmeric powder and thick curd. Mix it well.
Apply the mixture well inside the gashes. Marinate the chicken for six to eight hours.
Once the marination process is done, add some oil in the pan for deep frying. (You can deep fry the chicken in oil. If you have an oven you can grill according to the time and temperature prescribed on the oven for grilling chicken).
Once the chicken is grilled, keep it aside. Do not discard the residue masala in the mixing bowl in which the chicken was marinated.
Boil the Basmati rice completely. Keep it aside.
Take a vessel and add two tablespoons of oil.
Add the residue masala from the mixing bowl. Fry for two to three minutes.
Add capsicum and carrots. Fry further.
Add Schezwan sauce, chilli sauce and vinegar. Keep frying.
Add the rice and stir fry well, until the rice gets covered with the masala and it obtains an orange colour.
Simmer on low flame for few more minutes.
Once done, dish out the rice in a big plate and spread it well.
Arrange the fried chicken pieces on the rice.
Garnish with boiled eggs and chopped coriander leaves. Serve.
Malaidar Murgh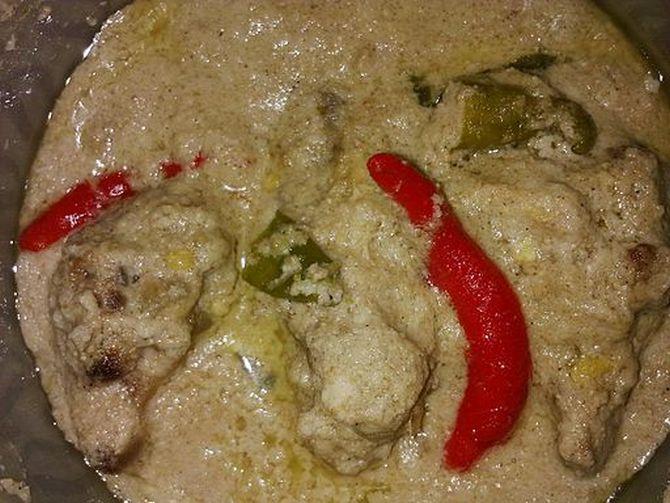 Ingredients
1/2 kg chicken pieces
1/2 cup oil
2 to 3 tbsp butter
1 cup fried onions (grinded)
1/2 cup thick curd
1/2 cup fresh cream
2 tbsp cashew nut paste
6 green chillies (chopped)
1 tbsp ginger garlic paste
1 tsp garam masala powder
1 tbsp kasuri methi
Few coriander leaves (chopped)

1 tbsp roasted masala (equal quantity of whole red chilli, fennel, coriander seeds and cumin seeds)

1 tsp black cumin seeds (shah jeera)
Salt to taste
Method
Heat oil and butter together in a pan.
Add black cumin seeds. When nice and golden, add kasuri methi.
Add ginger garlic paste and fry well.
Add the chicken pieces and fry for few minutes. Add salt.
Add the ground onions, chopped chillies, cashew nut paste and thick curd. Mix it well.
Add roasted masala and garam masala powder. Simmer and cook for about 20 minutes till the water dries up and the thick gravy is seen.
Put fresh cream and cook till one boil.
Garnish with chopped coriander. Serve.
Nawabi Dum Biryani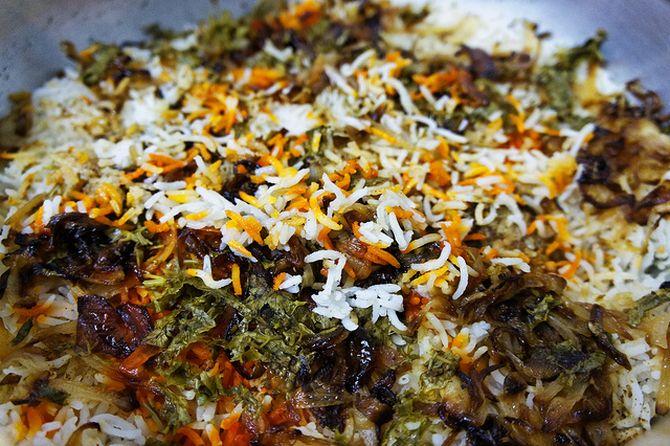 Ingredients
1 kg Basmati rice
2 1/2 kg mutton pieces with fat
3 to 4 tbsp ginger garlic paste
6 to 7 green chillies (chopped)
1/2 cup mint and coriander leaves (chopped)
5 to 6 green cardamoms
2 inch piece of cinnamon stick
2 to 3 bay leaves
Few cloves and peppercorns
500 gm thick yoghurt
2 cups fried onions
2 tbsp lemon juice
1 cup pure ghee
1 cup milk boiled with few strands of saffron
2 tbsp papaya paste
1 tbsp turmeric powder
2 tbsp chilli powder
A medium ball of dough made with wheat flour
Salt to taste
Method
Parboil the Basmati rice with 2 to 3 cardamoms, one to two bay leaves. Once done, drain and keep aside.
Take a big mixing bowl and add the mutton pieces.
Add salt, thick yoghurt, turmeric powder, red chilli powder, papaya paste and lemon juice. Mix it well.
Add cardamoms, cinnamon stick, cloves, peppercorns, coriander and mint leaves, ginger garlic paste, green chillies and remaining bay leaves. Mix it further.
Add half cup of ghee and keep mixing. Add fried onions too.
Refrigerate the mutton mixture for six to eight hours (preferably overnight) for marination.
Once marinated, put it in a big vessel and spread it well all around the base.
Add Basmati rice on top of it and spread it properly.
Add milk with saffron all over the rice along with the remaining half cup of ghee.
Make a roll of the dough. Put it around the edges of the vessel.
Cover the vessel with with a lid. Press it down so that it seals well.
Put a weight on the lid, like half a brick.
Place a frying pan on the gas on low flame. Keep the vessel on it and let it cook for 45 to 50 minutes.
Once cooked, remove it from the frying pan. Serve with raita of your choice.
Hyderabadi Shahi Sheer Khurma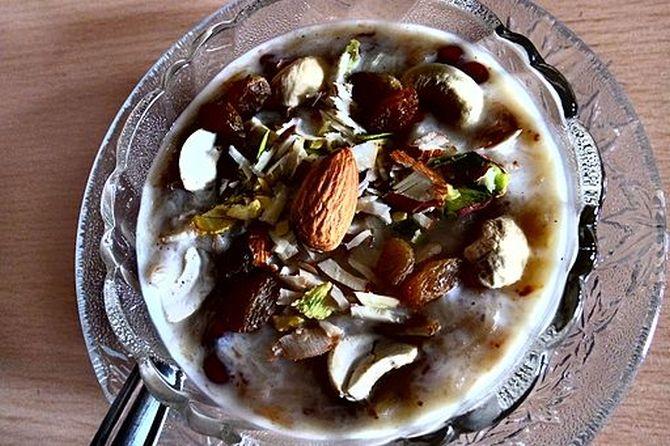 Ingredients
2 litres of milk
1/4 cup almonds
1/4 cup cashews
1/4 cup pistas
1/4 cup dry dates (chopped)
1/4 cup raisins
1 cup fresh cream
2 cups sugar
1 cup roasted seviyan
1 cup pure ghee (clarified butter)
Method
In a small bowl, soak almonds, cashews and pistas overnight.
Peel them in the morning. Slice them into small pieces.
Boil milk in a non-stick vessel till it reaches three fourth of its quantity. Keep stirring.
Once done, remove from the pure ghee and all the peeled dry fruits. Fry until they turn golden brown. Remove the pan the gas and keep it aside.
Add raisins and dry dates in the same pan and fry.
When the raisins start to swell, remove them from the pan and keep it aside.
In the same pan, add roasted seviyan and fry until they turn golden.
Keep stirring or the mixture might get burnt. Once done, keep it aside.
Take a heavy bottom pan. Add sugar and keep the flame low and stir nicely. Allow it to caramelise and reach a nice golden colour.
When done, put the caramelised sugar in the boiled milk. Stir it well.
Slowly add seviyan, dry fruits, dates and raisins.
Add fresh cream and simmer on low flame for 15 to 20 minutes. Serve.
Note
After adding sugar to caramelise, it may form lumps. Don't worry as it will melt with the heat.
When you mix the caramelised sugar in the milk, the mixture will start to bubble, as the milk is still hot.
Sugar can be adjusted after tasting.
You can garnish with one or two pieces of whole dry fruits before serving.
Also check out these recipes:
DROOL: Outrageously yummy recipes
Badshahi Gosht, Nawabi Biryani, Sheer Khurma
Do you have an interesting recipe to share?
Write in to us at [email protected] rediff.co.in (Subject line: Recipe) with your name, hometown and interesting details about the origin of the recipe, along with a photograph if possible.
We'll publish the best recipes on Rediff.com and in India Abroad.
Source: Read Full Article