Akshay Gupta reveals how he turned his life around.
I was 22 when I became a chartered accountant.
Three years later, I got married.
Soon there were problems in our relationship which adversely affected both my personal and professional lives.
It led to unhealthy eating habits, impacting my health and overall well-being.
I began losing track of the good life and reached my highest weight of 88 kg.
Although I was never overweight, I was at a very strange place in my life and needed something to give me a purpose.
With fitness, I found my passion and my purpose.
I've always looked up to actor Akshay Kumar for inspiration. So I quit my job and looked for courses in fitness.
I learned about the Institute of Nutrition and Fitness Sciences through Fittr (an online health and fitness community).
I did not hire any coach. My friend Kishor, who works as a coach with Fittr, helped me with my diet and fitness.
I did not sign up for a gym. Instead I invested approximately Rs 8,000 in basic equipment like dumbbells, plates etc and mostly worked out at home.
I implemented quantified nutrition and resistance training. Additionally, I began g vciving free training to people on Facebook.
This boosted my confidence and helped build my strength.
Diet and workout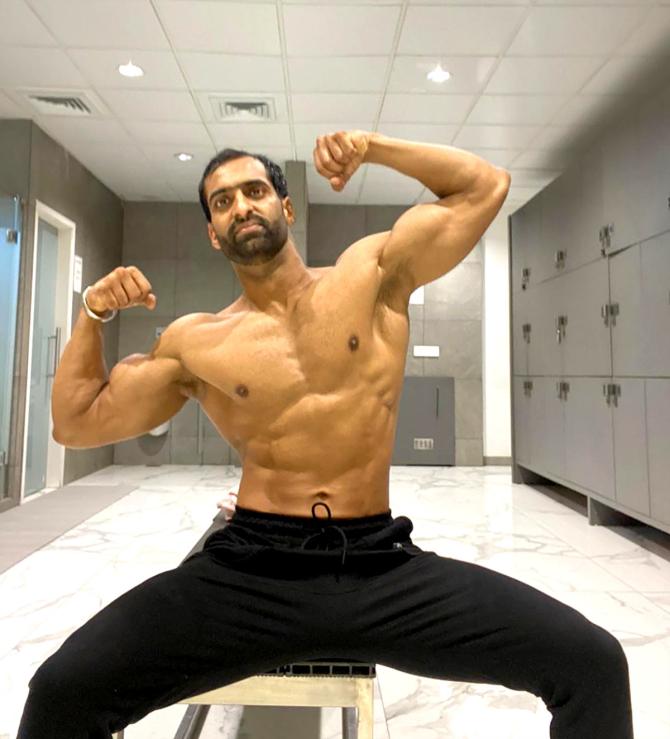 I work out approximately 1-2 hours in a day which includes body weight training along with gym workouts.
I am a pure vegetarian and do not eat anything special.
I have paneer, lentils, rice, roti, ghee, butter, green veggies and whey protein, if required, to complete my protein intake.
With these simple diet changes, I lost 10 kg in 3 months. But it took me a year to get in shape and become one of the fittest versions of me.
I am 72 kg now.
In September 2019, I participated in Fittr's transformation challenge but didn't make it through.
I tried again and made it to the top 100 in TC (an online transformation challenge) 9. I participated again in TC 10, this time more determined than ever. My consistency and self-belief paid off and I won TC 10.
What made this win even sweeter was the grand prize — a Mahindra Thar.
The challenges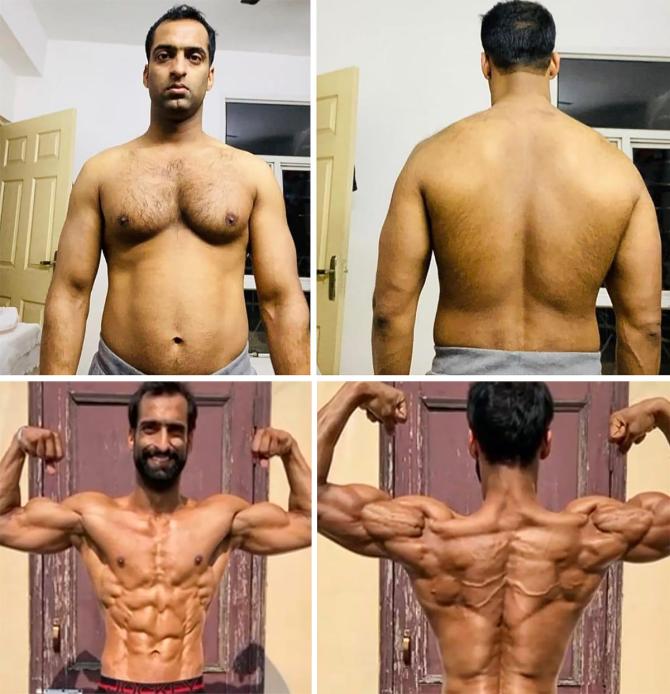 When I was in deficit, as a vegetarian, I had limited food choices.
During my fitness journey, I missed my mother's and my own birthday celebrations. I even missed my sister's wedding ceremony.
Another challenge has been resisting my cravings for sweets.
Since I have a sweet tooth, I would often find myself running around to avoid these cravings.
Lessons learned
There are no tricks in fitness. Hard work, knowledge, and a positive mindset plays a big role.
But, if you call consistency a trick, then yes, it was consistency that worked for me.
Some of my learnings I'd like to share with you:
1. Don't take short cuts for achieving a good physique.
2. Fitness is not a destination, it's a journey.
3. Don't lose hope when you don't get what you want. Instead, work hard to get what you want and keep fighting for it.
4. I will not stop in my journey. And neither should you.
5. Follow your diet plan strictly.
6. Be consistent in your fitness journey.
7. Don't get caught up in cheat meals and don't cheat on your workouts.
My goal is to make 1 million people fit in the next 5 years. While doing so, I also want to help develop at least 20 future coaches each year with my knowledge.
DON'T MISS! More Inspiring FAT to FIT features
Have you recently lost weight or survived a health condition?
We want you to share your story with us. Tell us how you did it.
Please share your diet plan, exercise tips, learnings and more.
Kindly mail [email protected] (My Fitness Story) along with your NAME, AGE, LOCATION, along with a before and after photograph of your fitness journey. We'll feature the best responses on Rediff.com.
Source: Read Full Article