The 'Industry Baby' hitmaker also turns to his social media account to tell his fans that he's 100 percent serious about why he was late to his show at the Coca-Cola Roxy venue.
AceShowbiz –Lil Nas X had to briefly pause his latest concert. The "MONTERO (Call Me By Your Name)" hitmaker delayed one of his two "Long Live Montero Tour" stops in Atlanta for a quick bathroom emergency.
The "Industry Baby" singer promised the audience at the Coca-Cola Roxy venue that he would only take "a minute or two" as nature called. "I'm backstage, and this is, like, not a part of the show, but I'm taking a mean s**t, so please forgive me," the Grammy-winning artist said in a video filmed by a concertgoer, where the audience is heard laughing in response. He added, "I'll be right back."
The awkward yet funny moment on his Wednesday, September 28 gig was captured by a fan and posted on Twitter, and it has since gone viral. Nas X then quote-retweeted the video and wrote, "lmao people really thought i was joking, i was literally back there dropping demons into that toilet."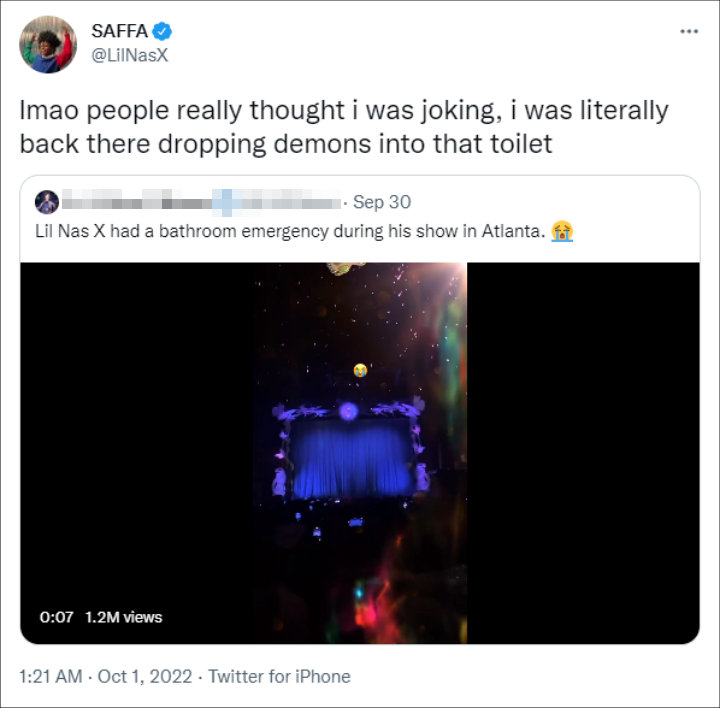 Lil Nas X told his fans that he was serious when he said he's 'taking a mean s**t' during his Atlanta concert.
Upon learning of the "Industry Baby" artist's response, fans took to Twitter to express their admiration for the 23-year-old and his noble honesty. "He is so real for this," one user wrote. "Omgg i thought you were joking. thanks for keeping it real [laughing with tears emojis]," someone chimed in. Another shared, "I always wondered what an artist would do if they had to go while performing."
The "Long Live Montero Tour" continues until next year. It will run for nine more shows in North America before Nas X heads overseas for concerts in Europe through mid-November and wraps the tour with an Australia date in January 2023.
One of Nas X's Georgia concerts was attended by his father, Robert Stafford, who shared a photo with his son on Instagram after the show and complimented the performance. It's unclear if Stafford attended the show Nas X paused to poop.
Praising his talented son, Stafford wrote via Instagram Story, "@lilnasx I'm beyond proud of you. Thinking back to this conversation we had about 4 years ago and to see your show last night, by the way was the best show I've seen since MJ." He continued, "You was a kid with a dream and the determination to follow it. You was that one in a million."
Source: Read Full Article