Shumaila Chauhan's Dahi Kebabs, ideal appetisers, are not difficult to put together and the kebab mixture can be made a day in advance, rolled into kebabs, refrigerated and fried just before serving.
The kebabs go well with green chutney and do make extra in case there are children around, because they will be hot favourites with them.
Shumaila 'loves talking, reading, thinking, dreaming about food' and grew up with 'the best home-cooked meals'.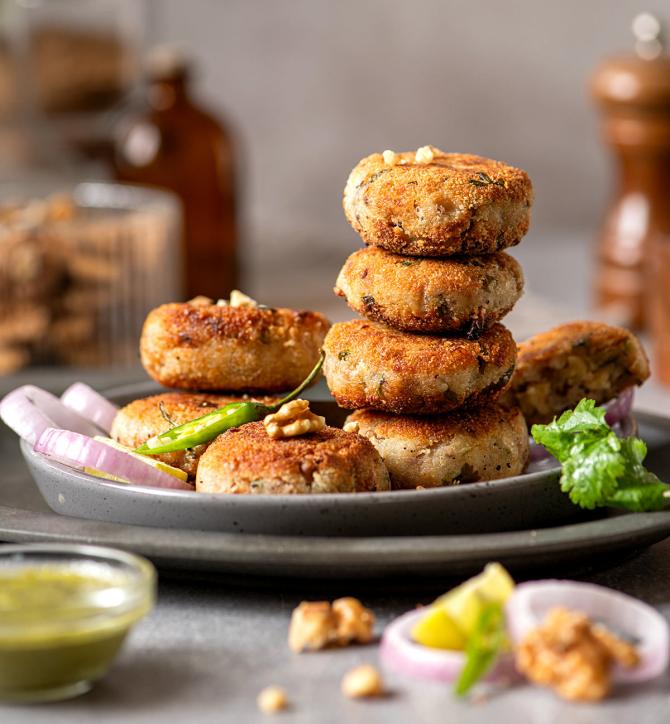 Dahi Kebabs
Servings: 8
Ingredients
1 cup hung curd or yoghurt
¼ cup chopped walnuts
4 slices bread
1½ tbsp roasted besan or chickpea/gram flour
1 tbsp finely chopped garlic
1 tbsp finely chopped ginger
2 small onions, finely chopped
1 tsp roasted jeera or cumin powder
½ tsp garam masala powder
¼ cup chopped fresh green dhania or coriander or cilantro leaves
1-2 tsp finely chopped green chillies
¼ cup grated paneer
Salt to taste, around 1 tsp
Dash black pepper powder
2 tbsp oil + oil for shallow frying the kebabs
Ketchup to serve
Green chutney to serve
Method
In a mixer/blender, grind the bread slices till fine crumbs.
Keep aside.
Heat the oil in a kadhai or frying pan.
Add the finely chopped garlic, ginger, green chillies.
Fry for a few seconds.
Add the finely chopped onions and fry till translucent.
Add the roasted cumin powder, garam masala, chopped coriander leaves, salt, pepper.
Mix and take off heat.
Allow it to cool a little and mix in the hung curd.
Add the chopped walnuts, grated paneer, roasted besan.
Add more than half the breadcrumbs but reserve some crumbs for the coating.
Mix well and roll the mixture into 1½ inch-diameter balls and flatten.
Roll them in the breadcrumbs and refrigerate the kebabs for 30 minutes.
Heat the oil in a frying pan.
Shallow fry the kebabs till golden in colour.
Keep fliping so they cook evenly.
Drain onto a paper towel or tissue-lined plate.
Serve hot with green chutney.
Editor's Note: For a recipe for green chutney use Lahu Kapudskar's Mint-Dhania Chutney.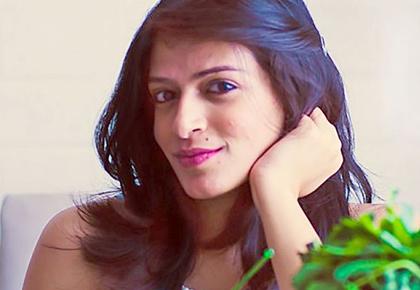 Shumaila Chauhan is the creator of the food blog Novice Housewife.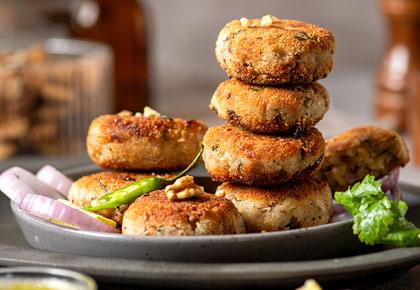 Source: Read Full Article