Poha is trending on the internet and do you know why?
Because IndiGo Airlines labelled one of their onboard offerings of poha as a 'fresh salad' in an advertisement.
So why is poha trending because you folks are craving a salad with poha in it? That's a tough call because poha doesn't lend itself to salad exactly.
But here's two salads, one with a homemade dressing, to kill that salad urge.
The first is a simple Swiss Grune Salat or green salad that goes with everything or can be had by itself as a wonderfully healthy meal.
The second is an Indian-Style Potato Salad.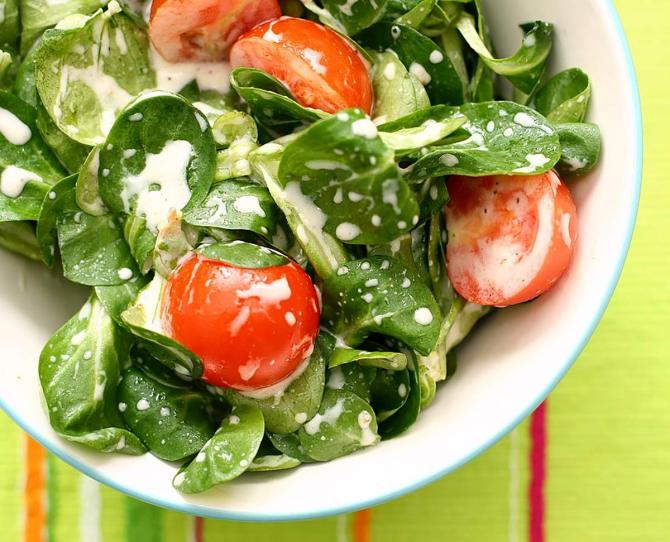 Zurich Grune Salat
Ingredients
1 large perfect tomato, chopped into 6 pieces
4 tsp chopped chives or else 3 tbsp chopped greens of a spring onion
2 cups lettuce leaves torn into bite-sized pieces, ideally mixed iceberg lettuce, lollo rosso lettuce and other greens like baby spinach
Dressing
1 tbsp white balsamic vinegar
4-5 tbsp mayonnaise or a vegan mayonnaise
2 tsp honey
1 tsp mustard paste
Pinch salt
1 tbsp extra virgin olive oil
½ tsp black pepper powder, freshly crushed
4-5 leaves fresh basil
Add on croutons
4-5 slices bread, chopped into 1-cm cubes
2 tbsp extra virgin olive oil
2 tsp garlic paste, optional
Method
For the croutons
In a glass bowl, add the bread cubes and drizzle on the olive oil.
Microwave on high for 3-4 minutes and then stir and microwave for another 3-4 till nicely browned and crisp, taking care not to burn the croutons ie keep checking on them.
Then stir in the garlic paste and toss and microwave for another minute.
Take out of the microwave and cool and keep aside.
Alternately fry up the bread cubes with the olive oil in a non-stick frying pan over low heat, tossing all the time.
In the final minute or 2 of cooking add the garlic paste and fry another minute or 2.
For the dressing
In a blender whip up all the ingredients and keep aside.
Assembly of the salad
In a large bowl, toss the ingredients of the salad with the dressing.
Serve sprinkled with the croutons.
Zelda's Note: You might consider adding 4-5 tbsp grated carrots, ½ a cucumber, peeled, cubed to the salad and topping the salad with a 2 tbsp grated cheese.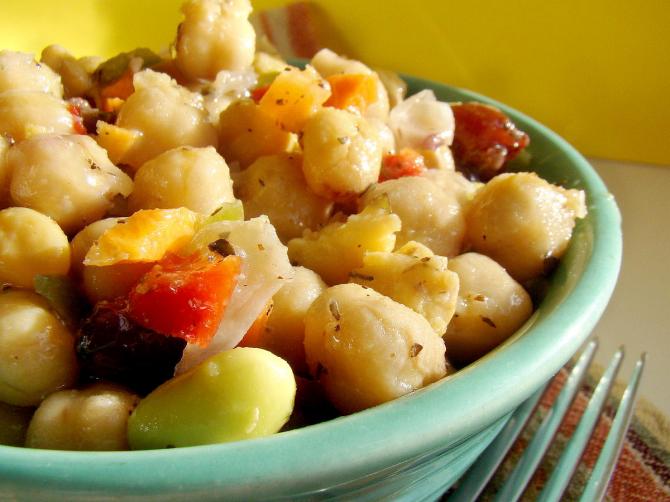 Zelda's Potato Chaat Salad
Ingredients
3 large potatoes, boiled but firm, peeled, chopped in 1-inch pieces
2 tsp imli or tamarind paste
½ kabuli chana or chickpeas, soaked overnight
½ tsp icing sugar
1 red onion, finely chopped
3-4 tbsp chopped green dhania or coriander or cilantro
1 tomato chopped fine
1 tsp chaat masala
Salt, about a pinch, since chaat masala also has salt
Squeeze of lime
½ tsp lal mirchi or red chilly powder
For serving
2 handfuls nylon sev
4-5 flat puris, like used in sev puri, crumbled
Method
Boil the drained and washed kabuli chana with 3-4 cups water in a pressure cooker for 5-6 whistles over medium heat.
Chana should be firm but cooked and not mushy.
Open the cooker and cool.
Mix the cooked chana with all the other ingredients
Sprinkle the sev and crushed puris and serve.
Zelda's Note: You could consider adding 100-200 gm paneer cubed, especially if you don't like or eat potatoes and ½ a cucumber peeled and cubed and 1 tbsp finely chopped raw mango. Sweet potatoes can also replace potatoes.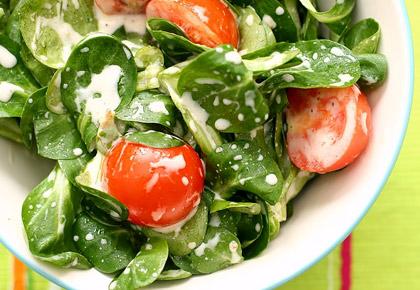 Source: Read Full Article