As the world celebrates Waffle Day on March 25, we bring you fluffy yet crispy waffle recipes to try at home.
Goat Cheese Savoury Waffle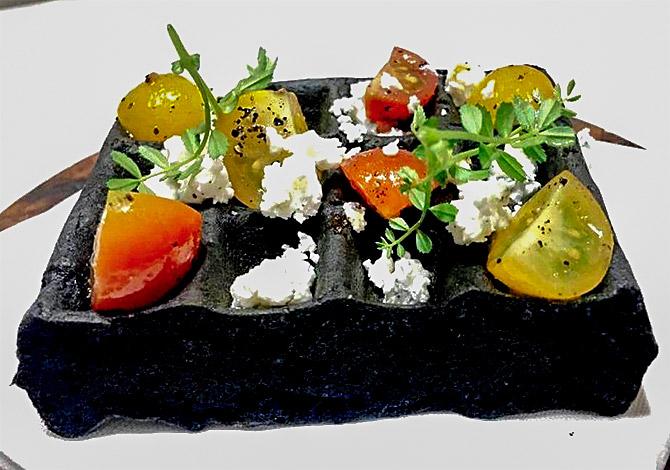 Recipe by Chef Neeraj Tyagi, Director of Culinary, Pullman & Novotel New Delhi Aerocity
Ingredients:
400 ml milk
85 gm butter
5 gm castor sugar
6 gm salt
10 gm yeast
250 gm maida
60 ml cream
1 gm baking soda
25 gm milk for yeast
2 tbsp activated charcoal
For the goat cheese and garden tomato salad:
80 gm goat cheese
5 yellow cherry tomatoes
5 red cherry tomatoes
Fresh basil few leaves
1 tbsp extra virgin olive oil
Sea salt to taste
Fresh cracked pepper to taste
Method:
Scale all the ingredients as per the desired batch. In a small pot over medium heat, combine milk and butter until melted and hot but not simmering. Stir in sugar and salt; remove from heat and let cool to lukewarm.
In a large bowl, combine milk and yeast. Let it stand until foamy for about 5 minutes. Add warm milk mixture to yeast and stir. Whisk in the flour, add activated charcoal powder and cover with plastic wrap and let the mixture stand until doubled in volume for 2 to 3 hours at room temperature or overnight in the refrigerator.
Post completion of the stipulate time fold in the cream and baking soda into the waffle batter.
Using a pastry brush or paper towel, lightly coat iron with melted butter. Cook waffles (using about 270 gm batter per waffle) until golden and crisp.
Butter the iron in between batches as needed. Serve waffles immediately as they are ready or keep them warm in a 200-degree oven until ready to serve.
For the goat cheese and garden tomato salad:
Crumble goat cheese separately. Cut cherry tomatoes into quarters and marinate with olive oil, salt and pepper and hand torn basil for 2 hours. Arrange as shown in pic and garnish with micro herbs and serve hot.
Sweet Potato Waffle with Corn Meal
Recipe by Executive Chef Merajuddin Ansari, Four Points by Sheraton Navi Mumbai
Ingredients:
2 cups sweet potato cubes (1-inch)
4 eggs, separated
4 tbsp butter, melted and cooled
¾ cup all-purpose flour
¾ cup whole wheat pastry flour
¼ cup cornmeal
1 tbsp baking powder
1 tsp ground cinnamon
1 tsp ground ginger
¼ tsp ground coriander
½ tsp sea salt
1 cup whole milk
¼ cup granulated sugar
Method:
Cut sweet potatoes into 1-inch cubes and set in a sauce pan. Fill with cold water, a dash of salt, and bring to a boil. Boil until fork tender, for 10-12 minutes, strain and set aside. When cool, mash, so that you have about 1¼ cups mashed sweet potato.
Meanwhile, melt butter and separate eggs.
Preheat waffle iron. Set oven to 200°F and slide a baking sheet in to warm.
In a large bowl, combine flours, cornmeal, baking powder, spices and sea salt.
In a medium bowl, combine sweet potato mash, melted butter, egg yolks, milk and sugar. Fold wet ingredients into dry.
Use a beater to beat egg whites to soft peaks and fold into batter, stirring just until everything is nicely combined.
If needed, grease waffle iron, and then cook waffles according to the instructions. Store cooked waffles on baking sheet in warm oven. Serve waffles with a mixed citrus salad and maple syrup.
Buttermilk Waffle with Strawberries
Recipe by Executive Chef Merajuddin Ansari, Four Points by Sheraton Navi Mumbai
½ cup whole-wheat pastry flour
½ cup all-purpose flour
2 tsp baking powder
1 tsp baking soda
½ tsp salt
3 eggs
1-2 tbsp sugar or honey (optional)
2 cups buttermilk
4 tbsp butter, melted and cooled
1 cup sliced strawberries, plus more for garnish
Method:
Preheat your waffle iron. In a medium bowl, combine the corn meal, flours, baking powder and salt.
In a small bowl, lightly beat the eggs, add the sugar or honey, buttermilk and melted butter. Fold the wet ingredients into the dry, and then fold in the sliced berries.
Use approximately

¼

cup of batter per waffle. Keep cooked waffles warm on a platter in a 200 degree oven. Serve with a smattering of fresh strawberries, and a drizzle of maple syrup.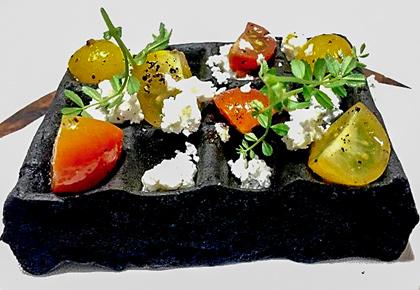 Source: Read Full Article