It takes 15 minutes to prep and another 15 minutes to cook… And your dinner menu couldn't get any easier.
Jayanti Soni's simple Papad Methi Ki Sabji can be easily whipped up in 30 minutes post a hectic work day with ingredients readily available in the kitchen.
Just remember to soak the methi seeds in water for one hour before you start cooking.
"The fenugreek seeds don't make the dish taste bitter," says Jayanti, who rustles up the most marvellous, delicately-flavoured vegetarian Rajasthani food.
Papad Methi Ki Sabji tastes best when served with hot chapattis.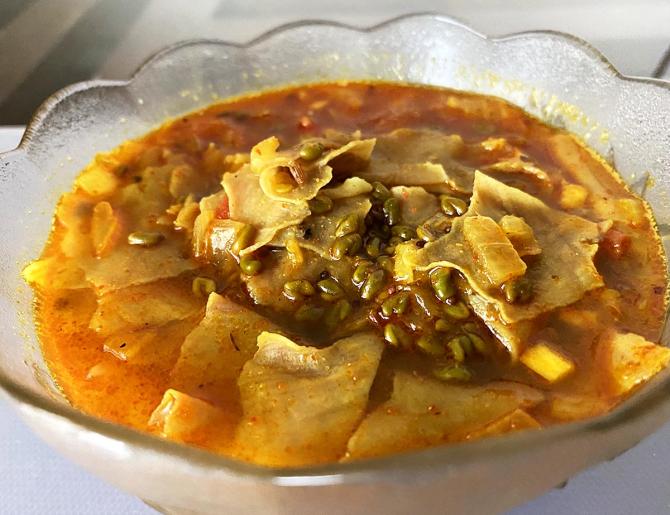 Papad Methi Ki Sabji
Serves: 3-4
Ingredients
2-3 papad, any variety, mung dal and urad dal papad work well, or masala papad for those who like spice
½ tbsp methi or fenugreek seeds, soaked in water for 1 hour
1 small onion
1 small tomato
5-6 garlic pods
2 green chillies
½ inch ginger
¼ tbsp oil
¼ tsp dhania or coriander powder
½ tsp red chilly powder
¼ tsp haldi or turmeric
¼ tsp jeera or cumin seeds
¼ tsp rai or mustard seeds
1 ½ cups water
Salt, to taste, about ½ tsp
Garnish with green coriander
Method
Soak the methi dana or fenugreek seeds for an hour.
Cut the papad into 1-inch pieces.
Chop the tomato and the onion.
Using a mortar and pestle, crush the garlic, ginger and green chillies.
Heat the oil in a heavy-bottomed kadhai over low heat.
Add the jeera and the mustard seeds and allow them to crackle.
Add the chopped onion.
Add the crushed garlic, ginger, green chillies and stir.
Add the chopped tomato and mix well.
Add the haldi powder and mix until well-combined.
Add the coriander and red chilly powder.
Add the salt.
Drain the water and add the soaked methi seeds.
Cook for 3-4 minutes.
Add the water.
Allow the mixture to boil for a few minutes.
Add the pieces of papad and allow it to cook for 1 minute more.
Take off heat and serve with chapattis.
WATCH: How to make Papad Methi Ki Sabji.
Video: Dhairya Soni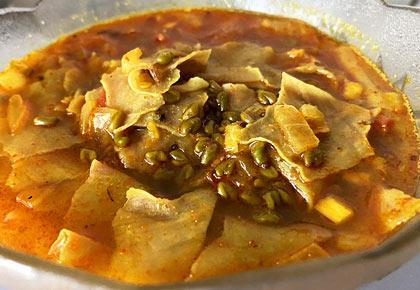 Source: Read Full Article