Chef Ranveer Brar offers his unique take on recipes for classic Indian sweets.
His sweet and nutty Jowar Laddoos are flavoured with strawberry syrup.
The gooey Gajak features chocolate syrup and cocoa powder.
Strawberry Jowar Laddoos
Serves: 4-5
Ingredients
3 cups roasted puffed jowar or sorghum
¼ cup slivered almonds
½ tbsp green elaichi or cardamom powder
½ tsp saunth or dry ginger powder
2 tbsp roasted charoli or chironji or calumpang nuts
1 tsp ghee
1 cup jaggery
½ cup strawberry syrup
Method
Heat the ghee in a large heavy-bottomed kadhai or wok over low heat.
Add the jaggery and keep stirring continuously until it melts.
Add the strawberry syrup and stir until it turns frothy.
Check the consistency by doing a soft ball test and drop some syrup into a small bowl or katori of cold water.
With your fingers make into a ball.
It should form a soft ball.
Take off heat and add the roasted puffed jowar, slivered almonds, cardamom powder, ginger powder and roasted chironji.
Mix until all the ingredients are well-combined.
Grease your palms with ghee and start rolling the mixture into laddoos when it is still warm.
Transfer onto a plate and serve.
Choco Gajak
Serves: 4-5
Ingredients
200 gm sugar
50 ml chocolate syrup
3 tbsp ghee
100 gm roasted peanuts
100 gm sesame seeds, toasted
5 gm saunf or fennel seeds
30 gm icing sugar
20 gm cocoa powder
Ghee for greasing the tray
Method
Grease a rectangular tray with ghee and keep aside.
Crush the peanuts and sesame seeds in a mortar and pestle and keep aside.
Heat the sugar in a heavy-bottomed saucepan and add 2 tbsp water.
Once the sugar has melted, add the chocolate syrup and cook till the mixture becomes thick.
Add the ghee and cook for a minute more.
Add the roasted peanuts, sesame and fennel seeds, cocoa powder and icing sugar.
Mix all the ingredients and stir until they are well combined.
Take off heat and transfer onto the greased tray.
Spread evenly, make cuts and keep aside to cool.
Once cooled, break it into smaller pieces and store in an air-tight container.
Chef Ranveer Brar is an author, MasterChef India judge and restaurateur with over 25 years of experience in the food industry.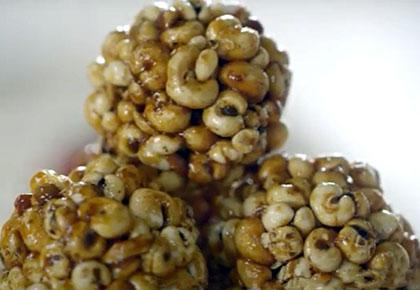 Source: Read Full Article