Creating the rustic look is expensive, but low maintenance costs and the element of timelessness make it a great bargain for the urban dweller, says Namrata Kohli.
Raw and rustic interiors have caught on like wildfire.
Be it upmarket homes, luxury resorts or smart condominiums, the focus today is on keeping the interiors clean and simple and giving them a natural, earthy look.
Some trace this 'outdoor entering indoor' theme to the modern nomad's psyche.
Even though he lives in the midst of a concrete jungle, his mind and heart crave proximity to nature.
Rustic look to please modern tastes
Designer and home store owner Nitin Kohli has seen a growing demand from clients for homes that resonate the nature theme.
At his home interior store, the natural looking table with bar stools is a bestseller.
He says this kind of raw appeal holds sway over people who are nature lovers and have made eco-friendly, sustainable living an integral part of their lifestyle.
The rustic look has, however, been given a makeover to suit modern-day sensibilities.
"While the rustic style was traditionally dark and heavy, the modern take on it is one that feels fresh and real, light and grounded," says Ruchi Mishra, architect at Rudrabhishek Enterprises, a consultancy.
The style must be minimalistic.
"Keep an open floor plan, maintain exposed natural architecture and pull in some modern furniture," advises Mishra.
Above all, get rid of clutter.
Interior designers are juxtaposing the earthy elements of rustic style with a clean modern design to achieve a chic, contemporary effect.
Accent pieces — like a birch bark lamp or brass drawer pulls shaped like twigs — are being used to provide nature-inspired detailing.
Pair materials such as untreated wood and stone, un-plastered walls and exposed concrete with plain white walls.
A fire place and some rustic furnishing can give your dwelling place the feel of a country house.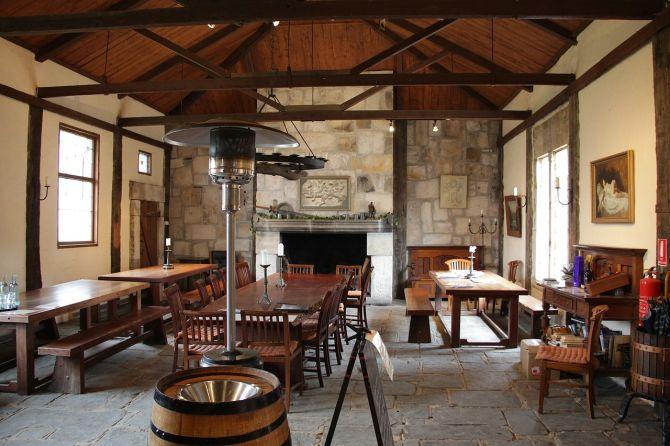 Muted hues
The colour palette must be kept simple.
While nature has its fair share of vibrant hues, the typical rustic style is best achieved with nature's more muted tones.
According to designer Sanjyt Syngh, who recently created an upmarket wooden Swiss chalet for a Delhi-based high net worth individual, "The tones should be derived from natural elements. They can vary from shades of brown to blues to greens. If one wants to go bold, I would suggest deeper jewel tones."
Flexible layouts
This is an intrinsic part of the rustic style.
"Raw and rustic homes normally do not have a rigid layout," says Priyanka, architect at 42 MM.
Adds Rudraksh, who also works at the same firm: "Flexible layouts allow the user to interpret the space in his own way and add his own flavour to it. Such layouts are also able to accommodate the user's changing needs."
Get the accessories right
The rustic style favours masculine accessories.
"Dainty, feminine pieces will get lost or feel out of place in a rustic-styled space," says Mishra.
She suggests using faux hides, like zebra or cowhide rugs and sheepskin throws.
The right accessories endow a soul to a space.
"Accessories like handcrafted, rustic, distressed finished metal articles that resonate with the story of the user add character to the space," says Priyanka of 42 MM.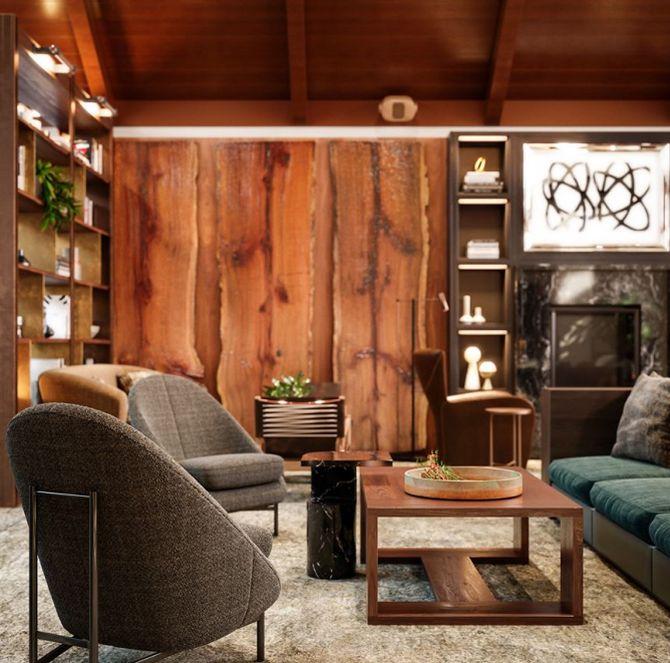 The rustic look comes at a premium
Giving a rustic look to a modern home does cost more than creating a standard interior.
While the materials used are natural, customising them for modern structures requires special treatment and skills.
Achieving their raw chic nature and finish is quite a challenge.
Availability of these materials is limited within cities and hence they come at a higher price.
While it would cost about Rs 5,000-6,000 per square feet to create a conventional modern home interior, imparting a rustic look drives costs up.
In, say, hilly areas, finding rustic materials is relatively easier and there they are also more economical.
Maintaining these homes is, however, less taxing.
Well-kept rustic interiors last for years, remain timeless and eliminate the need for renovation.
As interior designer Syngh puts it, a rustic home induces "a sense of calm and peace".
This happens because you bring the theme of nature into your home.
Materials such as beautiful woods give it the vibe of a perfect getaway from the hectic city life and create a peaceful haven.
Namrata Kohli writes for the Business Standard newspaper.
Source: Read Full Article