Actor Julia Fox has become considerably more famous since she started dating Kanye West. But the actor recently claimed that she doesn't care about West's money or fame. Here's what she said and how fans are reacting.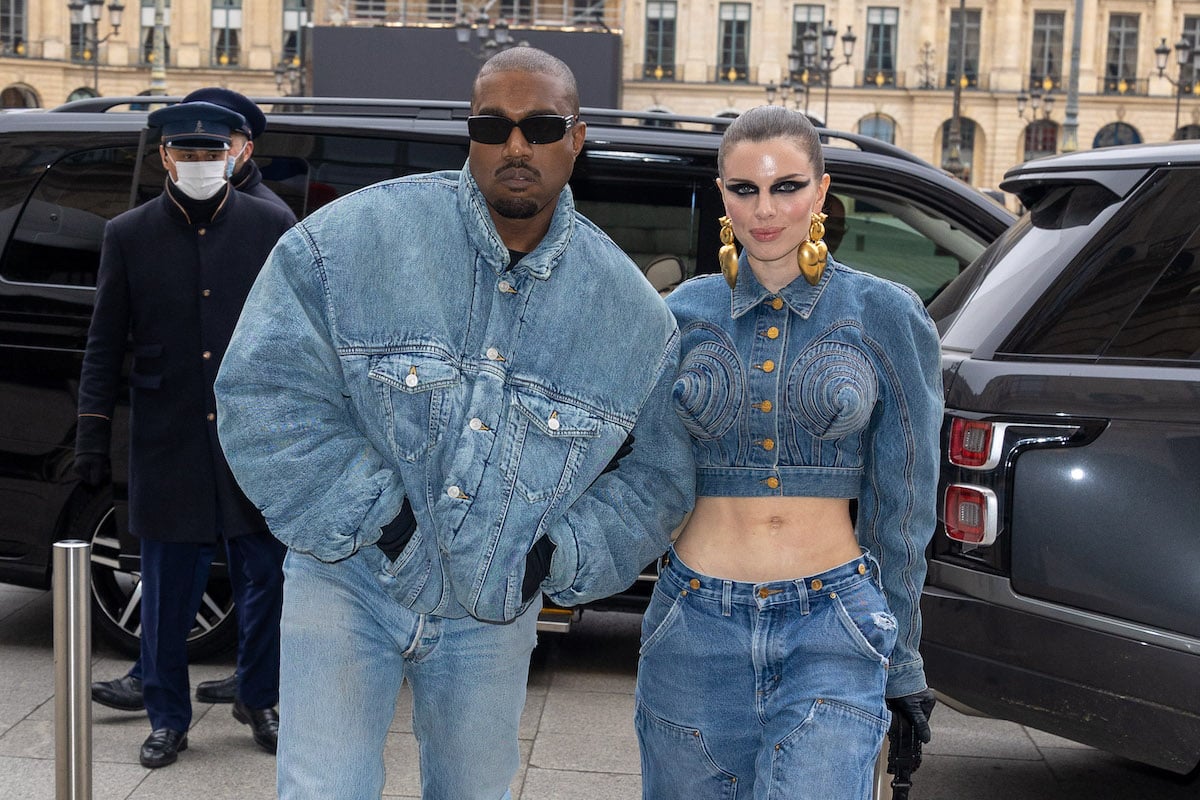 Julia Fox is making headlines for dating Kanye West during his divorce from Kim Kardashian West
Julia Fox and Kanye West have been practically inseparable since the beginning of 2022. West is navigating his divorce from Kim Kardashian West, with whom he shares four children, while Fox is separated from her husband Peter Artemiev, with whom she shares a one-year-old son.
The Uncut Gems star opened up about the start of her relationship with West in a blog-style article she wrote for Interview.
"I met Ye in Miami on New Year's Eve and it was an instant connection," Fox revealed. She said that they went to New York after dating in Miami, where the Donda rapper surprised her with "an entire hotel suite full of clothes," which she described as "every girl's dream come true."
Fox has had the opportunity to spend time with lots of celebrities since she started dating West. On Jan. 13, Madonna posted several pictures on Instagram revealing that she spent the evening with West, Fox, boxer Floyd Mayweather, and football player Antonio Brown.
"Went to dinner with Julia to talk about my movie and some other folks showed up…………………😎🎥🎬," Madonna captioned the photos.
In the Jan. 21 episode of her "Forbidden Fruits" podcast, Fox opened up about the star-studded date night.  "There was a lot going on. Madonna was there," she said (via Billboard). "I was actually supposed to be at dinner for just Madonna and I … and all of these other celebs crashed."
Julia Fox says she 'really couldn't care' about Kanye West's money or fame
During the podcast episode, Fox also discussed the wave of attention she's been getting since she started dating West.
She wanted listeners to know that she doesn't care about West's money or fame. "It's funny cause I'm getting all of this attention, but I really couldn't care," Fox said.
She revealed that West isn't the first billionaire she has dated. "People are like, 'Oh, you're only in it for the fame, you're in it for the clout, you're in it for the money,'" Fox said. "Honey, I've dated billionaires my entire adult life, let's keep it real."
The former sex worker added, "Watch my movie, read my book. That is more thrilling to me now than eyes on me."
Fans are reacting to the 'Uncut Gems' star's comments about her dating life on social media
One fan tweeted, "Kanye wrote a song about her type years ago," likely referring to the West's 2005 hit "Gold Digger."
Many pointed out that they hadn't heard of Fox until she started dating West with tweets like, "Never heard of her. Is she someone I should have?"
One person tweeted, "Or alternatively, every guy I've ever dated has dumped me," while another wrote on Twitter, "So otherwise known as paid arm piece…got it."
Source: Read Full Article