Last week was all about Cannes 2019. The 72nd Cannes International Film Festival was quite a sensation here in India as our desi divas were walking the red carpet at the event that is held in southern France. And while it is not unusual in recent times for Asian faces to show up at the Cannes Film Festival, this year saw a rather varied array of Indian celebrities gracing the red carpet.
While many made their debuts, some returned to the film festival with much panache. Aishwarya Rai Bachchan and Sonam Kapoor, some of Cannes' staple attendees, stunned us yet again with their gorgeous looks. While they did opt for rather wacky outfits, the comments they received for the same were wackier. And in case you missed them, we have compiled them for you here…
Aishwarya Rai Bachchan made her first appearance amongst others this year in a Jean Louis Sabaji outfit. Her metallic golden outfit got mixed reviews, however, the mermaid look was something we didn't expect Aishwarya to experiment with.
After becoming a mermaid, she also became a bird with her next appearance (pun intended). Aishwarya's next outfit was a white dress with lots of fur which made her look like a swan!
And in tune with the whacky dresses, Ash got equally crazy comments on the pictures she shared with her fans. Here are some of the best comments…
When you get educated in the comments section.

When you get educated in the comments section.

One is a comment from a curious fan the other is a comment for a cute hubby! Both are wacky!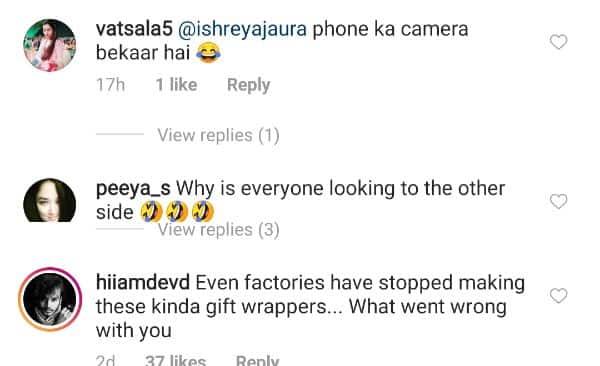 The real questions rightly asked!
On the other hand, Bollywood's true-blue fashionista, Sonam Kapoor Ahuja wore an Abu Jani Sandeep Khosla, ivory dress for the Chopard party. Sonam's dress was unique for several reasons – one being that it made her look like a fairy. And if you thought her dress was quirky, wait for the comments.
Check out the hilarious comments that the actress garnered for her pictures…

When your priorities are set straight

That friend who forgets about you and starts cribbing about their life

Thanks for putting our feeling out there!

Totally second that!
Well, we must say it is no easy job to come up with such witty comments. Which one is your favorite comment? Let us know by tweeting to us @bollywood_life. Meanwhile, stay tuned to BollywoodLife for more updates.
Source: Read Full Article