From cucumber martinis to quality time with her family in their new digs in Austin, Texas, Haylie Duff is a woman of simple pleasures — even after two decades in Hollywood. You don't have to scroll down far on the mom and actor's Instagram page to see how much she values country music, good food, and of course, her furry fam, which is why her latest endeavor is the pawfect partnership, fur real. Duff is working with Nutro Ultra to promote their new Barkuterie Boards, modeled after the wine night favorite, which allow dog owners to treat their pooches to customized canine-friendly charcuterie boards. As she told Nicki Swift in an exclusive interview, her dogs have already "lost their minds" over her culinary creations.
"I love this partnership for me because I thought these were so fun and so cute, but also I love making boards for my friends and my family," Duff said. "It was really combining things that I love: food, and eating really good food, and then my dogs." Although she "said goodbye to a very, very special dog right in the beginning of the pandemic," Duff's pet family includes little "raspy pup" Birdie, as well as Chicken. Since the launch, these pooches have definitely reaped the benefits. "Banana was a new thing that I didn't even know you could give dogs until I partnered with Nutro Ultra and now I do, and my little Chicken is obsessed with them," Duff laughed.
Haylie Duff looks at her dogs' health like its her own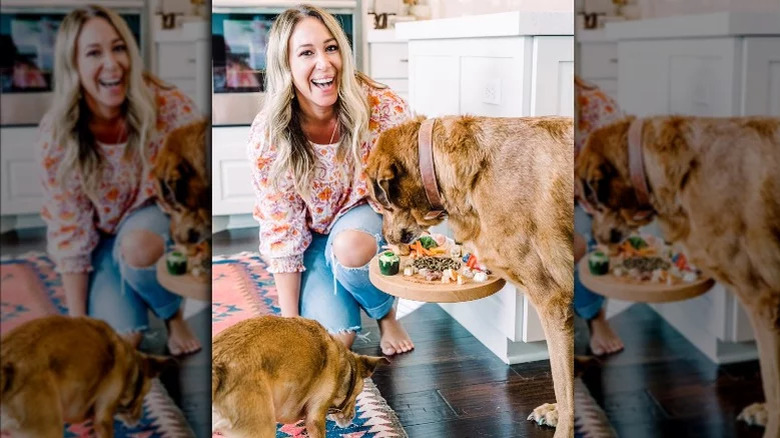 Although the Barkuterie Board partnership is new, Haylie Duff has long been a fan of Nutro Ultra, espousing the benefits of their "non-GMO and clean, healthy ingredients," while showing off the prototypes over Zoom ahead of the launch during our interview. Their mission especially hits home for Duff, as her dogs are getting older and she's already learned a thing or two about the importance of good food through her blog, cook book, and Cooking Channel show The Real Girl's Kitchen.
"I look at it kind of as the same for us," Duff explained. "We care about putting healthy food into our body and limiting things that are not so great for us and I think if we can do that for our dogs, they just get to live longer, healthier, happier lives."
For more information on Nutro Ultra's ULTRA Barkuterie Boards and their giveaway, including a chance to win a barkuterie eat-and-greet with Haylie Duff and her dogs, visit UltraBarkuterieBoards.com.
Source: Read Full Article