Wanna feel old on this fine Monday morning? Millie Bobby Brown, self-made millionaire and Demogorgon slayer, is set to start college at none other than Purdue University in West Lafayette, Indiana. Talk about life imitating art! After all, the school's campus *is* located in the same state Stranger Things is famously based in (though IRL, most of the show was shot in Georgia).
The 18-year-old, who plays Eleven on the hit Netflix show, is set to begin her first year as an online student at the college. (She'll be splitting her time between London and Atlanta.) Per Millie's latest interview with Allure, we also know the actor will be studying human services, which she chose because it will grant her the opportunity to "learn about the system and how to help young people." The school's website expands on the program's mission, and notes it is "designed to provide students with basic knowledge in human development and family studies, skills for working with people in service agencies, and program evaluation skills." Okay so basically, there is literally nothing Millie can't do, right? 😭❤️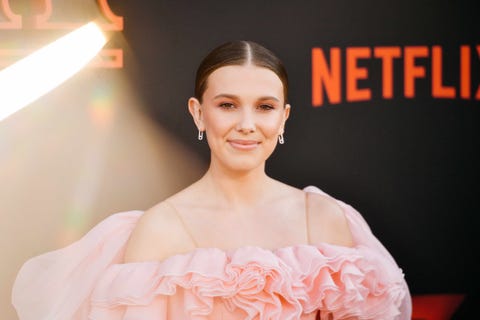 Interestingly enough, the Stranger Things star isn't the only cast member who made the decision to dabble in the whole being-a-college-student-while-also-casually-being-a-major-celeb thing. In December, MBB's co-star Noah Schnapp (who plays Will Byers) announced he had been accepted to the University of Pennsylvania with a super cute vid that captured the moment he received his offer letter.
Elsewhere in the Allure interview though, Millie dished on the opportunities her success as an actor has given her. Case in point? Her highly-popular skincare line, Florence by Mills, which was founded as a resource for fellow Gen Z-ers looking to learn more about skincare.
https://www.instagram.com/p/CgZ55arvJc8/?utm_source=ig_embed&utm_campaign=loading
A post shared by florence by mills (@florencebymills)
"I don't know anything about beauty and skincare," she revealed. "That's why I created this. I'm going to take you on this journey with me, so we can learn more about botanicals, serums, fruit and vegetable extracts, enzymes. Things that are so important for your skin, but we don't know about because we're young. Everything's anti-aging, everything is de-puffing. We don't know what that means…I need to know more. And I know our generation needs to know more."
The actor also discussed her continued work as a Goodwill Ambassador for UNICEF—a role that has allowed her to further connect with and help young women. "Of course, people can look at it as pressure or scary, but I think that's the most exciting part of my job," she said. "People are all looking at me, 'What are you going to say, Millie?' I'm going to say, 'Young girls deserve an education. Young people everywhere deserve equal rights. [You] deserve to love the people that you want to love. Be the people that you want to be and achieve the dreams that you want to achieve.' That's my message."
Source: Read Full Article