Karnataka Bengaluru Coronavirus (Covid-19) Latest News Live Updates: As many as 2.27 crore been vaccinated in Karnataka so far, including 1,86,558 on Wednesday.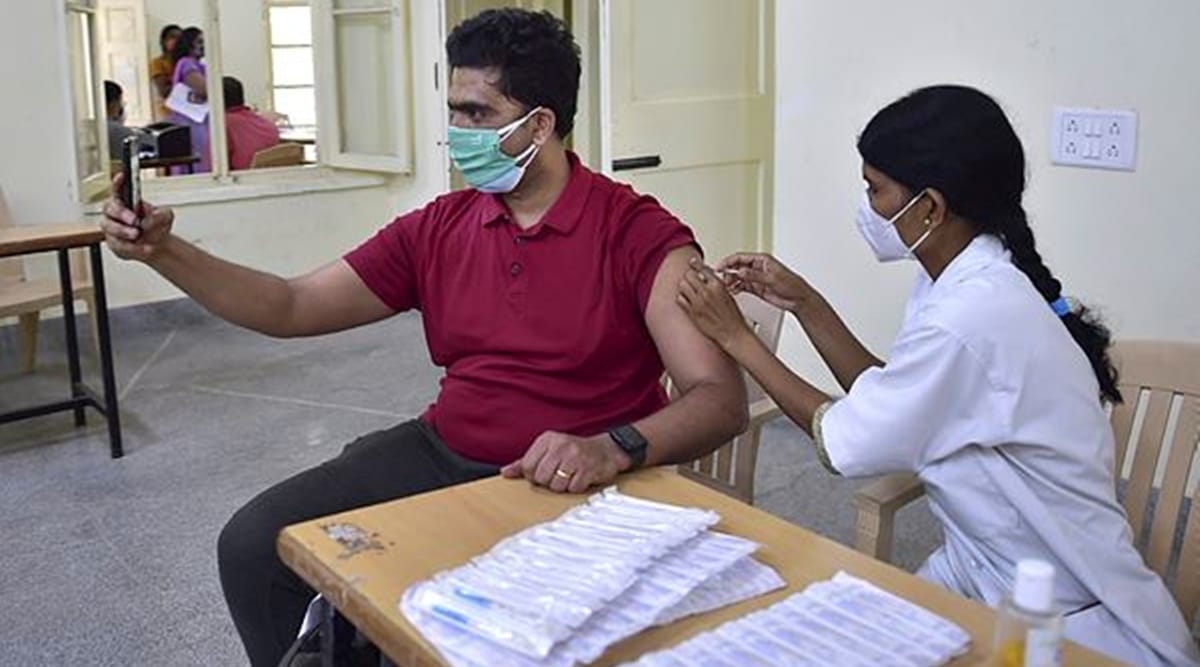 Karnataka Bengaluru Coronavirus News Live Updates: Karnataka on Wednesday reported 3,382 new Covid-19 cases and 111 more deaths. This took the caseload up to 28,43,810 while the death toll reached 35,040, the health department said. The number of active cases is now at 76,505. As many as 12,763 patients recovered, taking the number of recoveries to 27,32,242.
The positivity rate is now at 1.97 per cent and the case fatality rate is at 3.28 per cent, the department said.
Bengaluru Urban district has reported 813 fresh cases and 11 more deaths. The city has so far recorded 12,13,559 infections and 15,626 deaths. It now has 43,698 active cases.
Catch the latest news in Bengaluru and Karnataka as we bring you live updates on COVID-19, COVID-19 vaccination and lockdown across the state and more throughout the day. Also read Chennai Hyderabad news
A Covid-19 vaccine testing centre that was recently established in Bengaluru is the first of its kind in south India to get approval and funding from the Biotechnology Industry Research Assistance Council under the Department of Biotechnology (DBT-BIRAC) and it is expected to enhance India's testing capabilities.
According to the Indian Institute of Science (IISc) in Bengaluru which houses the viral Bio-Safety Level-3 (BSL-3) facility at the Centre for Infectious Disease Research (CIDR), several solutions to tackle the pandemic ranging from vaccines and antivirals to materials and equipment will be tested with the help of academic and industry partners.
Shashank Tripathi, assistant professor at the institute's department of microbiology and cell biology, told The Indian Express that the lab was identified among the three pioneering efforts to support research on highly pathogenic human viruses. "Our lab had applied for and received funding under the DBT-BIRAC's Mission Covid Suraksha, which aimed to support labs with well-established models to study SARS-CoV-2," he said.
Read more
In the wave of an anticipated delay expected in reopening schools for the upcoming academic year in the state, classes are scheduled to be aired via the Doordarshan Chandana TV channel from July 5.
The Department of State Educational Research and Training (DSERT) has asked all district education officials to ensure students do not miss out on the classes. The Department has also asked them to arrange access to classes for students who do not have a television set at home taking help from neighbours or other sources.
Further, teachers have been asked to share the timetable with parents. Steps are being taken to broadcast videos and text via DD by experienced teachers. Telecast schedules for Classes 1-7 and 8-10 have already been fixed, DSERT stated.
The Kodagu district administration has clarified that restrictions on tourist entry would continue till July 5 and that a team of officers has been deployed to check on illegal entry of tourists.
Confirming the same, Assistant Commissioner Eshwar Kumar Kandu said, "We are yet to reopen tourism in Kodagu. We will decide whether to allow tourists or not based on government directives only after July 5."
Meanwhile, officials added that an FIR was filed against a homestay in Madikeri taluk based on a complaint that it was allowing visitors despite the restrictions that were in place. "Such strict actions will continue," Kandu said.
Earlier on Tuesday, Minister for Health and Medical Education K Sudhakar had suggested restrictions in tourism as a precautionary measure to contain the Covid-19 situation during his review visit to the district. "Even as cases have dropped here, the pandemic has not yet come under full control," he had said.
The National Law School of India University (NLSIU) in Bengaluru, popular among the premier law institutions in the country, has decided to reserve 25 per cent of its seats to students from Karnataka for the upcoming academic year 2021-2022.
Announcing such a decision for the first time, the revised notification for admission mentions that students who have studied for not less than 10 years in a recognised educational institution in Karnataka would be eligible for the reservation.
This applies to the BA, LLB (Hons) programme and LLM programme. While 30 of the total 120 seats for the former is reserved so, 13 out of 50 seats for the latter is also notified under this cap. Seats have been marked based on categories – SC, ST, and general – as well.
A special court in Bengaluru will take a decision on July 8 on a private complaint seeking an investigation into alleged instances of corruption and money-laundering by Karnataka Chief Minister B S Yediyurappa, his family members, and others.
Activist T J Abraham, who filed the complaint, sought directions for an FIR under the Prevention of Corruption Act and Prevention of Money Laundering Act.
The activist from the Karnataka Anti Graft and Environment Forum has asked the special court—which is hearing matters related to elected representatives—to take cognisance of offences as alleged in the private complaint or "direct any investigating agency to register the FIR against the accused persons under Section 156(3) of the Code of Criminal Procedure, 1973 and to conduct investigation and to proceed in accordance with law, in the interest of justice".
Read more
Good morning!
Welcome to the live blog from Bengaluru where we bring to you the latest updates on COVID-19 vaccination drive, COVID-19, lockdown, BBMP and more across Bengaluru and Karnataka. Follow the blog to stay up to date with the state in real time.
The National Investigation Agency(NIA) on Wednesday arrested a man for his alleged involvement in the Bengaluru riots case of August 11, 2020. Syed Abbas (38) was produced before an NIA Special Court in Bengaluru and taken in six days' custody by the probe agency, officers said.
READ | SDPI member arrested in Bengaluru riots case: NIA
Three weeks after saying he would resign if the BJP's central leadership asked him to, Karnataka Chief Minister BS Yediyurappa Wednesday asserted he would lead his party back to power with more than 130 seats in the 2023 Assembly polls.
READ | Will bring BJP to power again with 130+ seats: Karnataka CM Yediyurappa
Here are a few contacts that might come in handy for you in emergency situations:
COVID-19 related queries / emergencies / clarifications: 104 (toll free); +91-80-4684-8600/6669-2000 | Home Quarantine-related queries: Telegram messenger/WhatsApp – +91 97777 77684, Voice call – 080 45451111 | BBMP control room: 080-22221188 | In case of power disruptions, contact BESCOM: 1912. If the water supply is hit in your area, contact BWSSB: 1916
Karnataka Bengaluru Coronavirus June 30 Highlights
Source: Read Full Article