'The BJP always said Rahul Gandhi is an 'air-conditioned leader', but after this yatra he has proved them wrong.'
Uttar Pradesh Congress Committee secretary Shahnawaz Mangal Azmi is among the 119 yatris participating in the entire length of Rahul Gandhi's Bharat Jodo Yatra from Kanyakumari to Kashmir.
Azmi shares his experience of the yatra with Rediff.com's Syed Firdaus Ashraf.
I took part in the Bharat Jodo Yatra because there is an atmosphere of hate going on in our country. I want this to end and therefore I joined the yatra.
The politics of polarisation is being played all the time which is harming the financial condition of our country. It is only a few rich industrialists who are close to the ruling establishment benefiting from this hate atmosphere.
As a result of this, democracy in our country is dying a slow death and therefore, I joined the Bharat Jodo Yatra.
I started the yatra from Kanyakumari and on the very first day I tore my leg muscle because of the huge rush of public that had assembled to see Rahul Gandhi.
I recall that I was in pain and sitting on the roadside where one Tamil speaking man came to my help. He was not a Congress worker.
He realised I was a Bharat Jodo Yatri and without understanding a word of Hindi and English which I was speaking, he understood the seriousness of my injury.
He knew only Tamil and I could not know a word of what he spoke.
He then called his friends who took me in their car to a local hospital where I was attended to.
I asked how much money to pay, but the doctors and the ones who got me to the hospital did not take a single paisa from me.
This was a very touching aspect of my yatra.
I understood at that very moment — the common man of India is full of love and empathy, but it is the politics of hate that is trying to change everything that our country stands for.
After I was discharged from hospital I rejoined the yatra the next morning.
I started moving slowly because I could not walk fast. I was always 5 km behind the yatra when it started and this went on for a week.
At the end of the day I used to reach the destination two hours late.
I could have taken an ambulance, but then, that would not have served the purpose of the yatra.
The Bharat Jodo Yatra is about walking, not sitting in some car and moving on.
I put a kaccha (temporary) plaster on my leg and started moving about.
I thought of using crutches to walk, but thought the media will say I was doing an act.
I also felt that my party leaders should not feel that I was showing off to get media mileage.
My wife had told me not to leave the children and go on the Bharat Jodo Yatra because I have a small business to look after.
She felt five months was a long period for the yatra. As it is, Covid put the brakes on my business for two years.
I convinced her about the ideology of the Bharat Jodo Yatra and after she got convinced she gave me permission to go ahead.
I called her from Kanyakumari to say that I was in pain due to the leg muscle tear and wanted to come back to Lucknow.
She told me not to do so because I had made a commitment to Rahul Gandhi to complete the yatra.
Every day we walked 25 km on an average. The enthusiasm for the Bharat Jodo Yatra was so huge among the public that I forgot all my pain.
I did get tired of walking initially, but later I got used to it.
As time passed, all the yatris started feeling energetic and were enthusiastic about walking.
The atmosphere during the Bharat Jodo Yatra was electrifying.
I could not walk with Mahatma Gandhi's Dandi March, but I am happy that at least I got to walk with another Gandhi — Rahul Gandhi.
I got cured after eight days and by that time the Bharat Jodo Yatra had entered Kerala.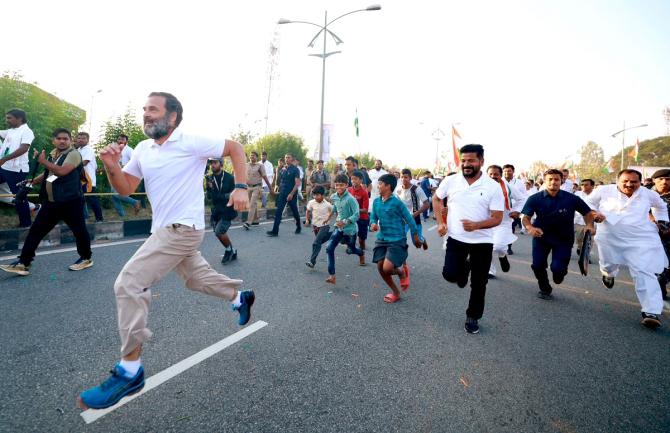 The Bharat Jodo Yatra made me understand the meaning of unity in diversity.
Be it in culture or even food.
The diversity in our food is so huge that once you move from one state to another, you can see the difference.
Every state has its own unique cuisine.
For instance, Bharat Jodo Yatris from north India had no idea what upma was. It was delicious and no one from north India had tasted such delicious upma.
We came to know that it was a staple breakfast dish in many parts of south India.
I consider myself lucky to find my name in the list of 119 yatris who were to walk with Rahul Gandhi from Kanyakumari to Kashmir.
I am happy that by joining this yatra I got to see India closely and understood our country's different cultures.
I spoke to Rahul Gandhi during the yatra and he asked me what I would want him to do for the Muslim community.
I told him that the Muslim community lacked good educational institutions and I would like a Congress government to build as many educational institutions as it can.
If they did that, Muslims will get an opportunity to study as they are a very backward community and lack education. He was happy to hear my views.
Many journalists told us on the way that the Congress was losing elections, so what was the point of the yatra.
I told them that this yatra was not meant for elections or about winning them. This yatra was all about spreading love among Indians.
One has to understand that the Bharatiya Janata Party has spent crores of rupees to demolish the image of Rahul Gandhi by categorising him in the 'pappu' category.
The BJP always said Rahul Gandhi is an 'air-conditioned leader', but after this yatra he has proved them wrong.
They also made statements like he is always in America or London and never meets the people of India.
Now, nobody will be able to make such allegations against him.
Since he has come out in the public, the BJP is trying all means to stop the yatra.
They made statements that the Bharat Jodo Yatra should be stopped because it was not following Covid protocols.
The BJP, on the other hand, was regularly doing its political programmes without any hindrance.
This proved that the BJP is scared of Rahul Gandhi post the success of the Bharat Jodo Yatra.
My wife is happy to see that I have almost completed the yatra and soon it will end on January 30 in Srinagar.
I am now looking forward to meeting her after the yatra as I have been away from home for five months.
Source: Read Full Article