The Top Court also urged the Centre and states "to consider imposing a lockdown to curb the virus in the second wave in the interest of public welfare".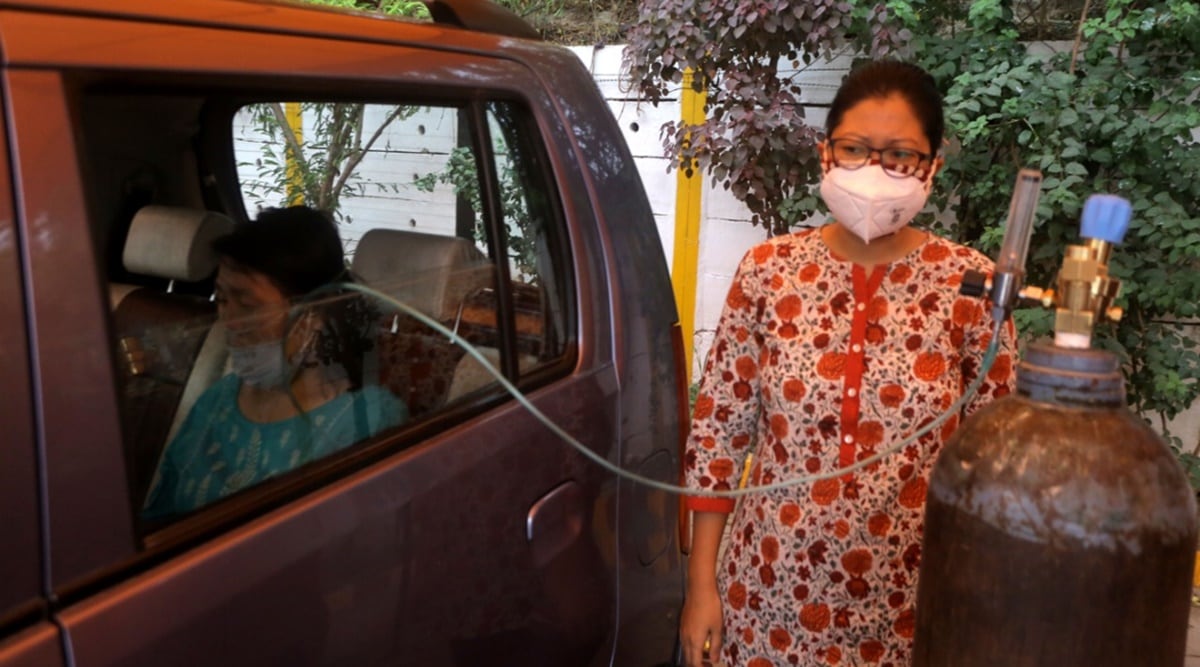 Coronavirus India Live Updates: Taking note of Delhi's dire situation, where 12 people died in a hospital owing to shortage in oxygen supply, the Supreme Court has asked the Centre to ensure that the "shortage be addressed on or before midnight of 3 May 2021". The court also asked the Centre to "immediately" create buffer stocks of medical oxygen to address any future shortage. It also urged the Centre and states "to consider imposing a lockdown to curb the virus in the second wave in the interest of public welfare".
States such as Punjab, Odisha and Goa have, among others, also taken the lockdown route to curb the spread of the virus. While Punjab imposed stricter Covid curbs by shutting down all the shops, except those selling essential items, till May 15, Odisha has announced a 14-day lockdown during which residents will be allowed to step out to shops within 500 metres of their homes to buy vegetables between 6 am and 12 noon. In Goa, restrictions imposed in the state to contain the spread of Covid-19 will be in force till May 10. The government's four-day lockdown was in force until the morning of May 3.
Meanwhile, 13 Opposition leaders, including Congress leader Sonia Gandhi, former prime minister HD Deve Gowda and Uddhav Thackeray, in a joint statement on Sunday, asked the Centre to launch a free mass vaccination drive across the country with a budgetary allocation of 35,000 crore. The leaders have also asked the Centre to provide uninterrupted oxygen supply to all hospitals and health centres.
The country on Sunday registered 3,689 deaths — the highest toll reported in a day so far. As many as 3.92 lakh fresh cases were also reported during the same time.
States like Punjab, Odisha and Goa take lockdown route to curb spread; 13 Opposition leaders write to PM Narendra Modi asking him to launch a free mass vaccination drive; At 3,689, India reports highest daily death toll on Sunday; Follow latest Covid-19 updates here:
One more person died from coronavirus in Ladakh as 140 fresh cases surfaced, pushing infection count in the union territory to 14,226, according to officials on Monday. So far, 145 people have succumbed to the infection in the UT, comprising Leh and Kargil districts. As many as 101 people died in Leh and 44 in Kargil since the outbreak of the pandemic last year. The officials said of the 14,226 cases, 11,786 surfaced in Leh district and 2,440 in Kargil. Of the fresh 140 cases, 113 were reported from Leh while 27 cases surfaced in Kargil, they said. (PTI)
With the daily number of Covid cases rising steeply, insurance companies are refusing to give health cover to persons recovered from Covid-19 and are asking them to wait up to six months for renewal of policies.
Most insurers are iffy about on-boarding customers who have just recovered from Covid, said an insurance sector official. "As a result, insurers have put a cooling off period of 3-6 months after Covid detection," he said.
The delay in renewals has come amid reports that insurers are refusing to pay up in many cases despite the directive of the Insurance Regulatory and Development Authority of India (Irdai) that hospital bills under the 'cashless system' will have to be settled within two hours of discharge. "There are even complaints that some insurers are refusing to issue new Covid policies to persons without any illness fearing a spurt in claims," said a source. (Read George Mathew's report)
The Indian Air Force (IAF) airlifted four empty oxygen containers from Frankfurt in Germany to the Hindon air base in Delhi on Sunday, according to an official statement.
It used its C-17 aircraft to airlift 450 oxygen cylinders from Brize Norton in the UK to the Chennai airbase in Tamil Nadu, the statement read. "IAF's C-17s are airlifting 4 cryogenic oxygen containers from Frankfurt, Germany to Hindon airbase and 450 oxygen cylinders from Brize Norton, UK to Chennai airbase," its statement said. (PTI)
Indian-American billionaire businessman Vinod Khosla pledged $10 million for the supply of medical oxygen to hospitals in India. This is in continuation with the Sun Microsystems co-founder's efforts to fund hospitals for oxygen supplies amid a surge in Covid cases in the country. Taking to Twitter on Sunday, he said there was a need to save lives as further delay may end up in more deaths. (PTI)
Family members created ruckus after 5 patients died at a private hospital in Meerut on Sunday. "Patients who died were co-morbid. Family members alleged that oxygen supply was disrupted for some time. The allegations are under investigation," said Akhilesh Mohan, Chief Medical Officer.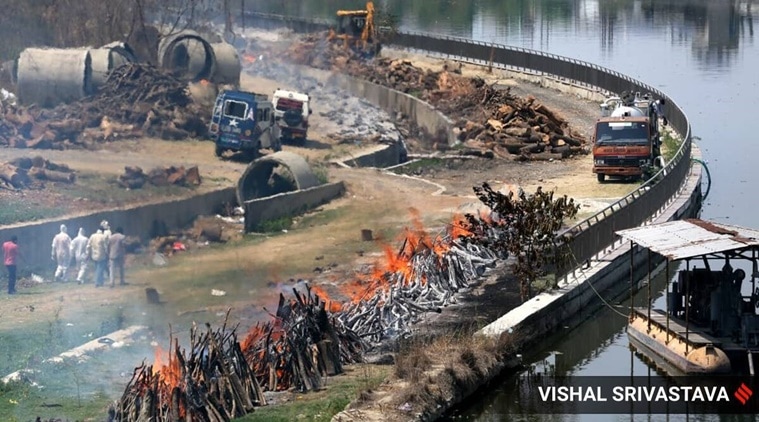 The last rites of Covid-19 victims being performed in Lucknow. (Express Photo: Vishal Srivastava)
In Bhopal, official Covid toll in April is 109, but over 2,500 at pyres, graves
In April, the official Covid death toll in Bhopal district was 109. Records accessed by The Indian Express from the three crematoriums and one kabristan designated for Covid deaths in the district show that besides the 109, 2,567 bodies were laid to rest under the Covid protocol from April 1-30.
Records show that the four facilities together also managed 1,273 other, non-Covid, deaths during this period. In contrast, records maintained by these facilities show they laid to rest an estimated 500 bodies in pre-Covid April 2019.
This matches the pattern playing out in parts of the country where the official death toll captures only a slice of the havoc caused by the pandemic — the Covid protocol is used for confirmed or suspected cases.
Dose shortage to go on till July, says Adar Poonawala
As India fights the second wave of Covid-19 and a crippling shortage of vaccines, Serum Institute of India (SII) chief executive Adar Poonawalla has said the shortage of vaccine would continue through July.
According to a 'Financial Times' report, Poonawalla has said that production of vaccines is expected to increase in July from about 60 – 70 million doses a month to about 100million.
The shortage comes at a time when India has opened vaccination for all adults from May 1.
The Indian Express website has been rated GREEN for its credibility and trustworthiness by Newsguard, a global service that rates news sources for their journalistic standards.
Source: Read Full Article