Coronavirus (Covid-19) India Live News Updates: There are 8,67,496 active cases of coronavirus in the country, comprising 12.29 per cent of the total caseload, the data stated.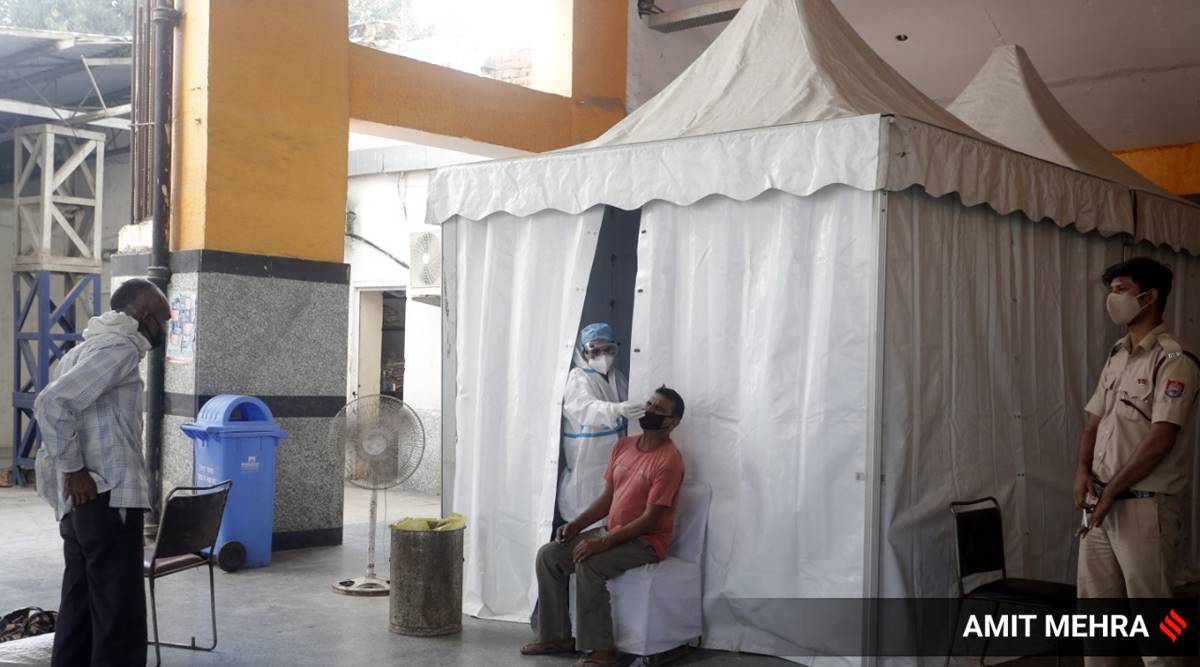 Coronavirus India News Live Updates: The Union Health Ministry Sunday said that the number of recoveries in India have crossed the 60-lakh mark. The top five states with maximum caseload (61 per cent active cases) are contributing more than half (54.3 per cent) of the total recoveries, it further said.
India's coronavirus caseload crossed the 70-lakh mark on Sunday, while the total number of recoveries reached 60,77,977, according to data from the Union Health Ministry.
A total of 74,383 infections were reported on Sunday, taking the country's caseload to 70,53,807, while the death toll touched 1,08,334, with 918 deaths in a day.
There are 8,67,496 active cases of coronavirus in the country, comprising 12.29 per cent of the total caseload, the data stated.
India is the second worst-hit country in terms of total coronavirus cases, after the United States, while it is third in spot in terms of fatalities globally after the US and Brazil, according to John Hopkins University data.
Coronavirus India LIVE updates: Over 70 lakh coronavirus cases in India; death toll surpasses 1.08 lakh. Follow this space for the latest updates.
The Gujarat government is likely to consider reopening schools only after Diwali, PTI quoted a senior official as saying.
State education department secretary Vinod Rao said there was no immediate plan to reopen schools. "We are not doing this immediately. We will consider reopening schools only after Diwali (vacation) after assessing the coronavirus situation," Rao said on Saturday.
He said the education department has been in touch with representatives of parents and school associations over the issue.
The state government had earlier decided against reopening schools from September 21 as per the Centre's Standard Operating Procedure (SOP) that allowed students to visit schools to take guidance from teachers with parents' permission.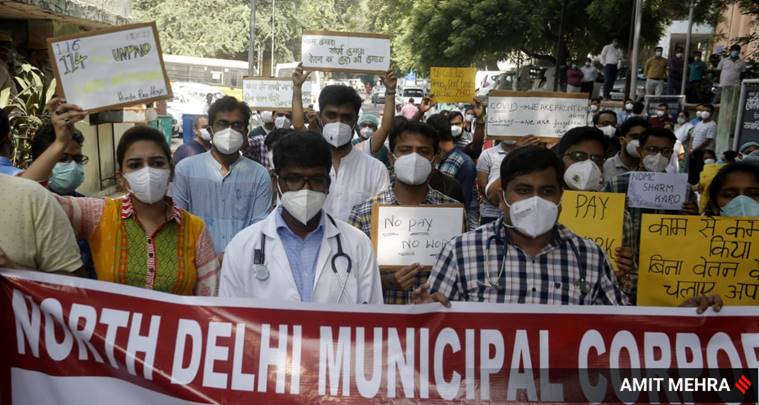 Doctors and nurses on COVID-19 duty protest against North MCD administration over alleged non-payment of pending salaries, at Hindu Rao Hospital in New Delhi, Friday , Oct. 09, 2020. (Express Photo By Amit Mehra)
Meanwhile, a handful of coronavirus vaccine candidates near the end of late stage clinical trials. At least two vaccine frontrunners — Pfizer and Moderna Inc — are set to release late-stage and Phase 2 results this month.
While experts have said vaccines were likely to reach the general public in the March-April 2021, drugmakers have been more ambitious with their calculations, with some firms like Moderna Inc eyeing the emergency-use authorisation route to launch their shots by year end. In fact, Pfizer may also file for US FDA approval of its vaccine this month itself, Bloomberg reported.
There are 182 vaccine candidates in pre-clinical or clinical trials across the world. Of these, 36 are in clinical trials and nine in final states of human trials. In India, where two vaccines are in phase II trials and the one by Oxford in phase III, the Union Health Ministry has said it was expecting supplies to be available from January next year.
Source: Read Full Article