Lieutenant General Walter Anthony Gustavo Pinto was known for his dynamic, bold and aggressive leadership in the Battle of Basantar during the 1971 War.
Lieutenant General B T Pandit — who was awarded a Vir Chakra for his courage during that battle — salutes the Victor of Basantar who passed into the ages last week.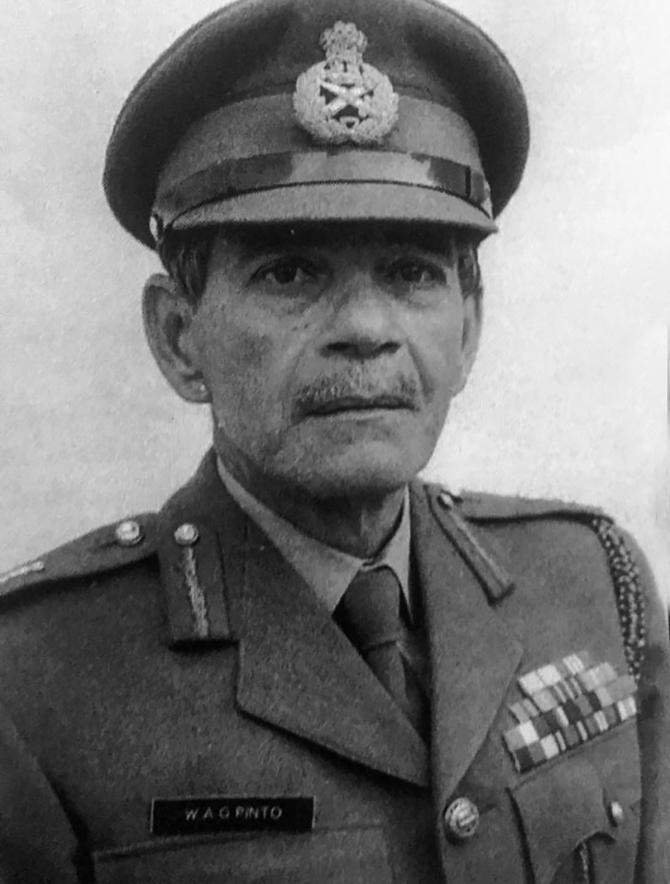 Lieutenant General W A G Pinto was born on July 1, 1924 at Pune and just three years short of a century, he breathed his last in the Command Hospital in Pune on March 25, 2021.
He served in the Indian Army for nearly four decades from September 1943 till he was superannuated in July 1982 as the Central Army Commander.
During his illustrious and enviable career, he rose from 2nd Lieutenant to Lieutenant General and held varied important posts and assignments with great distinction.
However, his command tenure as General Officer Commanding 54 Infantry Division during the 1971 War stands out clearly as it catapulted him as our foremost battlefield General.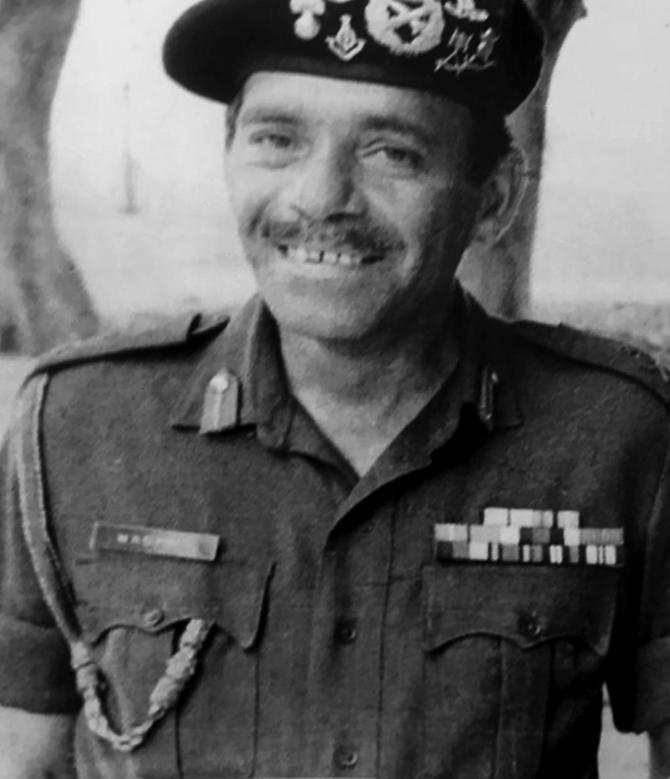 Under his dynamic, bold and aggressive command, 54 Inf Div, deployed for the offensive in the western theatre, added a golden chapter to our post-Independence military history.
I was then a lieutenant colonel commanding 9 Engineer Regiment and in that capacity was extremely fortunate and privileged to be part of this offensive mission as combat engineer task force commander.
The hostilities began with our then prime minister Smt Indira Gandhi's declaration of war in a very inspiring radio address to the Nation late 3/4 December night.
As planned, we immediately launched an offensive from Samba (near Jammu) into the Shakargarh sector of Pakistan.
Thereafter, for the next fortnight, we fought as well integrated all arms force, blazed our own trail in the absence of any worthwhile road common network, crossed three formidable minefields of unprecedented 600 to 1,300 meters depth laid by Pakistan hoping to bring our advance to a grinding halt and on the night of 15/16 December we succeeded in establishing a strong bridgehead across Basantar Nala.
This posed a serious threat to the Pakistan heartland and forced the enemy to react and commit his strategic reserve to contain and eliminate this threat.
In the ensuing intense battles fought from 15 to 17 December, we decimated the enemy's one infantry and one armed brigade accounting for as many as 60 tanks (as conceded even by Pakistan).
These crippling losses forced the Pak government to sue for and accept a cease-fire in the western theatre from 2000 hours on 17 December, thereby conceding decisive victory to us.
In his special order of the day on this momentous occasion, General Pinto wrote:
'The battles of Karir N crossing at Chakra and crossing of Basantar N at Sarajchak will go down in history as epoch-making deliberate mine breaching operations against well-fortified enemy positions by well-knit t teams of all arms: Inf, Engineers, Armour & Artillery.'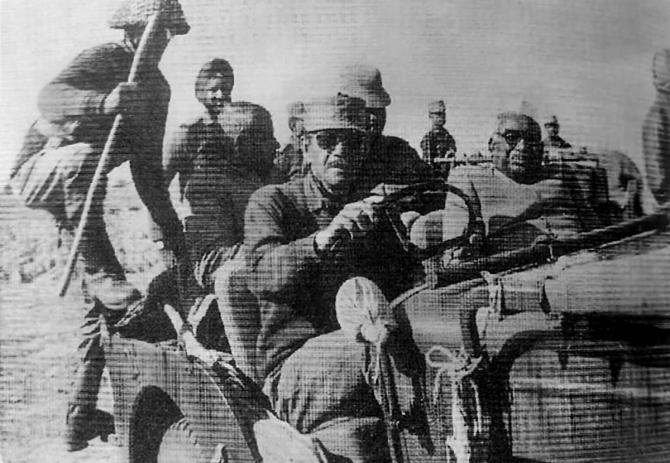 The scale and significance of this thundering victory can be gauged not only by 400 sq km of the territory captured, heavy war losses inflicted on the enemy and casualties suffered by him but also by the unprecedented 194 gallantry awards including two Paramvir Chakas and 9 Mahavir Chakras won by 54 Inf Div in this campaign.
Subsequently, we erected some interesting signposts in the captured area such as 'You are entering Pakistan. No passport required. Bash on regardless' or at Minefields: 'Pak mines only. Bash on regardless'.
These eloquently epitomised and summed up the prevailing ethos and indomitable spirit of the famous formation and its equally famous commander.
By now this slogan has been indelibly associated with both of them.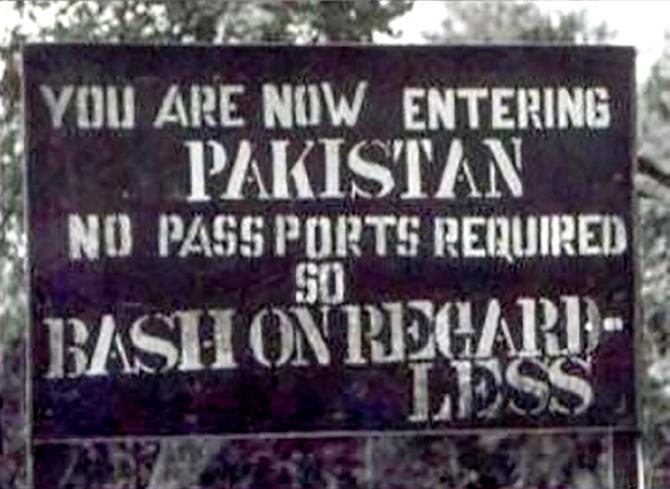 Enforcement of the mutually agreed to ceasefire effectively brought the hostilities to an end at 2000 hours on 17 December. And with this, a new living legend was born 'Gen Pinto the victor of Basantar'.
This has endured so far and surely his rich legacy will continue to inspire future generations forever.
The Victor of Basantar has always been a down to earth soldier who led with the perfect blend of the qualities of head and heart. He was a hard taskmaster and had little time for armchair strategists.
On the other hand, on the personal plane, he was kind-hearted and of a forgiving nature.
He exhibited a unique sense of humour even in tense, stressful situations.
Indeed, he became a role model for all of us who had the privilege of serving under him during that tumultuous fortnight.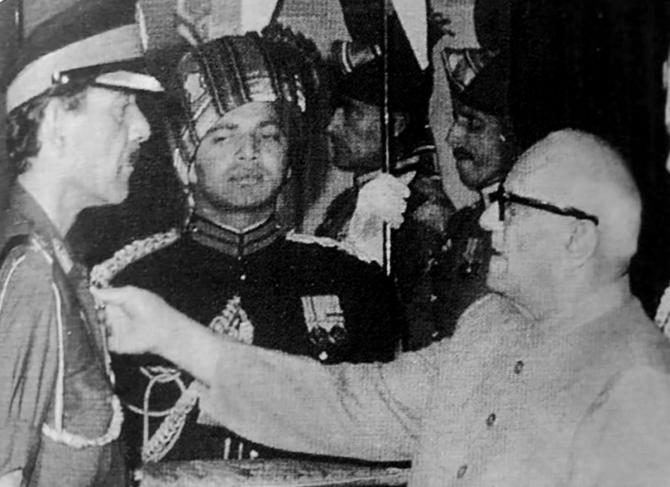 In a fitting tribute to such a great field commander, the last rites were performed with full military honours on 28 March duly adjusted to the corona restrictions.
The Southern Army Commander Lieutenant General Jai Singh Nain laid the wreath on behalf of the Indian Army. I also laid a wreath and paid my last respects to him.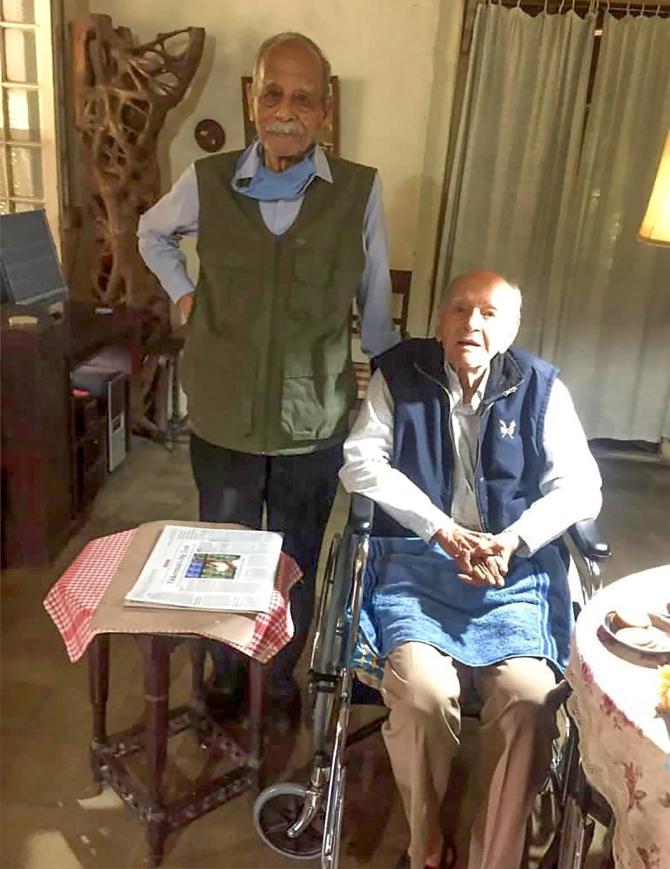 For me personally, he was almost the last surviving commander under whom I had worked during my Service that too in war.
My last photograph with him when I called on him last December clearly shows the deep life long bond between two war veterans.
His demise, although inevitable and expected, has left me shell shocked.
In the last post, I tried to convey my feelings in a silent monologue 'WAG Sir, you did your bit and more by the Nation, by the Service and by us all who were privileged to serve under your command. Now onwards, from you new heavenly perch, BASH ON REGARDLESS'.
Feature Presentation: Rajesh Alva/Rediff.com
Source: Read Full Article