'There is a need for a national task force with a singular objective to increase automotive exports.'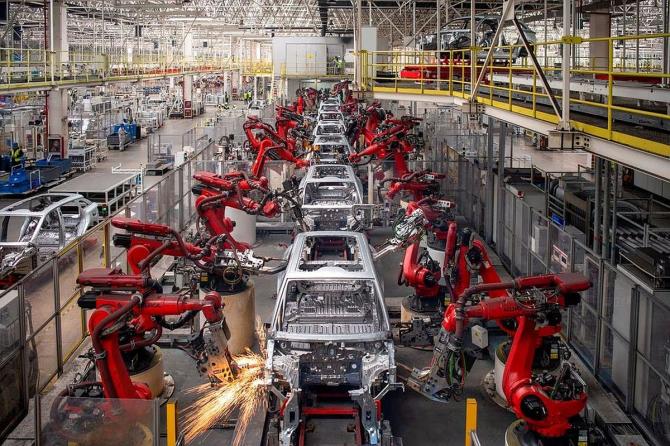 There is a need to have a task force solely for automotive exports in order to boost the export of components to $100 billion by 2030 from $20 billion now.
Also, by then 25 per cent of the automobiles made here should be exported, said Pawan Goenka, chairman, Steering Committee for Advancing Local Value-Add and Exports (SCALE), which comes under the Ministry of Commerce and Industries, at the 63rd SIAM Convention.
Speaking to Sohini Das/Business Standard, Goenka said startups were playing a huge role in the transition to electric vehicles.
How can automotive exports from India pick up?
We are used to double-digit growth in India. I don't think 13-15 per cent growth can happen without exporting.
Our export should be at least triple of what it is today.
A lot of work is happening on localisation. The Society of Indian Automobile Manufacturers and Automotive Component Manufacturers Association are working with SCALE on how to localise what we use in our vehicles.
The automotive industry is the only sector that can bring huge growth in manufacturing and export.
We export automotive components worth $20 billion, which is less than 2 per cent of the global export, and we are number 10 in the pecking order.
And 15 per cent of our automobiles manufactured are being exported.
Japan, South Korea, and Thailand export more than 50 per cent of the automobiles they manufacture.
The industry needs to set a big target. I will propose component exports of $100 billion, and 25 per cent of vehicles manufactured in India should be exported by 2030.
Business as usual will not make this happen. We need to make it a national mission.
There is a need for a national task force with a singular objective to increase automotive exports.
How are startups playing a role in local value addition?
In automotive, startups are playing a pretty significant role in the transition to electric vehicles.
They are playing a big role in two- and three-wheelers but not that big a role in large buses, trucks, or even passenger vehicles.
However, in small commercial vehicles they are indeed playing some part.
In electric-mobility service, there are several startups.
When startups for electric vehicles started, most were importing and selling here with little value addition.
But now with the government's Faster Adoption and Manufacturing of (Hybrid &) Electric Vehicles scheme, there is more local value addition happening.
It's the beginning of a journey. Not just startups, but even big original equipment manufacturers are now doing it.
Do you think the production-linked incentive (PLI) scheme has played a significant role in boosting local value addition?
PLI has played a big role in making electric vehicles becoming affordable, and in components using advanced technology we are trying to localise what we currently import and eventually export from here.
We are localising the manufacture of cells for batteries.
In these areas PLI has helped and the interest from the industry has been good.
We have not made much inroad into local cell manufacturing. Your comments.
From finding a mineral to excavating it takes time. I hope the government is able to push the pace.
This is now the first phase of discovery, and after that we have to see the quality of lithium and how much effort would be required to extract it.
From what I understand it would take several years before which lithium can come from Indian mines.
Feature Presentation: Aslam Hunani/Rediff.com
Source: Read Full Article