'There is a deep stigma or taboo attached to COVID-19 in rural areas.'
'People don't want to test because they fear social exclusion.'
'Even those who test positive may not reveal and not follow the quarantine protocol.'
"Door-to-door vaccination should be explored because 40% of Bihar's population is illiterate, 90% is rural and 80% does not have smart phones."
"The state's population is different than Maharashtra or Kerala, hence Bihar needs its own robust plan catered to its own unique needs which may not be same for other states," says Dr Vikash R Keshri, an expert in public health and health policy.
Dr Keshri is currently senior research fellow at the India office of the George Institute of Global health, a global medical research institute headquartered in Sydney.
In a public health career spanning more than a decade, he has worked in diverse roles in many states of India, including around 6 years in Bihar. He spoke about the seriousness and dangers posed by the rural spread of the virus to Rediff.com's Archana Masih in the concluding part of his interview.
Part I: 'We underestimated the virus'
How serious is the situation in rural Bihar?
There is no robust data. The only data available is from the state health department, but it is not segmented into rural or urban. We do not have credible data on the extent of rural spread, though there are some proxy indicators.
Bihar's urban population is less than 10%. Except Patna, most of Bihar's districts are rural.
We can fairly estimate that any district with more than 1,000-3,000 active cases will include rural cases because a majority of the population is rural.
It clearly indicates that cases are not restricted to urban areas.
This is the tip of the iceberg because we know that many symptomatic people in rural areas are not being tested. Either testing is not available or they are tested by the Rapid Antigen Test which is not reliable.
There is a deep stigma or taboo attached to COVID-19 in rural areas. People don't want to test because they fear social exclusion. Even those who test positive may not reveal and not follow the quarantine protocol.
Reverse migration from places like Mumbai and Delhi which had high number of cases is also an indicator of increased cases.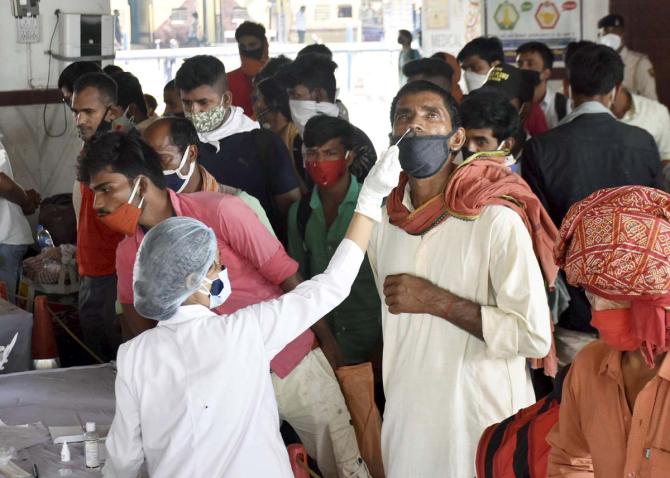 What dangers does this pose for the state?
Rural spread poses significant danger because 90% of Bihar is rural. The economy is agrarian and rural people contribute significantly to the economy.
It will impact the state in the long term overall political-economical aspect.
The low literacy rate and lack of opportunities to earn a living compels people to go out and work and expose themselves.
God forbid, if it spreads in rural areas and has a mortality rate of 2%-3%, then the fatality can be high.
There are two aspects to dealing with the pandemic — prevention and control of the spread.
Prevention can be done by extensive communication and enforcing Covid appropriate behaviour in rural areas. This cannot have a centralised approach. It has to be done through the panchayati raj institutions and local authorities. Let the panchayat head lead the prevention aspect.
The state needs to work aggressively on control which is done by the tried and tested method of Screen, Test, Isolate and Treat.
We can't test everyone because of lack of resources. Hence field workers should be involved because Bihar has very good field workers.
They should be taught to protect themselves and go for door-to-door screening. This is what Bihar did in the first phase.
Once patients test positive, they can be isolated based on their requirements. This exercise should be done by community health workers. Bihar already has a strong network of self help womens' groups.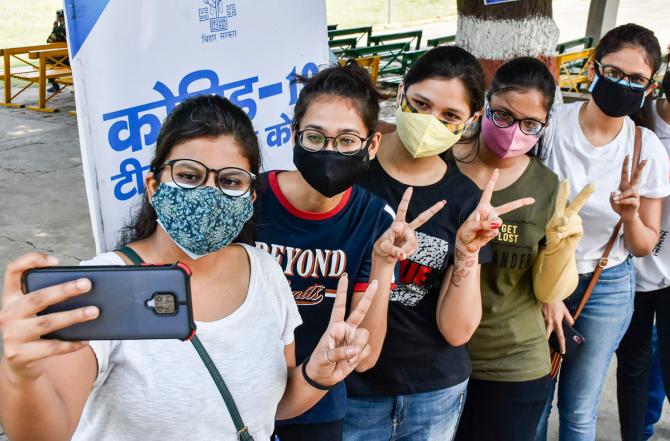 Is the rural health infrastructure equipped to deal with pandemic?
It is limited. There is supposed to be a sub health centre for a every 5,000 residents, but it is for every 10,000.
A primary health centre should be for a population of 30,000, but in reality it caters to more than a lakh (100,000 people).
Many community health centres have been constructed. They may have a building, but not the requisite medical infrastructure.
Rural health infrastructure is not catered to treat sick Covid patients. At best they can work as isolation centres and provide treatment at the homecare level.
Few subdivisional hospitals can provide oxygen.
When faced with these challenges, Bihar should focus on training all primary health workers on triaging.
The state should develop a triage tool which healthcare workers can download on their smartphone. There should be a set of questions posed to any Covid patient and the healthcare worker can decide whether s/he can be treated at the primary level or needs to be sent to the district hospital or needs to be sent for higher treatment.
Primary health centres can act as good gate keepers by the use of triaging. This can reduce panic among people who want to run to the district hospital when tested positive.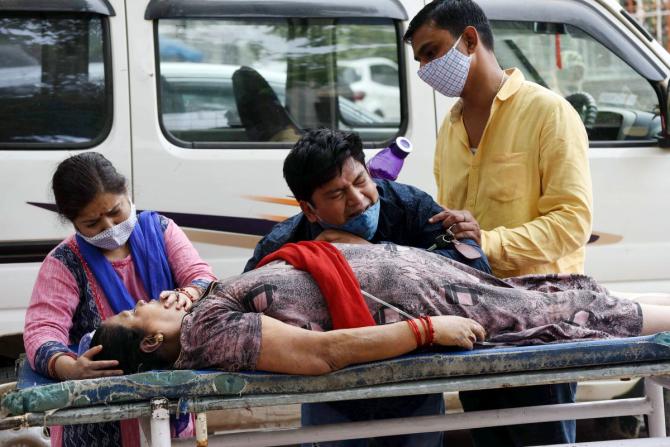 What are the challenges of vaccination in smaller towns and villages?
Bihar has a good record in vaccination and immunisation. It is very well integrated in the health system and healthcare workers take this very seriously.
Bihar's immunisation data is among the best in the country. The difference is that with other immunisations, the healthcare worker will come to your home and ask you to bring your child to the immunisation centre, but with COVID-19 it is not so.
COVID-19 vaccination will need radical out-of-the-box thinking. Around 10% of the state is fully vaccinated. If Bihar wants to achieve universal immunisation, it has to work out a better plan going forward.
Door-to-door vaccination should be explored because 40% of the state's population is illiterate, 90% is rural and 80% does not have smart phones. The state's population is different than Maharashtra or Kerala, hence Bihar needs its own robust plan catered to its own unique needs which may not be same for other states.
Every state has different issues.
The state should have a state-level and district level Covid committee with sub committees like a separate one for vaccination. This should include those who have experience in vaccination and they should be tasked to make the plan for immunisation in the various districts.
What are some of the suggestions you would have as a public health professional for India's response to the pandemic?
1. Decentralise up till the panchayat level. Let village level committees and state level committees decide their own action plan. Constitute an advisory panel which is diverse — don't populate it entirely with bureaucrats.
2. Focus on prevention and control because this pandemic is going to be prolonged.
3. Optimise the resources by proper triaging. Instead of people running around for medical help, advise them where to go.
4. Continue to boost the morale of health workers who have been fighting COVID-19 for a year without any additional incentive. Their fighting spirit should be recognised and admired.
They are exhausted and are endangering their own lives as they continue to discharge their duties. This time around we have lost more doctors and healthcare workers compared to last year. We need to keep motivating them.
5. Vaccinate. In the current form, the vaccination drive will have limited success. It needs innovative, out-of-the-box thinking and localised approach.
You can't have the same strategy for vaccination for the entire country.
Opinions expressed are personal in nature and might not necessarily be subscribed by the institution.
Feature Presentation: Aslam Hunani/Rediff.com
Source: Read Full Article