Deployed at 15,632 feet, Captain Shiva Chauhan, 25, highlights the calibre of the Indian Army's women officers.
Captain Shiva Chauhan, 25, of the Indian Army's Corps of Engineers has completed 40 days at the Siachen Glacier, the world's highest battlefield.
She was commissioned in the Indian Army two years ago and is the first lady officer to be deployed at the Kumar Post at 15,632 feet which lies at the central point of the glacier.
She and fellow officers and men would have trekked for four days to reach Kumar Post from the base camp.
The temperature at those heights dips to below -35 degrees. Officers and men posted on the glacier serve a three-month tenure. Their living quarters and office is set up in fabricated huts furnished with heating devices.
Uniforms are white, multi-layered body suits made for extreme high altitude. Stepping out without snow goggles can make you go snow blind; frost bites, chilblains, insomnia are other risks faced by soldiers in that extreme weather.
"Shiva wears two gloves and has been provided with very good boots, jackets and heating blankets. Basic things that we take for granted are a luxury there and they survive on that. They eat light food like dal, rice, potato, roti — basically foods that can be digested easily. They also have dry fruits, green tea, lemon tea, coffee, tea etc," Shubham Chauhan, the captain's elder sister, says over the phone from Jaipur.
"The government provides the best gear, equipment and amenities possible at that altitude. The have also have a doctor posted there."
"She does yoga — surya namaskar, kapalbhati pranayama and light exercises because you get breathless at that altitude," says Shubham.
Captain Shiva is a civil engineer by training and is responsible for combat engineering tasks at the post.
Offices at the glacier are located in tents or fabricated huts. Communication with family and loved ones is done via WhatsApp if there is connectivity or through satellite phones which automatically get disconnected after 11-12 minutes.
"She calls often whenever she can. She keeps very busy with her daily duties because even when she calls, we can hear that her work phone ringing constantly," says Shubham, who is elder to Shiva by two years and preparing for judicial services exam.
The tents of officers usually include a small front room, one bedroom and a toilet.
There is one television set in the camp.
In her free time, Captain Shiva sketches and has carried some books to read.
At the end of her 90-day tenure, she will come home for a month-long leave.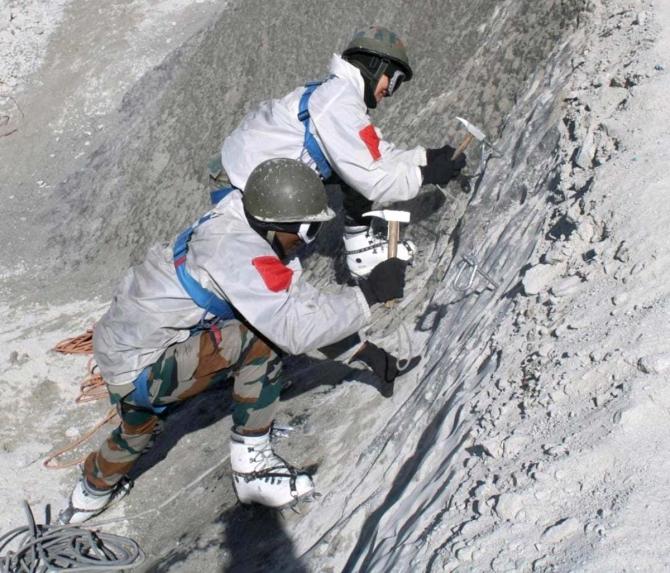 The officer underwent a month-long rigorous training at the Siachen Battle School at the base camp along with male counterparts. She knew she had to pass the test to make it for a tenure on the glacier.
The training included scaling walls of ice, avalanche and crevasse rescue, how to survive in a blizzard, how to rescue oneself if buried in an avalanche, what to do if you fall between two hills etc.
Last year, Captain Shiva participated in a cycle expedition from the Siachen War Memorial to Kargil War Memorial to commemorate Vijay Diwas. She and the group cycled for 508 kilometres over 11 days at treacherous heights of 9,000-12,000 feet.
"She is very fit and very determined. She will do what she sets out to do. Mental fitness is more important than physical fitness. She has the capacity to not give up, however tough it is," says Shubham.
The Chauhan girls knew since their schooldays that merit and hard work was their only ticket to making a career and life itself.
Life was tough when they lost their father when they were in school. With no male in the family, their mother hired someone to manage the shop their father had left behind.
He would give them a fixed amount each month and never increased the sum when they asked. There was nothing they could do.
Shiva was a topper, always securing above 90% which fetched her a scholarship at St Anthony's School, Udaipur. "Mr D'Souza, the principal, said the only condition of the scholarship was that her percentage should not slip below 90 and Shiva never allowed that to happen," says Shubham.
When she joined engineering college, she got a scholarship again and the family credits Principal Dr R S Vyas for his support.
Some family members advised the sisters get jobs as sales staff in malls. "They doubted the calibre of our mother and our capability. But Shiva and me always believed that we would make something of our lives," says Shubham.
Both the girls started giving tuitions after school and college. Shiva used to return from college, have lunch and give tuitions for two-and-a-half hours every day. Shubham did the same and things started becoming better for the family.
"Those few early years were tough, but our tuitions were a big success. We learnt a lot about life and are happy about those experiences that have shaped us," says Shubham.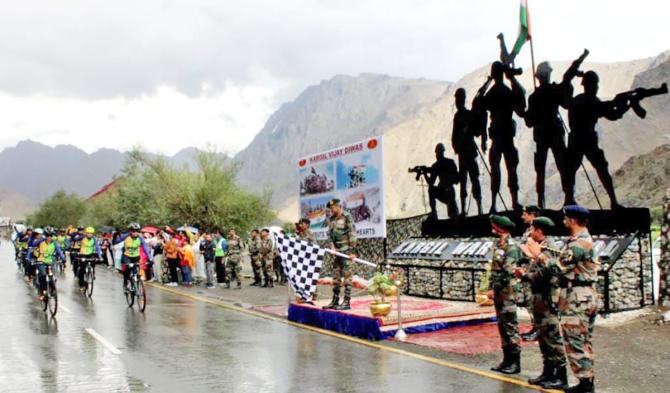 Their mother Anjali Chauhan had always expressed a desire to her daughters that they should become government officers one day.
It was a desire engrained in the girls and they wanted to fulfil their mother's dream.
"I told Shiva that always know that you are the best in the room," says Shubham talking about Captain Shiva's interviews/tests before selection into the army.
When Shiva passed the exams and medical tests to be selected for the Officers Training Academy in Chennai, a part of Mrs Chauhan's dream was accomplished.
Shiva went to Chennai for a year's training. "She used to practice carrying loads on her back in her room so that she could do well in the training," says Shubham, adding that her sister is a sprinter and plays badminton.
When she graduated from the academy, the family could not attend the ceremony because the pandemic had posed severe restrictions.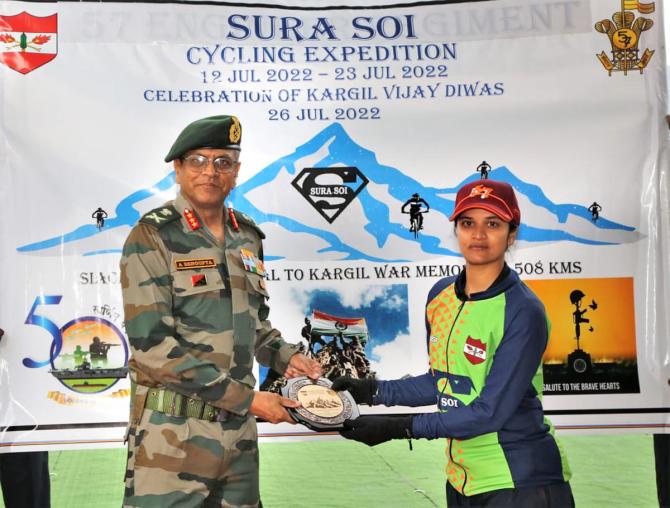 From the desert of Rajasthan, Captain Shiva's first posting was in Leh where the temperature was -10.
Mrs Chauhan visited her daughter once in Leh and is waiting for her to be home on leave around mid-April.
"When we were in school/college, our travel was between Jaipur and Udaipur. Shiva travelled to Allahabad, Bhopal, Bangalore, Delhi for her service selection board interviews and medicals. Those were the only places she had travelled before joining the army and now she has been in places that others can only dream of," says Shubham with a laugh.
"Since she left home, she has only been travelling."
When the Indian Army released the news of Captain Shiva being the first lady officer to serve a tenure at a post in Siachen, the family was inundated with calls.
Mrs Chauhan's phone did not stop ringing for 6-7 hours. The prime minister and defence minister also tweeted congratulating the officer.
The entire sector where the Chauhans lived in Udaipur called them. "We got calls from every home in our colony," says Shubham.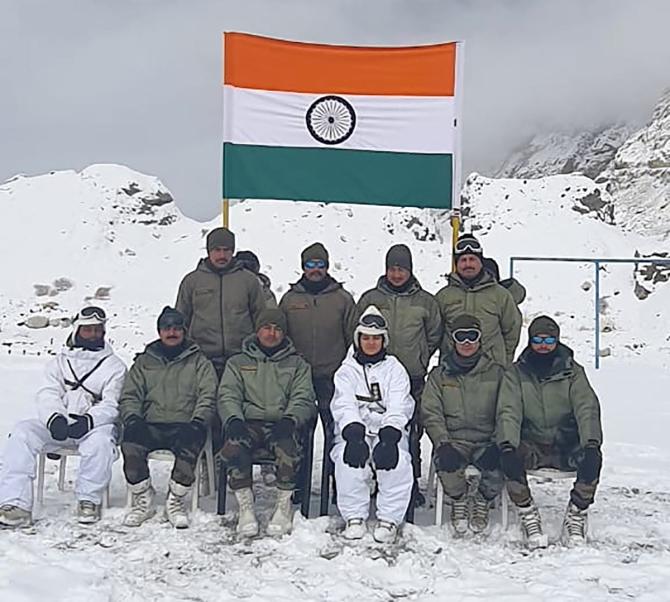 Till the end of March, Captain Shiva Chauhan's home will be the tent in the icy glacier of Siachen at Kumar Post.
Named after Colonel Narendra 'Bull' Kumar, Kirti Chakra, Padma Shri, an iconic mountaineer who conducted many reconnaissance expeditions to the glacier in the 1980s that revealed Pakistan's designs to capture Siachen.
It was due to Colonel Kumar's herculean efforts that helped India occupy the dominating heights and gain advantage over the Pakistan Army.
Colonel Kumar passed away at 87 in 2021.
"The Kumar Post is the only part of the glaciated region which has some grass which is why the Ibex animal is found there. People on the post revere them," says Lieutenant General Sanjay Kulkarni (retd), the first officer to land in Siachen with his troops as a young captain in 1984.
The post connects to the Karakoram Pass and is on the eastern flank and gives a good view of the glacier.
General Kulkarni, who is a former director general, Infantry, also remembers the post as a mountainous paradise because of the beautiful Apsara ranges and a small lake.
Some year ago, a lady officer led a familarising party sent by the ministry of defence to the Kumar Post," recalls General Kulkarni. "She had walked for four days and stayed a night at the Kumar Post." Where Captain Shiva Chauhan will spend 90 nights or more.
Feature Presentation: Aslam Hunani/Rediff.com
Source: Read Full Article