States' spending doesn't improve the public image of the police, so where is the money going?
The murder of George Floyd in the US sparked a worldwide debate about the police.
Some cities in the US discussed defunding the police and rebuilding it, while others debated class bias in powerful institutions.
It was a throwback to the 1970s when sociologists and thinkers discussed reforming police and justice systems.
A discussion on the police and justice system has to involve public perception.
In November, the Indian Police Foundation released a survey on the police in the country.
Andhra Pradesh and Telangana topped among states in the public perception index.
Southern states scored higher than the northern ones.
The police in the so-called BIMARU states scored the lowest in trust and satisfaction.
The survey correlated data on police responsiveness and technology adoption — among seven other factors — to arrive at trust scores for the police in 29 states and Union Territories.
Analysis shows that vacancies in state police forces correlated with perception about them.
States with higher vacancies in the police scored low on the perception index.
As police departments filled up posts, public perception improved.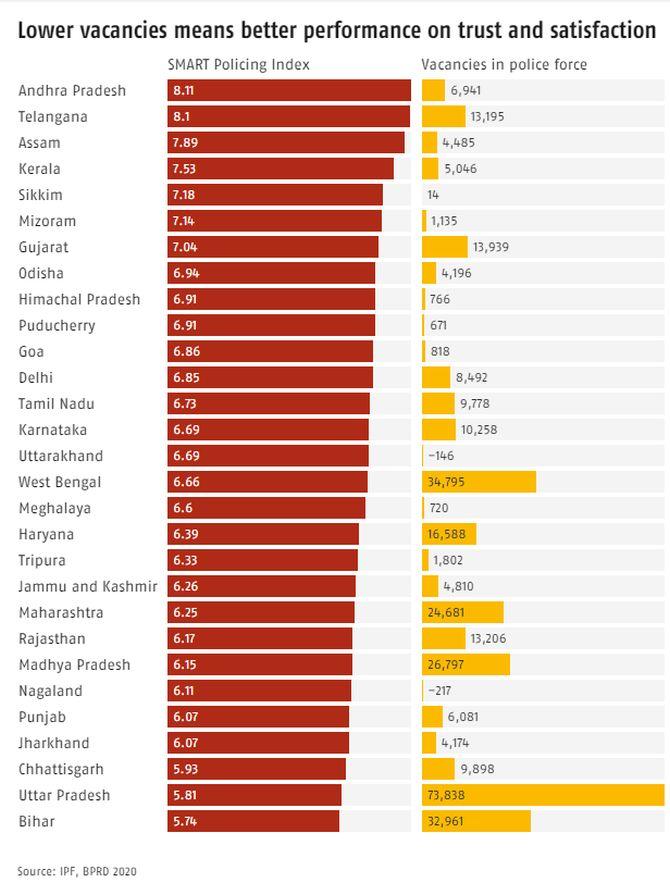 Surprisingly, states that spent a higher proportion of their budget on the police had a lower perception than states that spent little.
Uttar Pradesh, for instance, spent 3.9 per cent of its budget on the police in 2019-20 and had the lowest rank in the perception index.
Andhra Pradesh spent only 2.1 per cent and its police had the highest rank.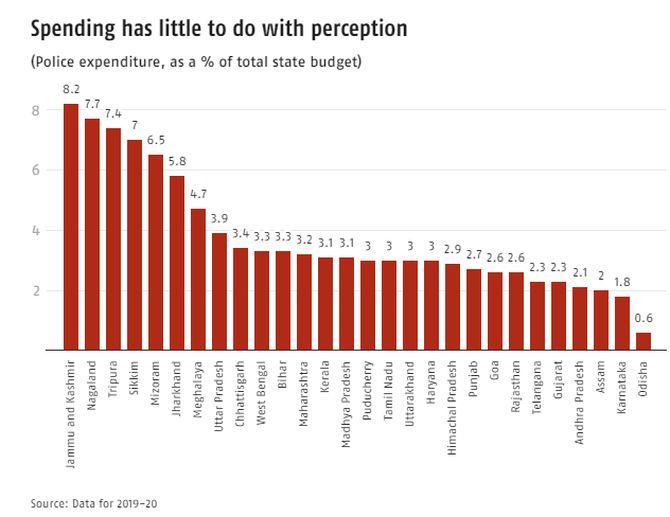 One reason for spending not improving public perception could be mismanagement of funds.
States low in the perception index spent less on modernisation and incurred higher administration expenses.
Another issue has been the growing influence of the central government.
Data from the Bureau of Police Research and Development show that states' expenditure on the police increased 66.2 per cent between 2015-2016 and 2019-2020.
On the other hand, the Centre's expenses on its armed police forces (CRPF, CISF, ITBP, Assam Rifles, Railway Protection Force, Sashastra Seema Bal) grew 84.7 per cent.
The 60.5 per cent expenditure increase by border states on the police was lower than the Centre's expenditure during the same period.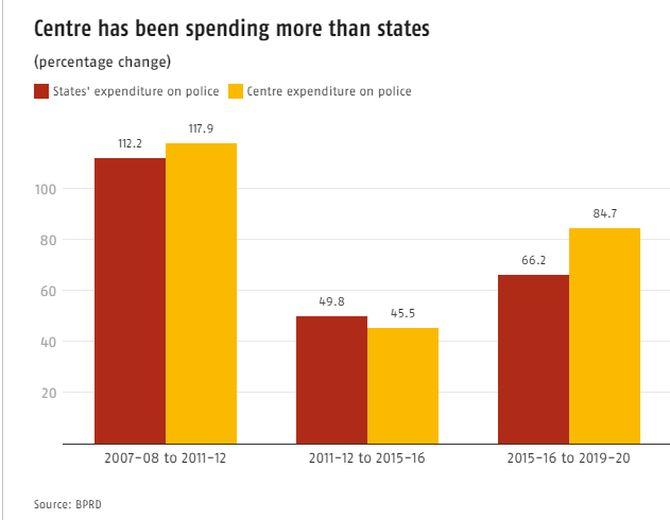 The trend in police spending between 2015-16 and 2019-20 had reversed compared to the previous five years.
Between 2011-2012 and 2015-2016, the Centre's police expenditure increased by 45.5 per cent and the states' rose by 49.8 per cent.
The expenditures of the Centre and states increased 117.8 per cent and 112.2 per cent, respectively, between 2007-2008 and 2011-2012.
Discussions on police reforms have been going on for decades now.
India needs to discuss class bias, but it also needs to divest from a central model and improve policing in the country.
Feature Presentation: Aslam Hunani/Rediff.com
Source: Read Full Article