After clocking losses for seven straight quarters, Tata Motors on Wednesday posted a consolidated net profit of Rs 3,043 crore in the third quarter (Q3) of 2022-23.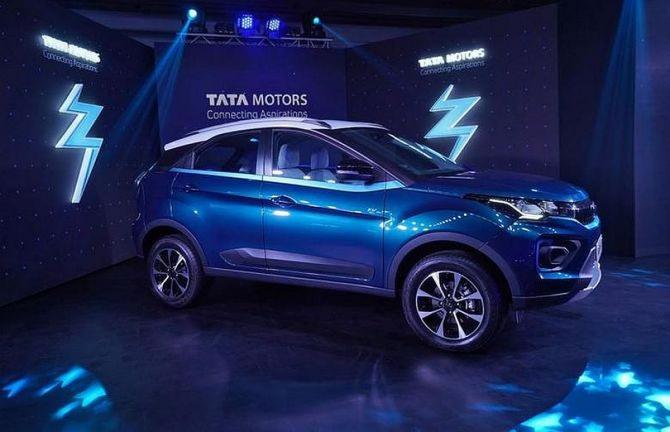 This came on the back of a strong order book, better semiconductor chip supply, tempered commodity prices, and a better product mix.
"We remain cautiously optimistic about the demand situation, notwithstanding the global uncertainty.
"The chip supply is expected to improve further. Volumes will continue to ramp up steadily, particularly for Jaguar Land Rover (JLR)," Tata Motors Group chief financial officer (CFO) P Balaji told reporters in a conference call.
About 67 per cent of Tata Motors' total revenue comes from JLR.
Tata Motors' total income jumped 22.9 per cent year-on-year (YoY) to Rs 89,618 crore in Q3.
Its total expenses jumped 17.4 per cent YoY to Rs 86,415 crore in Q3.
"JLR's margin improvement in Q3 was due to higher wholesales, stronger product mix, improving semiconductor supply situation, and pricing.
"JLR's order book is very strong at 215,000 units, which is 10,000 more units than the previous quarter," noted the CFO.
Mitul Shah, head of research at Reliance Securities, said JLR's strong order book of over 215,000 would result in strong volumes in 2023-24, with likely improvement in semiconductor supply.
"We believe lower capital expenditure and global recovery would support JLR while improving the passenger vehicle (PV) business.
"Focus on cost control would improve Tata Motors' standalone margins," added Shah.
With commodity prices starting to stabilise, Tata Motors is working feverishly to achieve double-digit earnings before interest, tax, depreciation, and amortisation (Ebitda) in the commercial vehicle (CV) division at the earliest, Balaji told reporters.
The CV division's Ebitda in Q3 was at 8.4 per cent.
Temperance in commodity prices has also led to improvement in margins in the PV division.
A rise in demand and a step-up in realisations were other factors behind an increase in profits of the PV division, observed Balaji.
Brokerage firm ICICI Securities mentioned that Tata Motors is domestically "in a sweet spot, with a cyclical upswing in the domestic CV space and robust consumer response to its new portfolio in the PV domain".
The company is even leading the electrification drive domestically with a dominant 80-plus per cent market share in the electric PV space.
Balaji said the company has no plans to enter the hybrid vehicle market any time soon and will instead "double down" on its market leader position in the electric mobility market.
While JLR is still affected by the semiconductor deficit to some extent, Balaji said the situation in India has normalised, adding that the order book in India is "healthy".
On the issue of price hikes, he said, "With the kind of runaway inflation we have had, it is behind us now. We are entering a stable (price) zone."
Talking about global demand, he said the company is cautious, not complacent.
At the same time, Tata Motors is optimistic.
One, it has the right kind of portfolios under its belt – premium luxury vehicle market with JLR, where demand is more resilient to recession – and two, India's GDP growth is on a strong wicket, he added.
He said that Ford's plant in Sanand, which has recently been acquired by Tata Motors, will "over a period of time" morph into a site that will only manufacture electric vehicles (EVs).
"Currently, the Sanand site will manufacture both internal combustion engine vehicles, as well as EVs," he said.
Stable commodity prices and a focus on profitable growth will aid in enhancing the underlying margins in the current quarter (January-March), he added.
Source: Read Full Article