The heartbreaking pictures of Sikh men carrying three saroops of the 'Living Guru' on their heads and walking barefoot inside Kabul airport went viral Monday.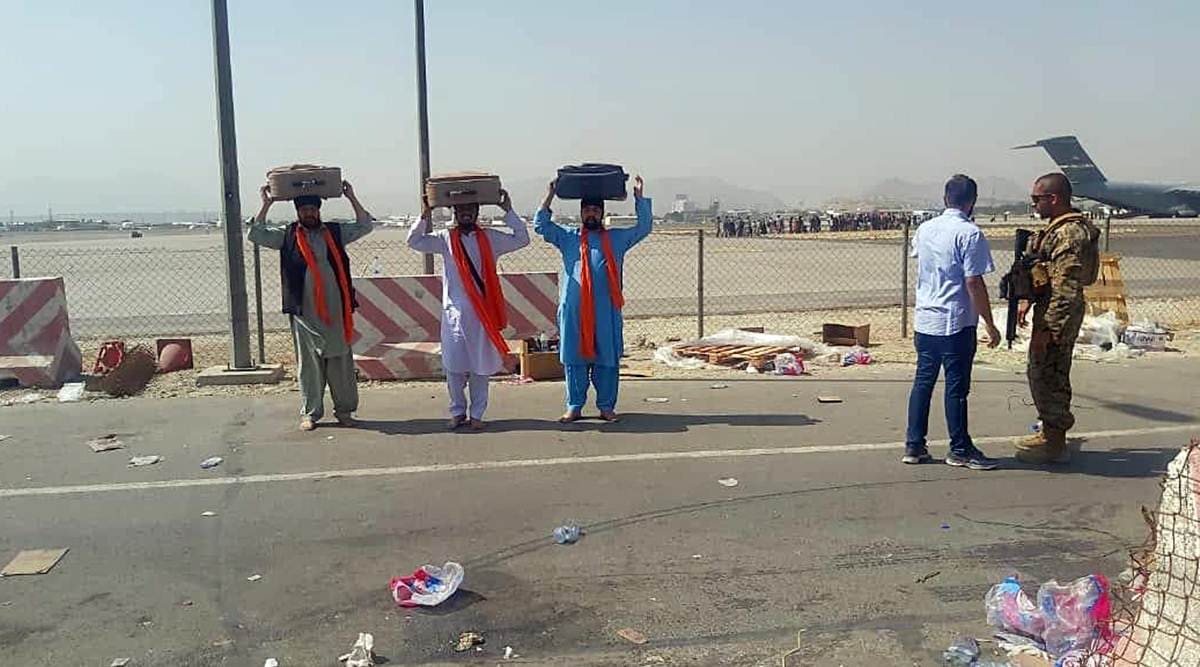 In scenes that would forever be etched in the hearts and minds of the Sikh community following Taliban's takeover of Afghanistan, three of last six saroops of the holy scripture, Sri Guru Granth Sahib, were evacuated from the war-torn country on a flight to India.
The heartbreaking pictures of Sikh men carrying three saroops of the 'Living Guru' on their heads and walking barefoot inside Kabul airport went viral Monday.
Sri Guru Granth Sahib is more than just a holy scripture for the followers Sikhism. They consider it as their 'Living Guru' as it contains the Gurbani — the teachings of ten Gurus of Sikhism, including the founder Guru Nanak Dev.
One of the 46 Afghan Sikhs, who were evacuated Monday, told The Indian Express, "We are also carrying three saroops of Sri Guru Granth Sahib with us. We cannot leave our Guru behind when all of us are leaving the country. It is heartbreaking to see end of Sikhism in our country but we have no other option. We can't leave behind the saroops as there would be no one left to do their sewa. We have packed them safely in suitcases."
But the shifting of saroops of Sri Guru Granth Sahib from Afghanistan is not something new that Afghan Sikhs have witnessed. Following the attack at Gurudwara Har Rai Sahib in Kabul on March 25, 2020 — when an Islamic State gunman stormed inside and killed at least 25 Sikhs — seven such saroops from different gurdwaras of Afghanistan were shifted to India.
"There were 13 saroops of Guru Granth Sahib in Afghanistan of which 7 were already shifted to India earlier. Three have been shifted today and now just 3 more remain in Afghanistan. Those too will be shifted soon," said Chhabol Singh, member Karte Parwan gurdwara committee.
Paramjit Singh Sarna, president, SAD (Delhi), tweeted, "End of an era of #Sikhi in #Afghanistan. Taliban takeover of Afghanistan has forced Sikhs to flee their homes. Saroop of Sri Guru Granth Sahib Ji from the Kabul, Ghazni and Jalalabad Gurdwaras leave for India with a heavy heart by our #Sikh minority brothers in order to preserve it for future generations. This marks the end of Sikhi in Afghanistan but also a new beginning for our Sikh brothers in India."
Afghanistan has a deep-rooted bond with Sikhism as its founder Guru Nanak came here to spread the message of peace, brotherhood and tolerance. His visit here in the early 16th century laid the foundation of Sikhism in Afghanistan. As per the his travel history recorded in the earliest janamsakhis, it was during his fourth 'udaasi' from 1519-1521 (travel), with his companion Bhai Mardana, that Guru Nanak reached Afghanistan and visited present-day Kabul, Kandahar, Jalalabad, Sultanpur — all these places now having historical gurdwaras.
Kabul was then under the rule of Mughal emperor Babur. As his followers grew, Sikh followers from Kabul also started visiting the current-day Punjab region to pay respects to Sikh gurus. Later, the seventh Sikh Guru Har Rai also played a pivotal role in sending Sikh missionaries to Kabul and a dharamsaal (earlier name for gurdwara) was established there.
Since the Taliban takeover, the first batch of 24 Afghan Sikhs had arrived in India on Sunday via an Indian Air Force (IAF) plane. On Tuesday, another group of 46 Afghan Sikhs was evacuated. "We are also trying to get another batch of 75 Sikhs and Hindus evacuated today itself," said Vikramdeep Singh Sahney, president, World Punjabi Organisation.
When the Taliban took over, there were just 280 Afghan Sikhs and Hindus who had taken shelter at Gurdwara Guru Gobind Singh Karte Parwan in Kabul of which 24 including two minority Afghan MPs — Narinder Singh Khalsa and Anarkali Kaur Honaryar — have already landed in India.
Paramvir Singh, editor-in-chief, Encyclopedia of Sikhism, Punjabi University, Patiala, said that with Sikhism on the verge of an end in Afghanistan, it will mark another end of Guru Nanak's rich legacy in another Asian country.
"The condition of Sikhs and Sikhism is not great even in Pakistan and now with last of saroops being evacuated from Afghanistan, we will lose another important link in Central Asia too. There are some gurdwaras in other Central Asian countries but not historical ones where Guru Nanak visited himself. Afghanistan was one such country where Guru Nanak went and all those places were turned into gurdwaras. History is in making with exit of Sikhism from Afghanistan but an extremely sad one."
Source: Read Full Article