'Dr Abdullah is the oldest and tallest leader in our current political landscape and it was very kind of him to come and see us.'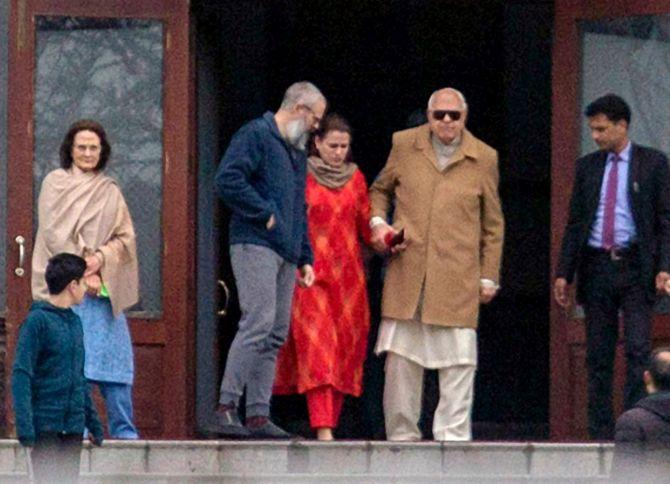 Late on Tuesday, March 17, night, PTI reported: 'In a goodwill gesture, National Conference President Farooq Abdullah on Tuesday met Peoples Democratic Party leader Mehbooba Mufti and her family and spent nearly an hour with them.'
Iltija Mufti reveals what occurred at the nearly two hour-long meeting in a conversation Archana Masih/Rediff.com.
Were you surprised with Dr Farooq Abdullah's visit to your home after he was released from detention?
I was a little surprised, but it was a great gesture. We may be political rivals, but we are human beings going through the same emotions. I had never met him before and this was the first time I did.
He came alone, there was nobody from the family or his secretary.
It was just him, my grandmother and me. We sat down in our lawn and spoke for nearly two hours.
We served him the nunchai — the Kashmiri tea — and cornflour rotis.
Dr Abdullah is the oldest and tallest leader in our current political landscape and it was very kind of him to come and see us. He was concerned about my grandmother who has been home all of these 8 months, visiting my mother while she has been jailed.
It was a great gesture because people in the state look up to him as a guide in such distressing times.
It was a courtesy visit and politics wasn't discussed that much.
My personal opinion is it is time for political parties to come together and fight on the same platform.
What did your grandmother feel about the meeting?
They are the same age group. My grandmother is close to 80 and Farooqsahab is 83. Their conversation is about anecdotes and they are a repository of history, especially Farooqsahab.
While my grandmother with Muftisahab (Iltija's grandfather and the late Jammu and Kashmir chief minister Mufti Mohammad Sayeed) has seen politics since the '60-'70s which was a different political era, so they have a lot of stories to share.
It was very nice because we have always been such bitter political rivals that at a time when everything is just upside down it was a great gesture that he came to visit us.
Has Dr Abdullah come to your home before?
I think he came two years ago when my grandfather passed away. Since we have been arch political rivals, it is not very normal for each other to drop into each other's homes though we have no personal animosity.
My mother had gone to Farooqsahab's house on August 4 with other political leaders where they signed the Gupkar Agreement (to resist the abrogation of Article 370. It was abrogated the next day).
Even though it was a courtesy visit, Farooqsahab feels that everyone should unite, regardless of their political affiliations in the valley and stand up to the onslaught (of the central government).
What did he say to you since you were meeting him for the first time?
I found it interesting that he has been in politics for so long and has so many stories to share. These are not stories you will hear, he is a walking-talking encyclopaedia of history and of Kashmir.
It was fascinating to speak to him. I was listening, rather than talking, because someone like him has so much to share. I told him that he should write a book because his experiences should be recorded in history.
I asked him how he was because he has had two surgeries, but in spirit he is very strong. Imprisonment is not alien to him because his father was detained for 22 years.
Their family has been through a turbulent time and for a change it was about forgoing political differences and what was said in the past and that is always nice.
By virtue of Dr Abdullah being a MP, do you think there was more pressure to release him compared to the other two chief ministers — Mehbooba Mufti and Omar Abdullah — in detention?
I dont think so because this is the third session of Parliament that he has missed. This government does not have any legal or moral constraints.
A three-time CM, multiple times MP should never have been slapped under the PSA (J&K's draconian Public Safety Act)in the first place.
In Parliament, Opposition parties have asked about his detention, even foreign envoys have asked if things are normal, then why are political leaders in detention?
Do you expect your mother to be released soon?
Honestly no. I feel they have been harsh on my mother. I have spoken out in the past six months so they know what her stand is and what it will be when she is out.
The government is encouraging political formations that tow their line. If you don't, then they will not give you space.
They know when she is released she will speak out against what they have done.
In today's India dissent is sedition. The definition of sedition has been convoluted to such an extent by the BJP.
Mentally, my family is prepared that we are in it for the long haul. This is the eighth month of her detention.
What has been your mother's reaction to Dr Abdullah's release?
My mother is very happy. She is relatively younger, but somebody like Dr Abdullah, who is much older, should not have been detained in the first place.
She is very relieved that he is released. In fact, in all my interviews I have been asking for his release more than my mother's.
Do you think this will enable the coming together of rival parties on a common platform?
If you see what is happening in the rest of the country — the Shiv Sena-NCP-Congress coming together (in Maharashtra) — you can see there is no way of taking on the BJP besides uniting and coming on a common platform. But that is my personal opinion.
Farooqsahab also said as part of the conversation that all political parties in the valley will have to unite and fight for their identity.
Did he say anything about Omar Abdullah?
He said Omar is fine and in high spirits.
Did he say how he spent his time in detention?
I was touched when he told me that he got a lot of strength from the Quran, which is true even for my mother who reads a lot of the Quran.
Like an elder figure, he was telling me that I should be thankful to Allah for whatever you have.
I think being jailed makes you kinder and patient — I see that even in my mother. It gives you a different perspective.
He was very kind and treated me like I was his grand-daughter.
The only silver lining of this entire experience is that maybe it has removed those barriers that we created by being in different political camps.
I feel overwhelmed that he came home to see us.
Source: Read Full Article