It's not just the tulips that are blooming in Kashmir.
Almond blossoms are wooing the valley as well.
The Top Videos of the Week, listed by Shailajanand Mishra.

Also see: Tiger cubs rescued.
A stroll with a crocodile.
And a braveheart granddaughter.
Videos chosen by you through your likes on iShare.
Played Cricket At 17,880 Feet?
Location: Galwan
When you hear the words 'Galwan Valley', what comes to mind?
Border wars? Chinese incursions? Bone-chilling cold? Cricket?
Okay, if that last had you doing a double take, we won't blame you.
But that's exactly what these intrepid soldiers of the Indian Army did near the Galwan Valley in Ladakh, which is located at approximately 17,880 feet above sea level.
Gorgeous Tulips!
Location: Udhampur
Yeh kahan aa gaye hum, yuhin saath saath chalte…
Into the gorgeous land of tulips, that's where.
The bulbs have shed their winter shrouds and reveals their brightly coloured blooms — over 12,000 at last count — at Highland Park Kud in Udhampur.
Doesn't it make you want to rush to Kashmir?
Railway Station Or Temple?
Location: Ahmedabad
Inspiration, folks, can shine anywhere. Anytime.
And it has struck the Indian Railways that is all set to revamp its stations under the 'Amrit Bharat Station' scheme.
The new railway station building that Ahmedabad will get — when it is integrated with the Ahmedabad HSR station — is inspired by the Modhera Sun Temple, a UNESCO world heritage site.
A Stroll With A Crocodile
Location: Vijayapura
Not exactly what one would wish for, is it?
No wonder locals near Kolhar in Karnataka were rather surprised to find this reptile walking on one of their roads.
Here's what happened next.
Whoosh! An Unexpected Water Fountain
Location: Yavatmal
When an underground water pipe suddenly bursts open, here's what happens.
The citizens of Yavatmal in Maharashtra were left shocked by this dramatic event.
Babies Rescued!
Location: Kurnool
These babies were of the furry variety.
Four mewling tiger cubs were discovered by residents of Pedda Gummadapuram village in Nandyala district, Andhra Pradesh.
Thankfully, they were safely handed over to forest officials.
Don't Want To Be Stuck Here!
Location: Thiruvananthapuram
When you go paragliding, the last thing you expect is getting stuck on a light pole. And having the firefighters and police rush to your rescue.
Luckily, the couple — who had taken off from Papanasham beach in Varkala, rural Thiruvananthapuram — got off the pole safely.
What A Braveheart Granddaughter
Location: Pune
The thief wanted to snatch her grandmother's chain.
But would her 10-year-old granddaughter allow it?
Salute The Vikrant
Location: Mumbai
The only indigenous aircraft carrier India has ever built, the INS Vikrant, visited Mumbai recently.
Measuring two football fields in length, and with two Olympic-sized pools, it is the largest ship ever constructed in India.
Its 14 decks house 18 storeys with 2,300 compartments and can accommodate 1,500 sea warriors.
Where Almond Trees Bloom
Location: Srinagar
Move over, cherry blossoms… the gorgeous flowers of the almonds are here.
The lightly-pink-tinted delicate flowers absolutely take over the badam trees.
Witness their beauty at Srinangar's Badam Vaer Garden located in the foothills of Hari Parbat Fort, also known as Koh-e-Maran.
Couple Quits US Jobs, Turn Farmers In India
Location: Ujjain
In this fast-paced world where young professionals seek high-paying jobs both overseas and in India, this young IIT-educated couple had a different plan.
Arpit Maheshwari and Sakshi Bhatia, both computer science engineers, chose to give up their lucrative jobs in the US and set up an organic farm — they've named it Jeevantika — on outskirts of Madhya Pradesh's Ujjain.
Feature Presentation: Ashish Narsale/Rediff.com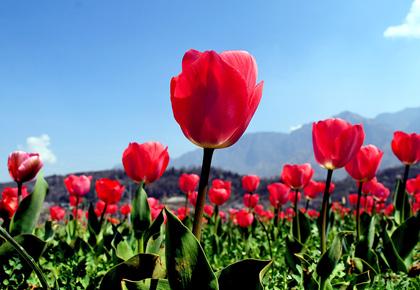 Source: Read Full Article