'By making Rachel Rajeshwari, Tejashwi has done an exemplary thing.'
M I Khan reports from Patna.
This is the first time that Bharatiya Janata Party leaders in Bihar have praised arch rival Rashtriya Janata Dal leader Tejashwi Yadav.
BJP leaders expressed happiness after Tejashwi wed his school sweetheart Rachel Iris Godinho, a Christian from Haryana, in a traditional Hindu ceremony in Delhi last week.
After the wedding, it was made known that Rachel would henceforth be known as Rajeshwari.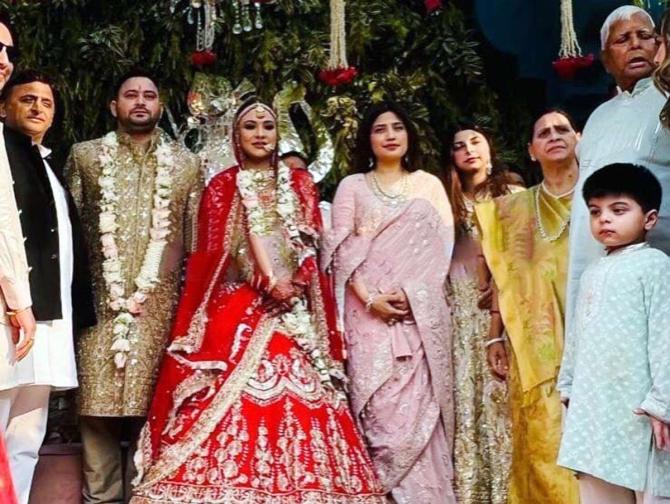 When Tejashwi was lauded for setting an example of an inter-religious marriage in Bihar's caste-ridden society, BJP leaders were happy that Tejashwi wed during Bihar's traditional marriage season, locally known as lagan, on an auspicious Hindu date.
'BJP yahi chahti hai, Tejashwi ke kadam ka hum sarahan karte hai (The BJP desired this, we praise Tejashwi's decision),' said Bihar Law Minister Pramod Kumar, a senior BJP leader.
Pramod Kumar said the BJP is against conversion of Hindus to other religions and it is the BJP's demand that converted people are brought back into the Hindu fold.
'Tejashwi ne Rachel ko Rajeshwari bana ke vivah kar ke anukaraneeye kaam kiya hai (By making Rachel Rajeshwari, Tejashwi has done an exemplary thing,' Pramod Kumar added.
Widely known for championing the cause of Hindutva, Pramod Kumar applauded Tejashwi, who is leader of the Opposition in the Bihar assembly, for strengthening 'Sanatandharam (the Hindu religion).'
Another BJP leader, Bihar Labour Minister Jeevesh Mishra, said he had been worried that Tejashwi would follow Congress leader Rahul Gandhi's example (staying a bachelor) as he appeared highly influenced by him.
'But Tejashwi married as per Hindu rituals and renamed his wife Rajeshwari,' Mishra stated. 'We are happy that Tejashwi has not followed another path as it could have harmed the interest of Bihar.'
BJP leader Nikhil Anand appreciated Rajeshwari Yadav for her Gai puja (cow worship) after her arrival at Tejashwi's mother Rabri Devi's home.
Several BJP leaders pointed out that Tejashwi's wife was welcomed in a traditional Hindu manner by Rabri Devi when the couple came home in Patna on Monday.
Senior BJP leader and former deputy chief minister Sushil Kumar Modi — an old associate -turned-political adversary of Tejashwi's father Lalu Prasad Yadav — congratulated the RJD leader for his inter-religious marriage. There is a Bihar government scheme that rewards inter-caste marriages in the state with Rs 50,000. Tejashwi should be given this benefit, Modi added.
Modi himself has had an inter-religious marriage. He married a Malayalee Christian from Bombay in the 1980s.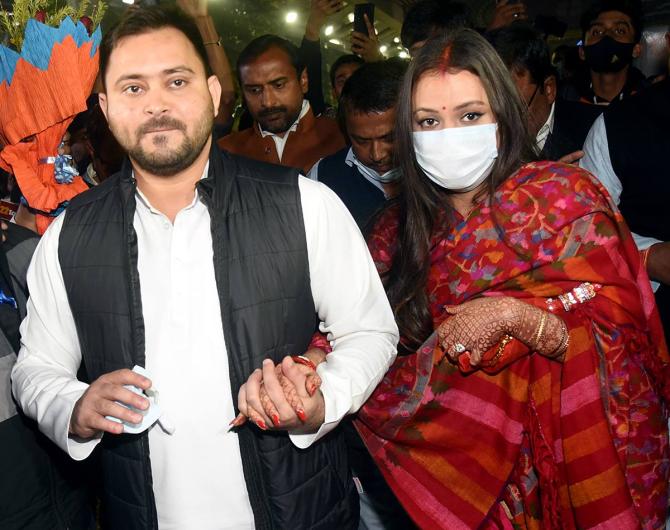 All but Tejashwi of Lalu and Rabri Devi's children have married spouses from their Yadav caste.
Tejashwi's elder brother Tej Pratap Yadav, a former Bihar health minister, wed Aishwarya Rai, RJD leader Chandrika Rai's daughter, in May 2018, but the marriage ended in divorce.
One individual who was displeased by Tejashwi's marriage was his estranged and controversial maternal uncle Sadhu Yadav who described his inter-religious relationship as shameful for the Yadav community.
In 2018, Tejashwi had announced that he would marry only after the Lok Sabha election in 2019. He then claimed his parents would choose the girl for him like they had decided his political career.
'I will marry as per the wishes of my parents and the girl they select for me. I will simply prefer an arranged marriage decided by my parents,' Tejashwi has said then.
When he was deputy chief minister, he reportedly received 44,000 marriage proposals on WhatsApp when he shared his number for complaints about bad roads.
And through all these declarations and proposals, Rachel Godinho was patiently waiting for her man.
Feature Presentation: Ashish Narsale/Rediff.com
Source: Read Full Article