'We will likely never know why Xi decided not to travel to New Delhi. One possible explanation could be his desire to avoid a meeting with US President Joe Biden.'
Alfredo Montufar-Helu is based in Beijing, where he heads the China Center for Economics and Business at the global business think-tank, The Conference Board.
In India for a conference, he shares his views on China's future business and geopolitical trajectories with Aditi Phadnis/Business Standard.
President Xi Jinping did not attend the Group of Twenty (G20), and many have said this is a setback for relations between India and China. How do you see relations developing?
We should not overinterpret President Xi's decision to not attend the G20 as a reflection of the China-India relationship.
President Xi recently met with Prime Minister Narendra D Modi at the BRICS Summit; if he had not wanted to meet, he would not have gone to this meeting.
Instead of attending personally, he designated Premier Li Qiang, who serves as his second-in-command and holds a prominent role in the Chinese government as the leader of the State Council.
This choice highlights President Xi's trust in Premier Li. He is also a member of the Standing Committee of the Politburo of the Communist Party of China, holding a high-ranking position within the party.
Why did President Xi not attend himself?
We will likely never know why President Xi decided not to travel to New Delhi, leaving us to only speculate.
One possible explanation could be his desire to avoid a meeting with US President Joe Biden.
Despite recent progress in reopening communication channels between China and the US, tensions persist, as indicated by media headlines.
Therefore, it appears that the timing may not have been conducive for a China-US meeting.
I believe his decision had nothing to do with avoiding a meeting with Prime Minister Modi.
The relationship between India and China has always been complex.
These two countries are among the world's largest economies and are both expanding their nuclear, military, and geopolitical capabilities.
Sharing a lengthy border in the same region naturally leads to occasional clashes and even kinetic actions.
However, both governments have been able to prevent these tensions from escalating into a catastrophe.
In recent times, businesses have often found themselves caught in the crossfire of policy and regulatory actions.
Chinese investments in India, particularly in technology and information technology sectors, had to exit the Indian market due to decisions made by Indian authorities.
Likewise, not only Indian but also other foreign companies operating in China have faced disruptions due to sudden policy shifts and regulatory changes, particularly concerning data handling activities.
But that is not to say both countries don't want to do business with the world.
On the geopolitical front, both India and China share the perspective that the current international order does not adequately represent their voice.
This sentiment is also echoed by other major developing nations such as Brazil, Turkey, and Saudi Arabia.
What the recent BRICS Summit tells us is that India and China accept that they need to engage with each other.
The Chinese government acknowledges India's significance as a regional power and, therefore, prefers India not to align too closely with the US, especially when it comes to efforts to contain China's rise.
A multipolar world better serves China's strategic interests.
What are President Xi's new economic and political priorities, the economic challenges China is facing, and the role of One Belt One Road (OBOR) in this context?
I think the answer is simple. President Xi wants a stronger China and aspires to become a world leader in every aspect, ranging from economic prowess and people's prosperity to technological innovation and military might.
However, against the backdrop of economic vulnerabilities, global instability, and increasing antagonism from the West, China is increasingly prioritising its pursuit of national interests, bolstering its security, and emphasising self-reliance.
Consequently, the Communist party has reinforced its authority in designing and executing policies in crucial strategic areas, such as advancing technological self-sufficiency, upholding financial stability, and enhancing control over data management.
Notably, China has also exhibited greater assertiveness on the regional military front.
Economic development cannot be disentangled from national security goals. But to be fair, this is the same with the US as with India.
Given the mounting economic and geopolitical complexities, it's unsurprising that the government is tightening its grip, including by expanding the regulatory framework and bolstering enforcement in critical sectors.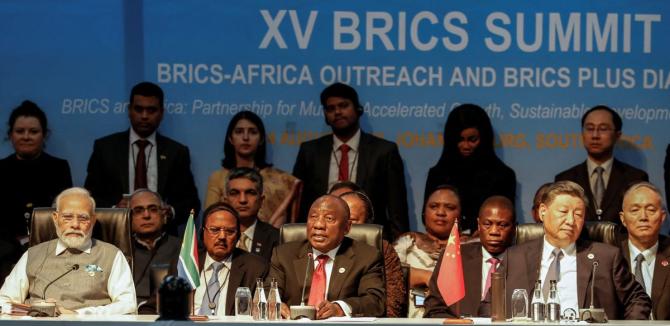 And OBOR?
The Chinese government is actively pursuing its international interests through a series of initiatives aimed at connecting China with the Global South.
One prominent example of this strategy is the OBOR initiative.
When OBOR was initially launched, it lacked a clear and precise definition.
However, over time, it has undergone significant refinements.
In its early stages, a lot of the Chinese state capital was deployed in uninvestable projects.
Some of these ventures also had negative repercussions on the reputation of OBOR and China.
As it became evident that many of these projects were not bankable, China changed tack.
The blame does not fall on China alone; it takes two to tango.
Host governments play a crucial role in bringing projects to the market and should conduct thorough feasibility assessments to mitigate financial risks.
Projects motivated by political considerations oftentimes end up as white elephants.
One of the most attention-grabbing instances was the Hambantota port project in Sri Lanka, which raised significant concerns about the potential for a debt trap.
Interestingly, China was in the process of deleveraging its economy during this time, making it less sensible to invest heavily in projects with a high likelihood of failure.
During the second Belt and Road Forum in 2019, China introduced a new approach: emphasising the importance of respecting environmental, social, and governance standards, acknowledging local customs, and making projects attractive to international capital.
This marked the transition to what can be termed as Belt and Road 2.0.
Then came the pandemic. Infrastructure investments plummeted as top international capital providers took their capital home.
In Africa and Latin America, countries abruptly found their financial and fiscal capacities strained.
Naturally, this had a profound impact on infrastructure development, and even today, there remains a widening infrastructure investment gap in many developing markets.
OBOR has continued evolving. China's current emphasis is on economic stability and the mitigation of potential financial risks arising from its substantial debt levels.
Consequently, the allocation of capital for OBOR projects is expected to decrease significantly compared to previous levels.
Priority will be accorded to projects aligned with the government's strategic objectives.
This entails securing essential raw materials to bolster the advancement of high-technology sectors and reinforcing bilateral ties with major Global South economies, countering perceived efforts from the Western world to 'contain' China's ascent.
Feature Presentation: Aslam Hunani/Rediff.com
Source: Read Full Article