Hands down, the winner of Anurag Kashyap's patriarchy and privilege pooh-poohing exercise is Amit Trivedi and Shellee's spirited soundtrack, notes Sukanya Verma.
Towards the end of an obtuse and aimless journey in pursuit of (DJ) Mohabbat, a teenager laments the point behind the exercise without any 'plan' or 'purpose'.
It's an apt summary of the quintessential confused youth at that juncture of life — an inevitability its music doling, romantic gyaan-espousing titular podcaster's (Vicky Kaushal) introductory monologue already anticipates when he acknowledges society hasn't taught us to be vulnerable while adding Gulzar's lovely line from Khamoshi: 'Sirf ehsaas hai yeh rooh se mehsoos karo.'
Unlike Anurag Kashyap's violent explorations of crime and class, Almost Pyaar with DJ Mohabbat mediates on the fragile yet willful language of youth, spoken by a generation that sees self-expression as second skin in a world beset by intolerance and instant gratification.
Just because its protagonists are at the brink of adulthood, don't expect Kashyap to flush the screen with effervescent hues and lovelorn eyes.
Truth is the film works best when it stays close to his bleak worldview and indie film-making aesthetics, where parents are hostile figures and reckless impulses are the only compass a couple-that-does-not-know-they're-a-couple needs.
Told with excessive abandon and erratic energy, its two parallel tales of 'pyaar ko pyaar hi rehne do koi naam na do' clamber to bare patriarchy's universal hold through 'ghanghor connections' that spark off in Dalhousie and London respectively.
While the idea behind evolved, liberal minds not always linked to education or economic stature is certainly myth-busting, Kashyap struggles to bridge the gap between his social commentary on love jihad.
As a consequence, Almost Pyaar with DJ Mohabbat comes across as wildly fragmented with a short attention span.
In Dalhousie, a highschooler Amrita (Alaya F) and neighbourhood Muslim lad Yakub (Karan Mehta) bond over Maggi and music.
All hell breaks loose when they elope in the wee hours of morning to catch DJ Mohabbat's concert in Manali.
Resembling a boho, shaggy '80s pop idol, DJ Mohabbat is a master-of-many-trades — a social media talent, a podcaster, a deejay, a poet, a hippy, an underground celebrity, a rebellious messiah dispensing pearls of wisdom on love, life and music but outlier enough to be denied police permission to perform.
Vicky Kaushal conveys the manner but not the madness for the part. His cordial aura dilutes whatever mystery, charisma and mania he supposedly enjoys among his fans.
Back in London, poor little rich girl Ayesha (Alaya F) cannot fathom why the dal chawal-eating local club musician Harmeet (Karan Mehta) won't hit on her.
It's an awkward, bizarre arc wanting to say something about flawed people and fatal attractions over its course of migrant woes, culture clash, daddy issues, homosexuality and prison rape.
Headstrong nonsense salvaged by Amit Trivedi's score and Shellee's words is what it is.
As opposed to the superficial conflict and disjointed action happening inside Britain's capital, the Himachal bits exude a fair bit of charm while dwelling on the selfie-obsessed era where cell phones are both tools of communication and creative revolution.
'Phone ne bigaad diya hai bachon ko,' grumbles a typical desi mom.
'She may not get her daughter, but Amrita is well-versed with the writer inspiring her name and channels her bottled-up angst towards patriarchy in TikTok style videos in the garb of the hijab-clad Saloniammi, quite like comedian Saloni Gaur's Nazma Aapi.
Kashyap's Gen Z daughter Aaliyah, a social media expert herself, did lend her daddy some inputs for authenticity.
The come-as-you-are tone of her YouTube channel, podcasts and Instagram reels is evident in Almost Pyaar with DJ Mohabbat, if only it was also half as lived-in.
When not painting an unflattering, uneven picture of the flag bearers of future mistaking superficial gestures for self-validation, Almost Pyaar with DJ Mohabbat gets its highs from Alaya F's unshakable magnetism.
Unlike the free-spirited Amrita sensitive to her surroundings, Ayesha's rash decisions and desire aren't concerned with consequences. Even when the movie struggles to find its rhythm, Alaya remains impressively steady and one with her characters. Only three films old and what an exciting performer already! I can't wait to see more of Alaya.
As for debutant Karan Mehta's Ranveer Singh meets Ashton Kutcher similitude, there's a brooding intensity about him that sticks a lot better than his deliberately goofy laugh.
Hands down though, the winner of Kashyap's patriarchy and privilege pooh-poohing exercise is Amit Trivedi and Shellee's spirited soundtrack.
Not only do they capture the sound of modern love in all its spunky moods but also the timeless hope, fueling it generation after generation — mohabbat se hi toh kranti aayegi.
There's nothing almost about that.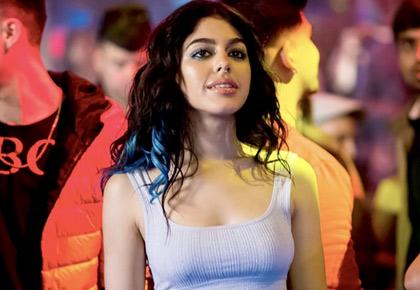 Source: Read Full Article