The jury is out on Chhatriwali's flimsy public service, but Rakul sure passes the quality check, applauds Sukanya Verma.
It's 2023, but Bollywood's steadfastly holding on to that awkward feeling demonstrated by a newly married Rishi Kapoor in 1977'S Doosra Aadmi or Shekhar Suman in 1986's Anubhav, when they stood before a medical store and struggled to buy condoms.
At least their pharmacy guy was friendly and didn't add to their embarrassment but in Chhatriwali, Rakesh Bedi plays the kind ready to wage a war over husbands rushing to his store for birth control.
Like Aparshakti Khurrana's cheesy Helmet, where condoms act as a catalyst in voicing its concerns about population explosion, Rakul Preet Singh's Chhatriwali crusades to promote sex education and safe sex in small town Karnal.
But in trying to fit its public service objectives within rom-com cliches, Director Tejas Prabha Vijay Deoskar can neither convey the hypocrisy of society nor address why sex shouldn't be treated as taboo.
Condom ko condemn mat kar, appeals Satish Kaushik (the man can wear the most hideous wigs and still come off as the most humane in a room), who runs a plant of the same but desperately seeks a quality control head — he's just lost an employee because no one will marry a guy with condoms on his resume.
Enter Rakul's jobless chemistry geek.
Despite her initial 'Ram Ram' reaction to the offer, she takes up the job on the sly. Neither her teen patti obsessed mum (Dolly Ahluwalia) nor her pooja supplies store owner beau (Sumeet Vyas being Sumeet Vyas) realise the pun behind her claims of working for an umbrella company.
The sham continues even after she marries and earns her brother-in-law's (Rajesh Tailang, a terrific actor in a tediously written part) awe and admiration as Karnal's Indra Nooyi.
The latter is a prudish biology teacher of a co-ed school, suggesting his students skip the reproductive system but oblivious that it is exactly what's ailing his perennially under-the-weather wife (Prachee Shah Pandya).
Between Rakul's superficial revolution and realisation of what makes her line of work significant or the eventual disclosure of her deceit while defying her brother-in-law's obdurate conservative ways, Chhatriwali doesn't establish much beyond its noble intent.
Deoskar goes behind-the-scenes to showcase the science behind condom production and how 'tensile strength aur ductile strength kamzor hone se hote hain aapke oops' as well as the widespread disgust its use evokes among ignorant and hesitant consumers.
But Rakul's dramatic attempts to propagate sex education in school amidst dull pubescent curiosity lack purpose and information. Most absurd though is why Rakesh Bedi's local medical shop owner is so averse to the idea of selling condoms.
Chhatriwali goes easy on the innuendo, but cannot resist cringe-inducing lines like 'Humare pati homemade rasgoola khayenge woh bhi jaisa unhe pasand hai' in context of unprotected intercourse.
One misses the brand of sass colouring Rakul's gynecology intern in Doctor G.
Though Chhatriwali's writing may lack the smarts, the actor's upfront approach builds on her character's optimism through unflinching sincerity. It's not just the spirit of her activism, but the spontaneous impulses of a wife concealing her truth and making lies as she goes that Rakul communicates rather believably.
The jury is still out on Chhatriwali's flimsy public service, but Rakul sure passes the quality check.
Chhatriwali streams on ZEE5.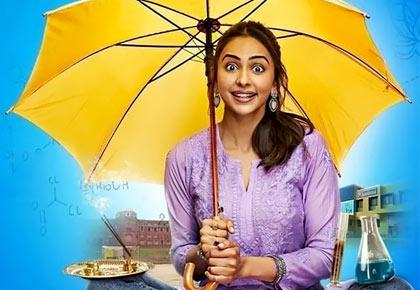 Source: Read Full Article