'Dune deserves all the raves it has been getting.'
In an ongoing series, Bollywood talents pick their favourite show of 2021, and tell us just why they loved it.
Mrunal Thakur made her big screen debut with the gritty film Love Sonia, which was nominated at the Golden Globes in the Best Film in a Foreign Language category.
She entered Bollywood with the biographical drama Super 30, following it up with another true life drama, Batla House.
In 2021, Mrunal had two releases, Farhan Akhtar's boxing drama Toofan and a special appearance in Kartik Aaryan's action-thriller Dhamaka as a television reporter. Her third big release of 2021, Jersey, got pushed ahead.
Mrunal picks Dune as her favourite movie of 2021, and tells Rediff.com Senior Contributor Roshmila Bhattacharya, "Dune is much needed to change the face of Indian cinema while giving children an amusement park ride of a lifetime."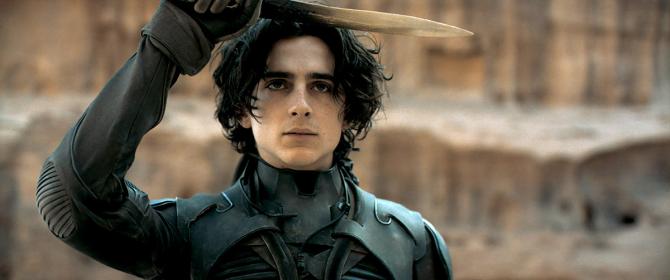 Dune wasn't just another film, it was a larger-than-life experience.
You can catch it on HBO Max, but I would recommend you watch it on the big screen, in 4DX 3D, not just for its epic sweep and scale, but also for the amazing sensory experience of feeling the wind in your face, the blaze of the fire and the sense of walking on sand.
There is little to fault here and a lot to marvel, from Director Denis Villeneuve's adapted screenplay (with Jon Spaihts and Eric Roth), his astonishingly plausible, far-into-the-future vision and flawless execution to Greig Fraser's (Zero Dark Thirty, Lion and the upcoming The Batman film) breathtaking cinematography and Hans Zimmer's symphony-like score.
Patrice Vermette, Richard Roberts and Suzanne Sipos's production design is out-of-the-world, literally.
The hair, costume and make-up departments also deserve awards and applause.
Timothée Chalamet as Paul, the ducal heir to the House of Atredes, Jason Momoa as his godfather and swordmaster Duncan Idaho and Zendaya as Chani, the mysterious Fremen woman of his prophetic dreams, are brilliant, as are the other actors.
I'm not really a fan of sci-fic, sorcery action-adventures, but this futuristic film — the first in a two-part adaptation of Frank Herbert's 1965 novel by the same name — grabbed me not just because of its technical wizardry, but also because it has a story to tell.
Spice of life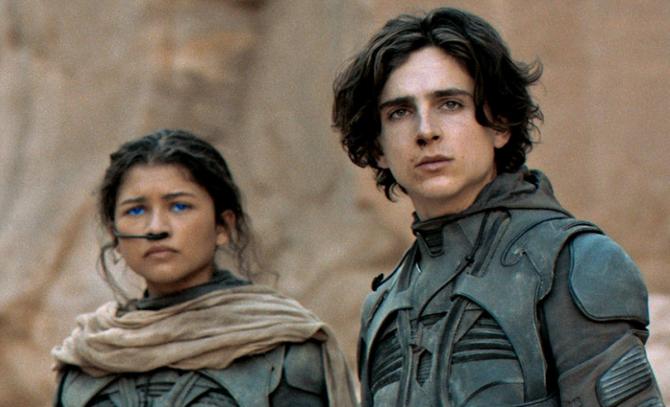 It's the coming-of-age story of Paul, who, in a changing world of colliding cultures, is thrust into a war with Stellan Skarsgard's Baron Vladimir Harkonnnenm. Once their steward and now the Number One Enemy of the Atreides, the baron struggles with Paul's father, Duke Leto Atriedes, for the control of Arrakis.
Arrakis is a harsh, mystical desert planet, but the only one to possess the most valuable substance in the universe. The spice they call Melange not only boosts vitality and longevity, but is critical to intersteller travel and survival.
The story is mind-bending in its layers and rich in metaphors, and set in the year 10191, yet I was able to connect with every frame, every character. The IMAX viewing drew me intimately into their world, fostering a close, almost spiritual bond with Paul.
I felt I was as much a part of Paul's interplanetary journey as his parents, Duke Leto and Lady Jessica, discovering things with him and about him.
Oscar Isaac as the duke, impresses as does Rebecca Ferguson as Lady Jessica who is not the stereotypical becharimother, but a strong woman who journeys deep into the desert with her son, a match for every foe who comes their way.
Sandworms and ornithopters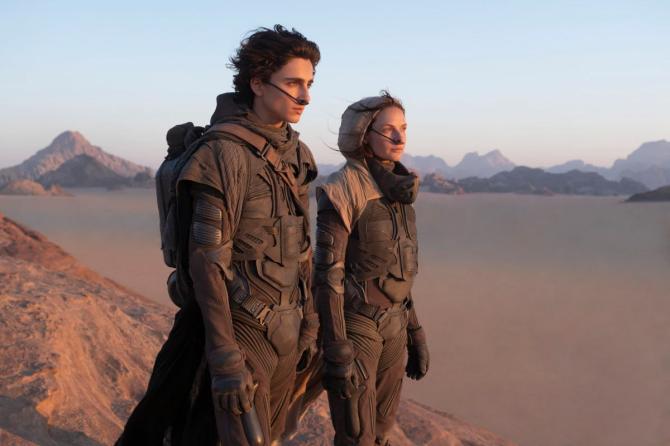 In the war zone, they don't know whom to trust, so mother and son communicate through sign language.
Equally fascinating are the gigantic sandworms which live deep under the sand in Arrakis, but come out as soon as they sense movement on the surface.
Dune is poetry in motion, with its endless stretches of undulating, golden-brown sand.
Villeneuve, who shot his August 32nd on Earth in the flats of Utah, Incendies in the Middle East, Sicario in Mexico's Chihuahuan desert and Blade Runner 2049 in Las Vegas, had insisted on filming Dune in real locations, instead of against a green screen.
He spent days flying over the desert in a helicopter looking for the right setting and eventually zeroed in on Vadi Ram or Valley of the Moons in Jordan and the Liwa Oasis in the UAE.
They shot in real sand and scalding temperatures.Jason Momoa later admitted in an interview that running through it was undoubtedly one of the most difficult things he has ever done in his life.
On screen, the helicopter mutated into an ornithopter. These are fighter planes that buzz around like giant dragonflies, flapping their wings and carrying the story forward to its sequel.
The sandworms and the ornithopters are images I had never seen before on screen, and now that I have, I'm unlikely to forget them. Or the battle scenes with clashing swords and Holtzman shields, where blue signifies injury and red, approaching death.
Dune deserves all the raves it has been getting because it is a textbook lesson for actors and technicians alike.
Film of the future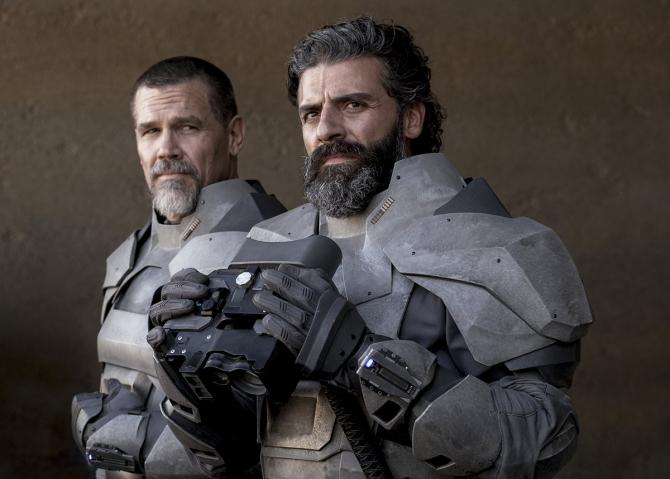 Did I want to play any of the characters? I couldn't say because when I'm watching a film, I'm just another viewer. And when it's a film like Dune, I'm so completely immersed in the story that there's no time to think like an actor.
But one day, I hope I can be a part of a made-in-India futuristic fantasy like Dune, which, going by its phenomenal box office run, is bringing in the crowds even during these difficult times.
Dune is much needed to change the face of Indian cinema too while giving children an amusement park ride of a lifetime.
Meanwhile, there is Dune: Part 2 to continue Paul's journey into the sands of time.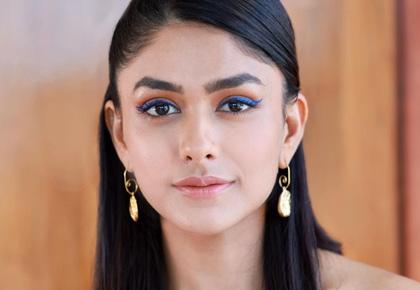 Source: Read Full Article