Assume Voot, JioCinema and Disney+ Hotstar are merged into one entertainment app, and you have a streaming service with more than 233 million unique visitors.
That is a reach just under half of India's largest streaming app: YouTube.
'This level of consolidation does not exist even in the US.'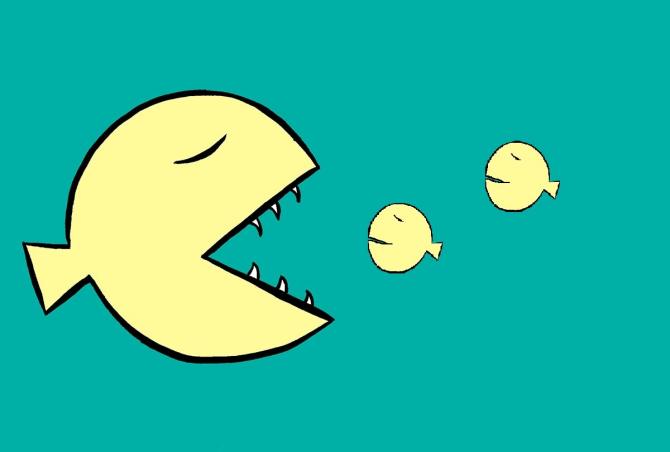 Looking back, January 2007 was a defining month for the media industry worldwide.
That was when Netflix started its video streaming service, placing a clear bet that the world of the Internet was going to be more powerful and rewarding than the physical world.
Till then, Netflix was a company that sent its subscribers DVDs by mail.
Streaming changed viewing habits from appointment watching to impulse watching, and disrupted not only television (it 'dropped' entire seasons at once) but also movie making (films began to release on streaming platforms). Originals came soon after, starting with the House of Cards in 2013.
All at a price of $12 a month, against the $50 and above that most mainstream cable firms charged.
Soon a new set of 'media' players emerged. Apple (1.46 billion users, $383 billion revenue), Alphabet (parent of Google and YouTube; 4.3 billion users, $283 billion revenue), Facebook (3.88 billion users, $127 billion revenue) and Amazon ($514 billion revenue) began investing in films, TV shows, and web series.
Whether it was to sell more products (Amazon) or to get people to search more (Google), they needed huge audiences across geographies, technologies, languages, tastes, formats, and devices.
It became evident that in this new entertainment economy, those with the deepest pockets would have the most negotiating power.
That is why in 2018 Rupert Murdoch chose to sell Twenty First Century Fox's entertainment assets, including Star India, to The Walt Disney Company.
Around the same time Zee found itself in the throes of a debt crisis and decided to sell.
Now, unconfirmed reports say Reliance Industries might buy Disney Star, though industry insiders say another prominent Indian conglomerate and a large South Indian media giant could also be in the fray.
The fact is, there is no confirmation that Disney is talking to anyone for the sale of its India operations.
However, if Disney Star were to come under Reliance's fold, that would make the Mukesh Ambani-led conglomerate India's second largest media company after Google.
Already, Reliance's Independent Media Trust has a majority stake in Network18, which owns Viacom18 (Colors, Nick) and JioCinema, among other properties.
Meanwhile Punit Goenka, CEO of Zee Entertainment Enterprises, has been allowed back into the company by a Securities Appellate Tribunal ruling.
The tribunal quashed an order by the Securities and Exchange Board of India that had barred Goenka from holding a managerial position.
There are reports of mumblings from within Sony on whether it is time to look for another CEO.
In all probability, the Sony-Zee merger, announced in December 2021, should culminate this month, creating the fourth largest media firm in India.
More to the point, if both deals go through, the Indian media market will be dominated by four companies — Google, Meta, Reliance, and Sony-Zee — across news, entertainment, and sports. Every other firm in the top 10 list is less than half their size.
The bulk of the media companies in India are in the range of Rs 100 crore (Rs 1 billion) to Rs 1,000 crore (Rs 10 billion).
What will that mean for the industry and its stakeholders?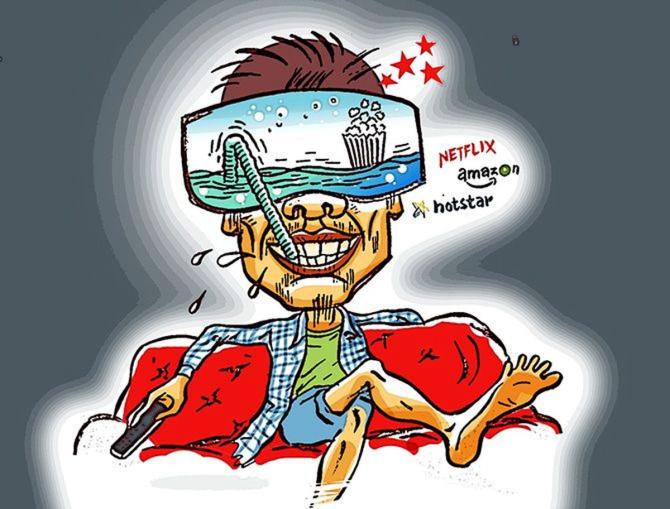 Matter of scale
"While mergers and acquisitions have happened earlier, there has been nothing of such a big scale," says Shrikant Shenoy, associate vice president, Lodestar UM, a media buying agency.
Combine the broadcast (Star Plus, among 70 channels), digital (Disney+ Hotstar), and studio assets (Fox Star) of Disney with the 58 news and entertainment channels, digital properties, and the film studio that Network18 owns.
You will end up with a media conglomerate that would have a 32 per cent share of all TV viewership in India.
That scale is something that could be looked at in various ways.
"The Zee-Sony merger had some legal impediments alongside its regulatory hurdles, but a deal of this size, with this impact, will need to be scrutinised," says Daoud Jackson, senior analyst at London-based Omdia.
Will the Competition Commission of India have something to say? There are too many regulatory questions, agrees another Asia-based analyst.
Contrary to popular perception, TV is far from dead. It reaches a massive 892 million people.
Now assume Voot, JioCinema, and Disney+ Hotstar are merged into one entertainment app, and you have a streaming service with more than 233 million unique visitors, according to Comscore data for June 2023. That is a reach just under half of India's largest streaming app: YouTube.
"This level of consolidation does not exist even in the United States," says the Asian analyst.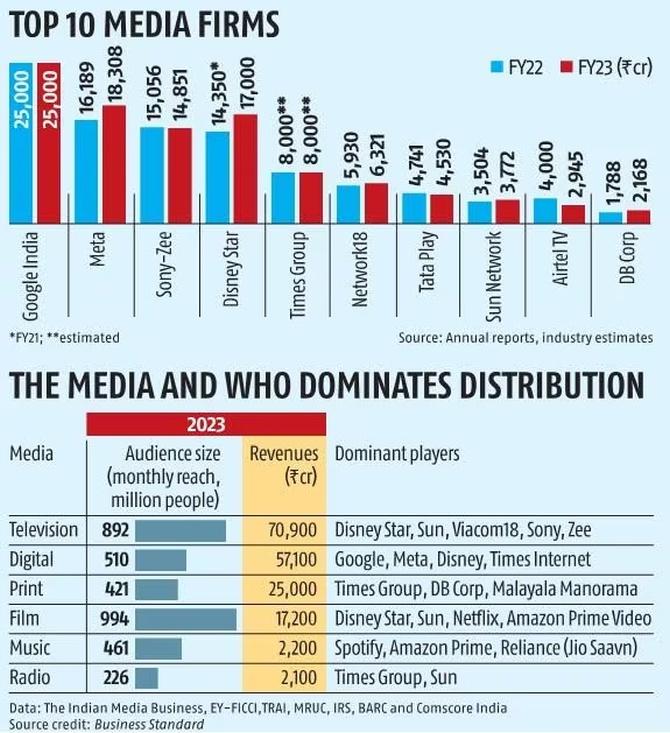 Matter of synergy
Much of this is pure speculation. But it is already worrying advertisers, who brought in half of the Rs 2.1 trillion in revenues that Indian media and entertainment businesses made in 2022.
"It is like having another Google come up," says Shenoy. At the same time, he hopes it brings in synergy.
For example, Disney owns the broadcast rights to the Indian Premier League whereas JioCinema owns the digital rights. "Our ability to do more in cricket will help," says Shenoy.
The entry of the big media-tech firms pushed up the costs of making films, shows and series by 40 to 60 per cent as they threw money in a bid to scale up fast.
Then the pandemic came along, causing financial stress. PVR and Inox, two of the largest theatre chains, saw 90 per cent of their top line wiped out in 2020-2021, and merged last year to reap the benefits of synergy.
The battle for dominance in media and entertainment is now being fought among a handful of firms: Disney-Star, Sony-Zee, Jio, Bharti Airtel, Google, Netflix, Amazon Prime Video, and maybe a couple of others.
If — and that is a big if — Disney goes, many of the remaining ones, such as Sun TV and Times Group, will have to weigh their options.
This could mean more consolidation.
Why Disney might be looking to sell its India business
In 2018, when Fox's entertainment assets were sold to Disney globally for $71.3 billion, Star India was part of the deal.
It was valued at $13 billion to $15 billion. Chances are, this time it will be valued at something under $10 billion.
Though it is one of the largest media firms in India, The Walt Disney Company needs the money.
"It is really about medium-term profitability," says Daoud Jackson, senior analyst at London-based Omdia.
Andrew Rosen, media writer and founder of Parqor, explains in a LinkedIn post: 'The $11.46 billion in cash on Disney's balance sheet will take a 75 per cent hit at some point within the next four weeks. Disney announced that it expects to pay Comcast's NBC Universal $8.61 billion by December 1 — plus an amount to be determined in 2024 — for its 33 per cent stake in Hulu.
'The looming burden for Disney will be to pay down $44.5 billion in debt with less cash. So, Disney finds itself in a position where its long-term bet on growth has devolved into a hyper-focus on managing its balance sheet for the foreseeable future.'
Feature Presentation: Rajesh Alva/Rediff.com
Source: Read Full Article