'Never in the history of Indian cinema did we have a distribution system for 240 countries, but we have it now.'
'And if we still keep catering to the B and C-tiers of our country, and not the whole world, then we are really being losers.'
'The visionaries of the industry must pull up their socks and say that now we will create for the world.'
The trailer of the Web series Bambai Meri Jaan was playing at New York's famed Times Square recently, and it was enough to give its lead actor Avinash Tiwary goosebumps.
"Bihar se lekar New York tak…I'm so overwhelmed!" he exclaims.
Rave reviews about Bambai Meri Jaan isn't the only thing lighting the spark in his eye.
The same day saw the release of Kaala, and he leads the ensemble cast in that Web series as well.
Both shows see Avinash very differently.
While he plays a cold-blooded gangster modelled on Dawood Ibrahim in the Shujaat Saudagar series Bambai Meri Jaan, in Bejoy Nambiar's Kaala, he swings to the other side and plays an Intelligence Bureau officer.
"90 percent of the people in this industry come from outside. They don't have anyone to hold their hand in their time of struggle. I could come back home and have my mom caress my head or my dad give me a hug if I was down, and that is what kept me going," Avinash tells Ronjita Kulkarni/Rediff.com.
What was the Bambai Meri Jaan shoot experience like?
I still remember back in November 1, 2019 is when I cut that mustache and sent that picture to my director (Shujaat Saudagar).
I was just coming from Ghost Stories that I've done with Karan (Johar) and started gaining weight for Bambai Meri Jaan.
At that point, it was supposed to be a four-five month commitment.
Unfortunately, we shot for like 8-10 days in 2020, and then we had the COVID lockdown.
We had created created this set in Madh Island, but had to dismantle it.
Everything that you see has been created because Bombay doesn't look like that now.
I still remember walking into that set, and being intimidated because that created a whole city!
If only there was sanitation and water, people could actually live there because there were beds, windows, curtains… in every house!
The set had to be recreated and we started shooting February 2021. We shot for five-seven days and there was the lockdown again.
Then, a cyclone hit Bombay in May 2021, and 40 percent of our set got blown off.
At that point, we really felt that this was the end. We had waited for two years, invested that kind of money… I didn't think they would carry on with it.
But hats off to Excel Entertainment and Amazon Prime, they really backed and believed in the show.
They said no, no, we will recreate it and we started shooting again in October 2021.
We were supposed to finish it in January, but unfortunately, about 35-40 people on set got COVID.
We were able to finish by the end of January.
These were the challenges we faced for the shooting.
As far as my part is concerned, I can carry on and there'll be a book on it. (Laughs)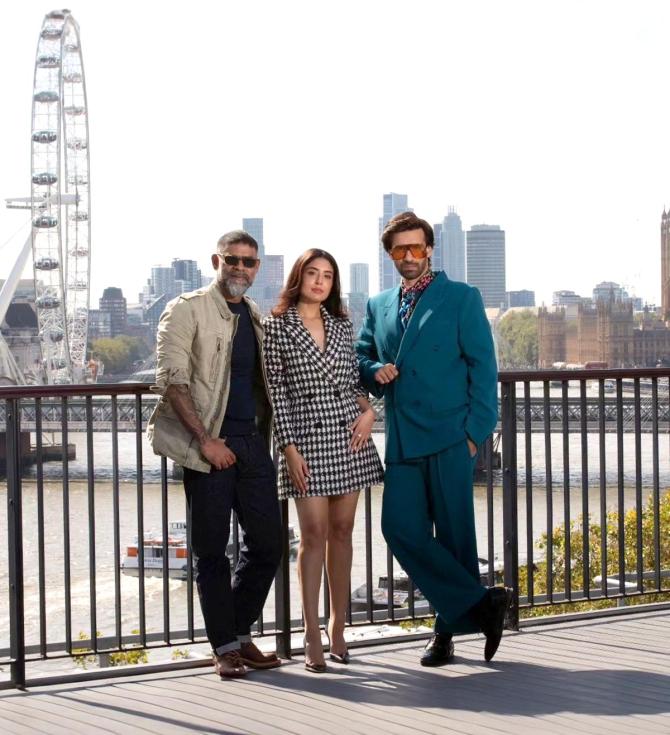 Your character Dara seems to be modelled on Dawood Ibrahim. Dawood has been portrayed so many times in films and Web series. Did you have any apprehensions about whether people would accept you in this role? What was in your mind to make it different?
The best way to do it was to look at the script and create a fictional character. This is what my thought process was.
Yes, you do take inspiration from characters, but if you see the show, a lot of fiction has been created.
In my head, I wanted to ensure that it should not be like the real characters.
Though Hussain Zaidisaab (S Hussain Zaidi, the author of the book on which Bambai Meri Jaan is based on) told me that wow, how have you brought these people alive together? I think that was a compliment.
Personally, I was just looking at it as a character on paper. I went through some references of the things that are available online, and started picking on certain things from there and started creating this guy.
People identify him with Dawood Ibrahim, but in my head, it's a composite of various characters.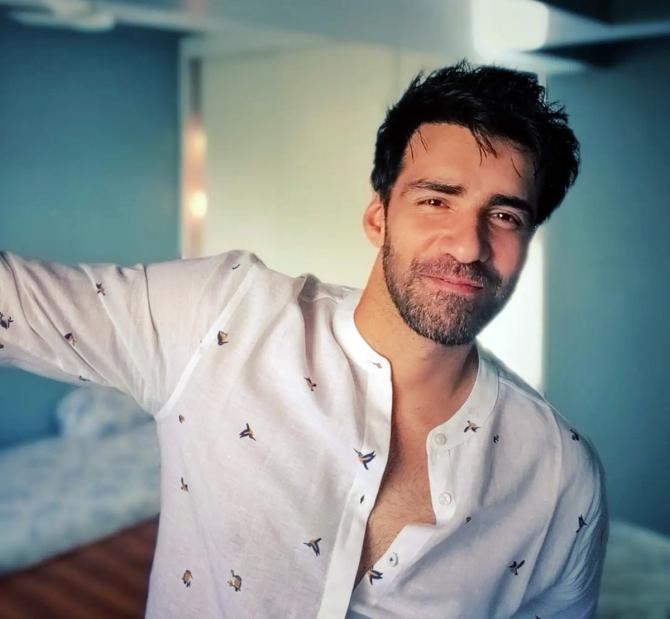 How much did you know about the Mumbai underworld before you took it up?
That part, of course, I wasn't very well versed.
I had read the book (S Hussain Zaidi's Dongri To Dubai: Six Decades Of Mumbai Mafia, on which Bambay Meri Jaan is based) and that gave me a great insight into those times.
I used to live in Antop Hill in (north central) Bombay in the '90s, and it was, in a way, still a breeding ground for the underworld.
My father was in government service, so we were far away from what was happening around, but those stories would reach your ears.
Did you watch gangster movies for inspiration?
If I did, I would not be able to create anything new.
If I may dare say, there are actors who create an interpretation of their work, right?
I enjoy the exploration of the part.
I want to create an interpretation or maybe I'm not as evolved yet.
An interpretation means that I have made a certain judgment and I'm going to present that. Exploration makes it more fun because then you leave the interpretation to the audience.
I enjoy exploration which is more out of my imagination, the written word and the guidance of my director.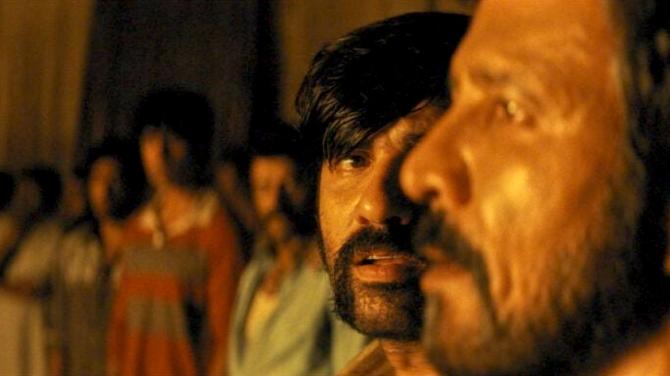 How much did you work on yourself for the part?
Right from the body language, like how I would hold the cigarette, how my wrist would bend down… small details like that.
How would I walk, how I would wear my shirt… I was always in costume throughout the shoot.
My lingo changed over a period of time because I was constantly talking like that and my Hindi started getting messed up.
I gained about 40 inches on my waist.
Now that I've lost it, I have the stretch marks (laughs).
Mentally and emotionally is a different space because there is a constant conversation in your head.
I think the most interesting part for me was to feel what would make a man a monster?
I remember there were two thoughts that really stayed with me. One was, 'Fark sirf itna hai ki tumhe sapne hai aur meri bhook hai.'
That line really resonated.
It's not there in the show. It came from within me.
The second line was, 'Aag ko pata nahin hota woh jal raha hai ya jala raha hai.'
That is what Dara is. He is burning himself as well as the whole city around him, and he is not even aware of that.
Were you working on your Web series Kaala at the same time?
We finished Bambai Meri Jaan on January 20 and I started Kaala on January 30.
I had only 10 days to take on that part, and I kept begging Bejoy (Nambiar, director) to give me time. Unfortunately, Bambai Meri Jaan had got delayed, so I hardly got time to prepare for Kaala.
All I could do was lose weight.
I lost at least six inches on my waist in 10 days.
In Bambai, I felt I was fire, but in Kaala, it was like jumping into the fire and finding your way out.
Kaala was a very different experience.
I think it's one of my most spontaneous performances.
Bejoy is a director who pulls off all the crutches that you have as an actor, all the preparations you might have done and throws you into the sea.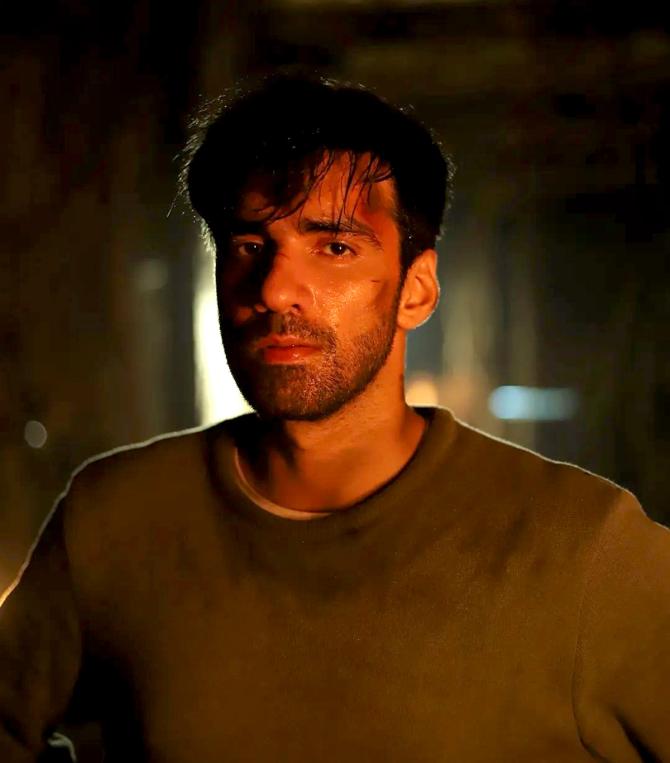 Both Bambai Meri Jaan and Kaala released on the same day. Would you have preferred that they were spread out?
Initially, I didn't want them to release together.
Khakee came out in November, Kaala was supposed to be coming in February, and Bambai Meri Jaan in June. It was supposed to be a nice momentum from Khakee to Bambai Meri Jaan, but that didn't happen.
I did not know how this would affect me, but having seen the past few days, I think it has done good for me.
According to the ratings, the 'Best of' shows have gotten a 6 million viewership, we have 5.2 (for Bambai Meri Jaan) and 4.2 (for Kaala). So cumulatively, I have got almost 10 million viewership today.
So it has worked to my benefit.
Both the shows are complementing each other. Someone who's seen Kaala and loved it will want to see Bambai Meri Jaan and vice versa.
And in both, you see an absolutely different guy, a different character mentally, emotionally, and physically.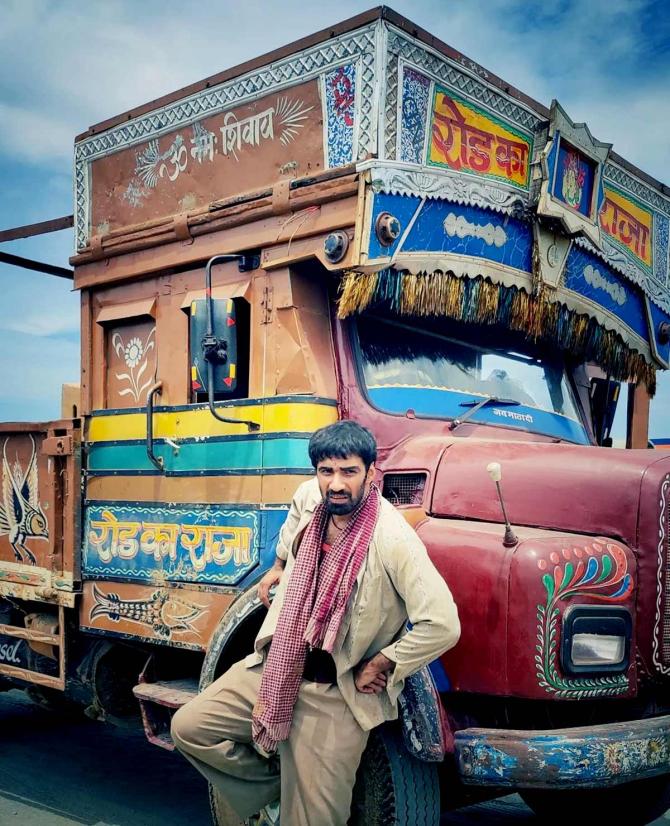 What are your favourite and most challenging scenes in Bambai Meri Jaan?
All the scenes with the boys were fun.
We literally have a relationship like we have in the show, Vivaan (Bhatena), Jitin (Gulati), Lakshya (Locchar), Kritika (Kamra)…
My most challenging scene was with Kay Kay sir, where I ask him to come back home. That's also the culmination of the whole show because it's a father-son relationship.
Also, the scene between Dara and Haji… Samudra sheher ke bahut karee baa chukka hai.
This is when Dara asks for one-fourth of Mumbai. It's a very powerful scene and I had great fun doing such scenes with Saurabh Sachdeva.
What was it working like with a stellar performer like Kay Kay Menon?
I first saw him in 2003 in Prithvi (Theatre, Mumbai). I think I was 19 then.
Those days he used to be surrounded by a lot of women.
I had seen some of his work, and I used to think, itna acha acting bhi karta and he is also surrounded by women…
I remember just 15 days later, I saw an article in a newspaper where they called him the 'Intelligent Woman's Man'.
That stayed with me because, you know, there are charming actors and stars, but sometimes, they may come across as frivolous.
But here was a man who had so much of depth in him, and was very attractive to women who are more sapiosexual.
So I was always inspired by him.
Over the years, with the kind of performances he has given, any actor in the frame can get intimidated.
Thankfully, he gave me the space to be able to do my best.
Also, because I have already worked with Mr (Amitabh) Bachchan (in Ribhu Dasgupta's 2014 drama series) Yudh, the awe of working with star actors has kind of taken rest. So I'm not awed anymore, but the amount of respect I have for Kay Kay sir… I'm been a fanboy since 2003.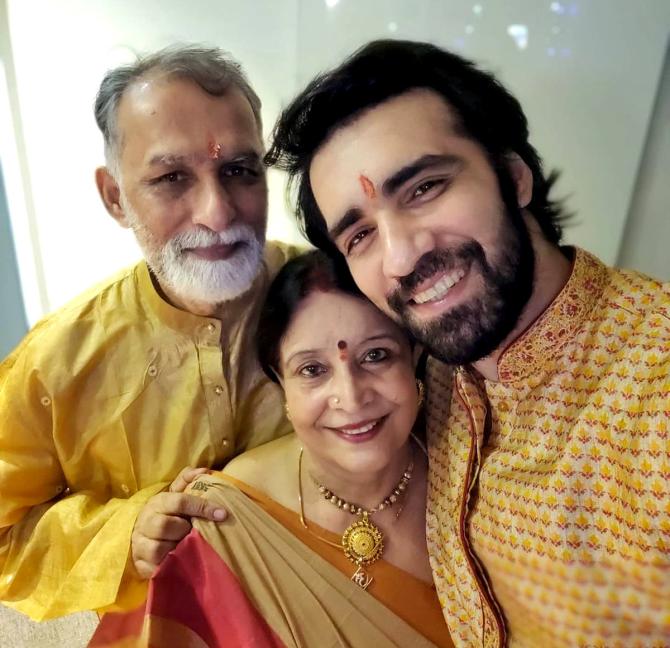 How did a boy from Bihar become an actor? Were you always interested in acting?
I was seven when we came to Bombay… actually, we weren't in Bombay yet.
We were in Karanja (a town in Maharashtra), since my dad was in the Customs.
I shifted to Bombay around 1993 because I remember the bomb blasts.
I was doing my engineering, and staying in a hostel, when I had a lot of introspection time.
In one of those moments, I suddenly felt I'm good at acting.
I don't know what the reason for that was.
But I made that decision as an 18-19-year-old boy, and I decided to train myself in acting.
So I left engineering after my third semester and started doing theatre.
Were your parents okay with that?
They were obviously not okay with it.
Yeah, it was a difficult phase then.
I had to make them understand that I'm stop stopping my studies for engineering, but I've started my studies for acting.
Unfortunately, in our society, it's not considered to be a profession where you get educated. There is no value for the craft yet.
So I went to Delhi and did my training with Mr Barry John.
Then I went to the New York Film Academy for a year-and-a-half.
You know, in New York, on Times Square, there used to be a Cold Stone ice cream parlor. This is back in 2005.
I remember stepping out and dreaming that one day, I will have my hoarding there. It was unthinkable because at that point, Indian films and shows had not reached the world yet. Even the big stars probably didn't have their holdings on Times Square.
I would see everything from around the world. but nothing from our side.
Today, I was sent pictures of Bambai Meri Jaan's trailer running at Times Square.
I am talking to you and I'm getting goosebumps!
I dreamed it, but I never thought it would happen.
Bihar se lekar New York tak…I'm so overwhelmed!
But how difficult was it to land your first film, Yudh, in 2014?
Every actor who comes from outside has to do thousands and thousands of auditions.
My big break Laila Majnu released in 2018, and it took 15 years in the industry and 21 tests for me to get an opportunity to become a lead actor.
Before that, I had done two television shows with Lekh Tandon on DD National. I could buy a house in the city because of that.
Then Yudh happened, followed by a film called Tu Hai Mera Sunday.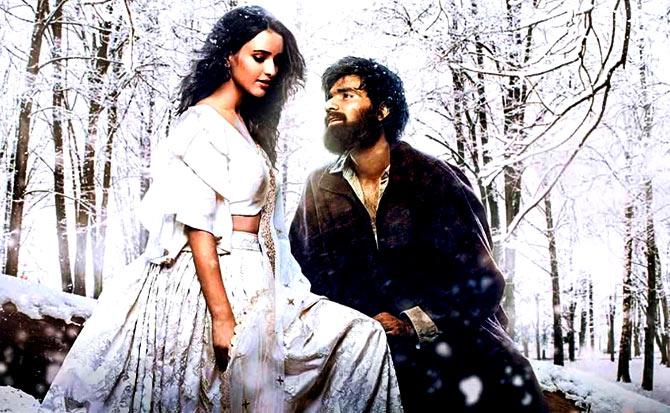 There must have been struggle in those four years between Yudh and Laila Majnu.
There was struggle, but thankfully, I have always been in a space where I could say no.
What you say no to shapes you more than what you say yes to.
I was very clear that I only want to do quality work.
If you look at my filmography, I started with Laila Majnu with Balaji Telefilms, Ghost Stories with Dharma Productions, Bulbul with Anushka Sharma's Clean Slate, The Girl on The Train with Reliance, Khakee with Neeraj Pandey, Bambai Meri Jaan with Excel, Kaala with T-Series…
So I have worked with the top producers of the country.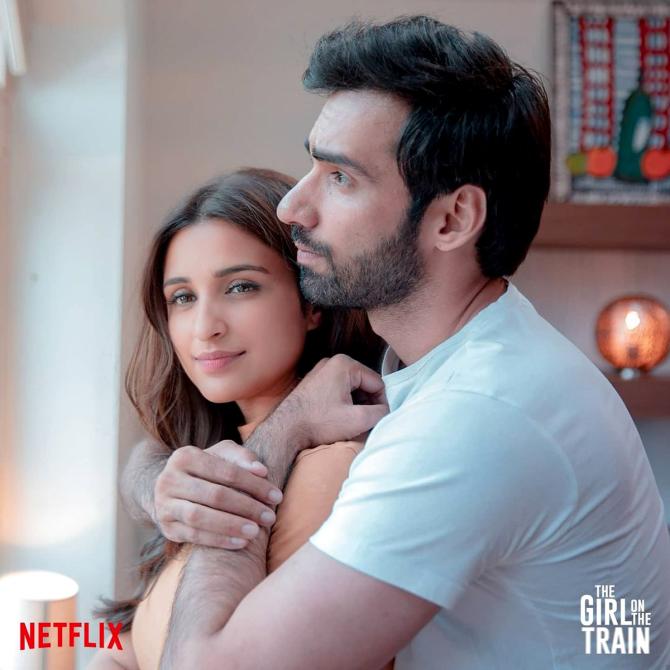 Did your personal life and relationships ever suffer when you were struggling to build a career?
I've been single throughout my career, so that did not get affected.
But I think it was more difficult for my parents.
They had to respond to the society that 'Aap ka beta kya kar raha hai?'
I'd been around for so long, but everyone was asking, 'Aap ka beta actor hai par dikhtaa toh hai nahin.'
Those things would affect them more than me.
But even though they went through that, the kind of love and support they have given me is why I am where I am.
I could have easily drifted away in the struggle period ki nahin ho raha hai but I always had someone to hug me when I came home. That is a privilege bigger than any privilege that we talk about.
We have a lot of conversations about privileges, but 90 percent of the people in this industry come from outside. They don't have anyone to hold their hand in their time of struggle.
But I could come back home and have my mom caress my head or my dad give me a hug if I was down, and that is what kept me going.
I truly believe that the privilege that I had is something so many don't.
They must be very proud now.
I think things started to change when I started getting work.
Even during the DD National days, yes, mainstream duniya nahin dekti hai, but for a family from Bihar, if their son is working on DD and he has bought a house in Mumbai at the age of 24, that itself is praiseworthy.
We always think that every actor should be Shah Rukh Khan (laughs).
But for them, things started changing when I gradually started getting work.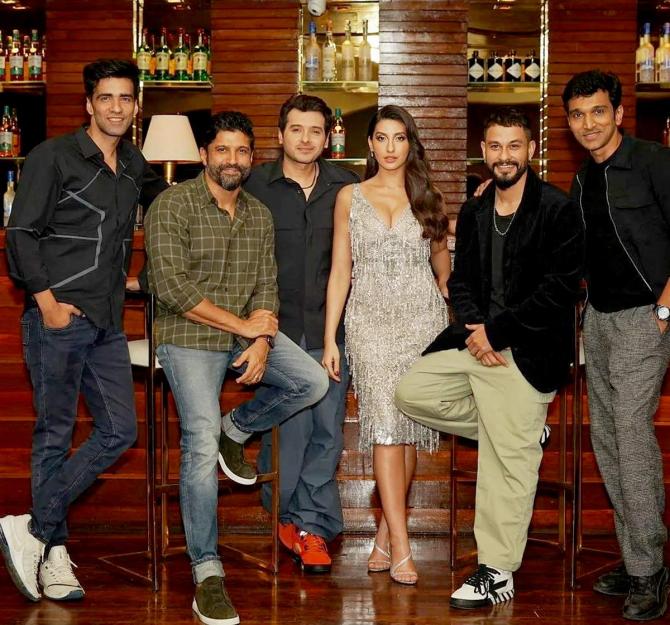 What next?
Excel Entertainment's next film is called Madgaon Express. It's directed by Kunal Kemmu and stars Pratik Gandhi, Divyendu Mishra, Nora Fatehi and me. It's a comedy and totally different from what I have done.
After that, there's a film written by the writer of Birdman. It's a beautiful film, which I hope will get international recognition.
Because that is my aim.
Never in the history of Indian cinema did we have a distribution system for 240 countries but we have it now. And if we still keep catering to the B and C-tiers of our country, and not the whole world, then we are really being losers.
The visionaries of the industry must pull up their socks and say that now we will create for the world.
India is ready for the world.
Source: Read Full Article