Here's what celebrities, critics and fans are saying about Mookuthi Amman, starring RJ Balaji, Nayanthara, Urvashi and Manobala among others.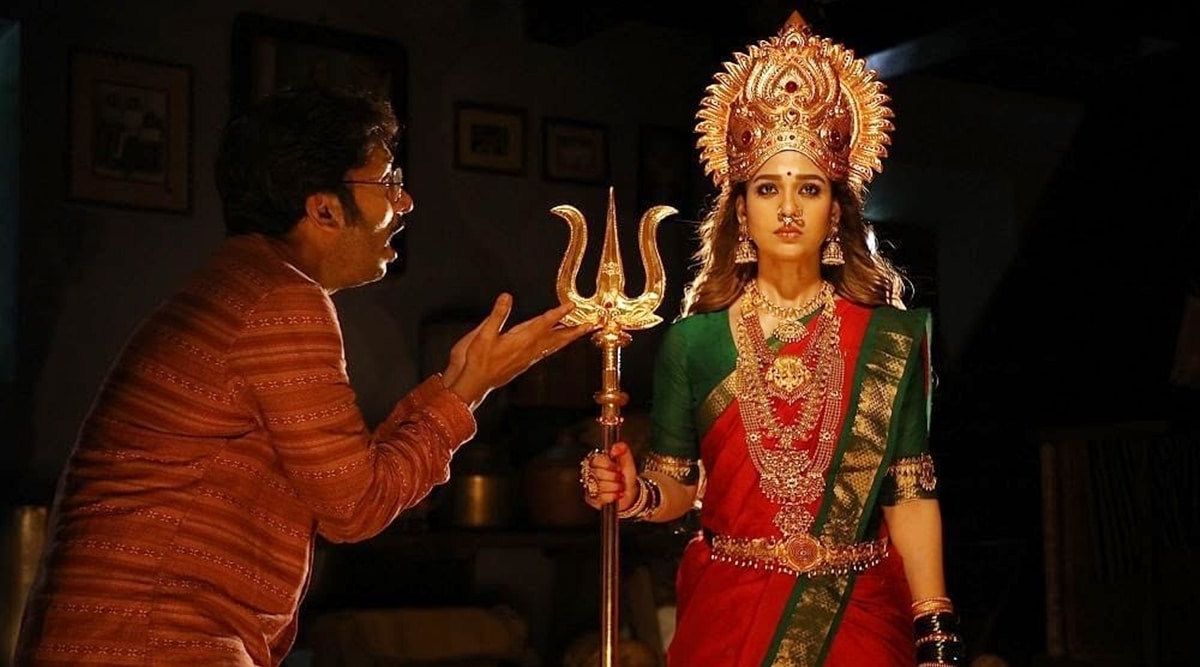 Directed by RJ Balaji, Mookuthi Amman is finally streaming on Disney Plus Hotstar. The film stars Nayanthara in the titular role. She will be seen fighting against fake godmen in the movie. The actor has earlier portrayed Goddess Sita in Nandamuri Balakrishna's 2011 release Sri Rama Rajyam. RJ Balaji also features in his debut directorial as a journalist.
Balaji feels we need films that make people happy and teaches them good values. In an interview with indianexpress.com, he said, "I just wanted to make a happy film. This film is entertaining and fun. And the good message is just a bonus. We need films that make people happy and teaches them good values. If you call a movie family-friendly, then it should show a kid how to treat a woman."
Apart from RJ Balaji and Nayanthara, the film also stars Urvashi, Moulee, Ajay Ghosh, Madhu Mailankody, Smruthi Venkat, Manobala, Mayilsamy, Indhuja Ravichandran, Gautham Karthik and Yashika Aannand.
Follow all the latest updates about Mookuthi Amman.
"One word! Nailed it! @Rj_balaji Switched the mood from laugher to sentiment to laugher again in seconds throughout the movie. Background score. Entertaining movie with a massive message! Hatsoff! #Diwaliblockbuster #MookuthiAmman" shared @Jramavetrivel on Twitter.
"Mookuthi Amman was fabulous. @RJ_Balaji I was happy to see you growing as a hero from Tamil pride. Hats off to you and to your team. I literally understood "the truth of spirituality, God practices and fake endovers cheating people. At last "We ourselves are god" #MookuthiAmman" shares @iniyasudharsan on Twitter.
"#MookuthiAmman perfect family entertainer with crct msg.. @RJ_Balaji as usual semma..Party popper eduthukita core correcta present panirukanga..#Nayanthara screen presence vera level Folded hands another blockbuster this Diwali..," writes @selvam_murali on Twitter.
"@RJ_Balaji #MookuthiAmman with all due respect you have been creating such a good vibes for a long time . You are briefing a Humanity in us. Good belief is God Sparkles. Believe in good faith. Strong message with a engaging screenplay. I enjoyed with my family," writes @sundarc11 on Twitter.
"@RJ_Balaji, #Nayanthara #Urvashi mam stole the show. A well mixed and packed movie with comedy, fantasy, commercial and more than that, the message it conveyed at the end was the highlight in the movie. Thanks for breaking the ice @RJ_Balaji and #NJsaravanan #MookuthiAmman," writes @cric_women.
"A biting, whip-smart satire on the thorny concept of godman in religion, A brilliant film that tests our faith and lays it bare for introspection #MookuthiAmman is an genuine attempt to educate and axe blind faith amongst general public! AND URVASHI!! WHAT AN ACTOR," shared @arun661 on Twitter.
Vignesh Shivan shared on Twitter, "Wishing the best to Team #MookuthiAmman to become a favourite movie for the masses! May all the genuine efforts, prayers & hard work put into this film reap the maximum accolades & appreciation! Watch it on @DisneyPlusHS right now"
@LMKMovieManiac shares Mookuthi Amman "would have been a sure-shot hit" if it released in theatres.
This week the other films that have released on various streaming platforms include Akshay Kumar-Kiara Advani starrer Laxmii on Disney Plus Hotstar, Anurag Basu directorial Ludo on Netflix, Suriya's Soorarai Pottru and Rajkummar Rao starrer Chhalaang on Amazon Prime Video.
Source: Read Full Article