Mumbai Saga movie review and release LIVE UPDATES: Here's what celebs, critics and fans are saying about John Abraham and Emraan Hashmi film, Mumbai Saga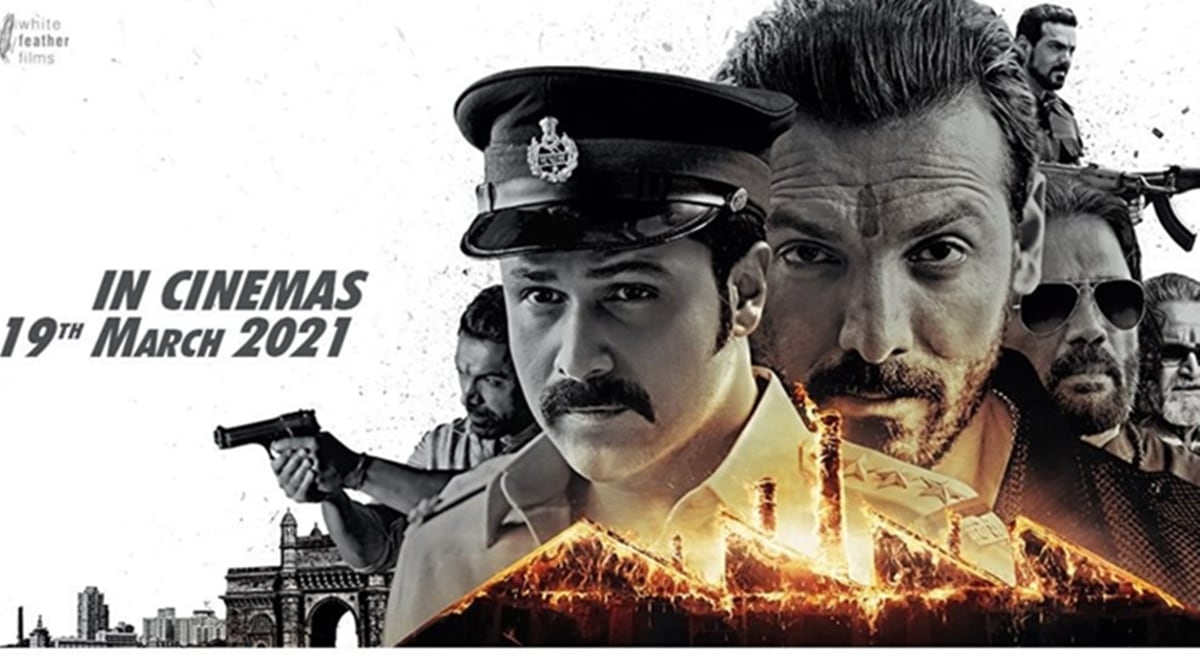 Even as the coronavirus cases show a steady increase in some parts of the country, some cheer is finally returning to the theatres. As John Abraham-Emraan Hashmi film Mumbai Saga releases on Friday, March 19, trade is hopeful that single-screen theatres will get footfalls. After Janhvi Kapoor-Rajkummar Rao starrer Roohi saw over Rs 20 crore box office collection in less tha a week, things are looking promising, as per trade.
Directed by Sanjay Gupta, Mumbai Saga is a gangster drama that pits John's Amartya Rao against Emraan's cop character. The film, set in the 1980s and 90s, chronicles the transformation of Bombay to Mumbai. The crime drama shows the changing face of the city as mills close down to make way for malls and high-rise buildings.
John Abraham plays the character of Amartya Rao, who has only one goal in life — to rule the city. His plans can come askew as Emraan's inspector Vijay Savarkar dogs his every step.
In a media interaction that followed the trailer launch, John was asked what is in the gangster genre that lures him to keep coming back to it. To this John said that he picks these films to connect with the audiences because that's where "he belongs".
Mumbai Saga's songs are composed by Yo Yo Honey Singh and Payal Dev while lyrics written by Hommie Dilliwala and Yo Yo Honey Singh.
Follow all the updates about Mumbai Saga here:
Mumbai Saga star Kajal Aggarwal shared two photos from the sets and tagging the director and actors, she wrote, "big shout out, sending lots of love and excitement your way !"
Taran Adarsh gave Mumbai Saga 3.5 stars and wrote, "#OneWordReview… #MumbaiSaga: POWER-PACKED. Rating: 3 and a ½ star. Action-packed entertainer with powerful dialogue… #JohnAbraham terrific, #EmraanHashmi impactful, #MaheshManjrekar, #AmolGupte superb… First hour razor-sharp, second half good… Mass entertainer! #MumbaiSagaReview."
A Twitter user @UmairSandu took to Twitter to post, "EXCLUSIVE First Review #MumbaiSaga from UAE Censor Board ! On the whole, It is a paisa vasool entertainer. Brutal and electrifying. @TheJohnAbraham & @emraanhashmi gave Top Notch Performances. @_SanjayGupta delivers a solid punch! Go for it. 4 stars."
Emraan Hashmi tweeted, "Catch the Face-Off between #JohnKaGang & #EmraanKiForce IN CINEMAS TOMORROW!"
Mumbai Saga's writer Vaibhav Vishal took to Twitter to post, "My film Mumbai Saga is releasing tomorrow. It's a high. Thank you, @_SanjayGupta for you being you. Thank you @TheJohnAbraham, @emraanhashmi, @SunielVShetty, @GulshanGroverGG, @rohitroy500 and everybody else for giving life to some of my lines. Thank you, world, for good vibes!" He added, "Since Twitter wasn't allowing me to include everybody in my first tweet, here are the rest of the awesome people that must be duly tagged and acknowledged. 🙂 @MsKajalAggarwal, @anjanasukhani, @Shaadrandhawa, @VivaanParashar, @manjrekarmahesh @samirsoni123."
"Tomorrow 19 th March our film #MumbaiSaga will be in theatres," tweeted the ace actor.
On the eve of Mumbai Saga's release, John Abraham tweeted, "A LION amongst the Wolves! Amartya is born to Rule! The conspiracy is hatched, but can anyone stop Amartya's Rise to claim Mumbai as his own. It's a war for Dominance! #MumbaiSaga IN CINEMAS TOMORROW."
Mumbai Saga also stars Suniel Shetty, Kajal Aggarwal, Rohit Roy, Anjana Sukhani, Mahesh Manjrekar, Prateik Babbar, Samir Soni, Amole Gupte and Gulshan Grover.
Source: Read Full Article