Kartik Aaryan is never exceptional, observes Sukanya Verma.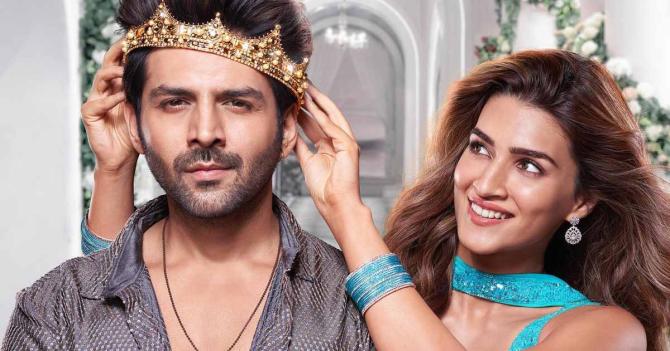 Masala movies are a litmus test for stardom.
How much suspension of disbelief can a star draw out from its audience decides their real reach.
Back in the day, David Dhawan made a killing by casting Govinda, Anil Kapoor and Salman Khan's tailor-made mass appeal in patently silly entertainers.
What made these predictable paisa vasools worth their while is the combination of an actor's distinctive personal style and a God-given talent for understanding the frontbencher's pulse.
Not everyone has this gift but God knows, they try.
In Shehzada, Kartik Aaryan tries to recreate Allu Arjun's crowd-pleasing antics but not from scratch.
Every slo-mo flip, dance move and punchline owes all its swagger to the 'Stylish Star' that might please his fans but lacks selfhood.
An official remake of the latter's Telugu superhit, Ala Vaikunthapurramuloo, it's about babies exchanged at birth where one grows up to be scion of a wealthy family and the other's the son of a regular joe. This is vintage David Dhawan.
Only this time, it's his son Rohit at the helm.
Originally created by Trivikram, Ala Vaikunthapurramuloo's poppycock plot was redeemed by Allu Arjun's all-rounder charisma and Thaman's infectious soundtrack.
Save for a couple of favourable changes and tweaking a character or two, Dhawan Jr's remake is more or less a copy-paste affair with not a single hummable Pritam ditty.
Shehzada brings down its running time by 20 minutes, subdues the original's sexism and doesn't reduce the other swapped son entirely to a prop.
It's nearly not enough to make an already brainless movie a better one.
On one hand, a character is the epitome of all things true and fair and yet has nothing to say when folks nearly kill someone and send them into a coma or cheat on perfectly sweet spouses for no rhyme or reason.
Envious of his colleague's rise from clerk to CEO, Paresh Rawal decides to replace Manisha Koirala and Ronit Roy's stillborn with his own child (grows up to be Ankur Rathee).
But as soon as the exchange happens, the poor little rich baby (grows up to be Kartik Aaryan) starts wailing. The nurse privy to it lands in a coma.
Twenty five years later, Kartik Aaryan learns the truth about his filthy rich parents and the reason for the poor treatment at the hands of his haanikarak bapu.
Meanwhile, Sachin Khedekar, grandpa in both original and remake, hires Kartik to meddle in their family affairs, quite like Govinda in Hero No 1 sans the chores or uniform.
For eye candy, there's a sprawling white mansion straight out of an Architectural Digest issue and leggy lawyer Kriti Sanon until her inexplicable disappearance in the second half.
Truth be told, her Instagram could have done this role.
For action sequences, there's a snarly Sunny Hinduja jabbing umbrella tips into people's chest.
At the centre of the lunacy is Kartik Aaryan belting out speeches on no means no, almond milk kheer, nepotism, mollycoddling moms, adultery, unhappily rich, blissfully poor while trying super hard to play to the gallery.
He's alright but never exceptional.
If only making a mark in old-fashioned masala was as simple as craving for old-fashioned stardom.

Source: Read Full Article