Spielberg was born with a camera in his eye. And this one movie, he'd been recording all his life, observes Sukanya Verma.
'His eye is so connected to his brain.'
Tom Hanks is spot on about the man behind five of the best films of his career: Saving Private Ryan, Catch Me If You Can, The Terminal, Bridge of Spies and The Post.
It's also the first thing you'll notice while watching Steven Spielberg's lovingly crafted semi-memoir.
Years before he would be awarded the Cecil B DeMille award at the 2009 Golden Globes, Spielberg would find his life change forever inside a 1950s theatre playing the seminal film-maker's The Greatest Show On Earth.
Winner of two Oscars for Best Picture and Story, its spectacular train crash sequence has a lasting impact on its starry-eyed, knee-high viewer.
Spielberg discovers strange satisfaction in recreating that exact moment of violent collision using his toy train set with a 8mm camera.
Until now an amusing childhood memory he'd told over and over again while accepting the aforementioned honour or to Amitabh Bachchan when he visited India 10 years ago, manifests into a living, breathing visual captured on his most beloved medium: Film.
From why we go to his movies to why he makes the movies, the genius of Spielberg comes to a glorious full circle in the poignant, personal, The Fabelmans.
He's the emperor of epic, the granddaddy of turning unthinkable into reality, the envelope pushing embodiment of never before never after, a visionary whose popularity is equally proportional to his versatility but Spielberg's creative fuel is sentiment, embarrassing loads of sentiment.
In The Fabelmans, he shares the most intimate pieces of his personal history by baring his vulnerability in ways that feel like closure. And as a long-time audience of an all-time great director, you feel privileged he chose to do it with you, almost like ET and Elliot's finger touch.
Over the course of his five decades long career, Spielberg has tried reconciling with the deep-rooted pain caused by the separation of his parents and a family falling apart across his vast body of work.
You can see echoes of his estranged and emotional ties in many of his films as varied as Close Encounters of the Third Kind to Catch Me if You Can.
Unlike the movies where he placates his inner turmoil by turning unfair reality into exaggerated fantasy, The Fabelmans acknowledges the camera as his bane and boon.
Here's a young adult who communicates best behind one, it's his voice and world through which he lets people know how he sees them but is left all alone in the process.
The camera is his constant companion and like all good friends, it blurts out every truth with brutal honesty. Like his mom's closeness to his father's best friend, an uncle-figure the family dotes on. All of a sudden, those neatly labelled reels of film he meticulously glues and puts together cannot replace the inevitable split his family is headed towards.
Opting for a fictionalised alter ego Fabelman, fabel is German for fable and is exactly how it plays out under Spielberg's keen eye in Sam 'Sammy' Fabelman's (Gabriel LaBelle) coming-of-age journey from theatre to studio.
Only this isn't some formulaic checklist cliché aggrandising his legacy but a touching acknowledgement of his parents as people — people capable of flaws and follies not role models designed by society.
Sammy's mother Mitzi (Michelle Williams) is a free-spirit and a pianist meant for grander schemes than mundane life with her decent but dull husband Burt, a nerdy engineer (Paul Dano) can ever offer.
Uprooting their family of six, including Sammy's three feisty sisters — or seven if you count Uncle Bennie (Seth Rogen) against Burt's wishes from New Jersey to Arizona and, finally, California has an increasingly adverse effect on the Fabelman household.
Mitzi slips into despair and depression.
Burt drowns himself in work and denial.
Sam struggles with his Jewish identity in a college full of bullies.
The only upside of his religion is appearing a romantic oddity in the eyes of a curious Catholic girl unable to distinguish 'let's pray' from 'let's play.'
Life is too sprawling to stay confined within specifics of narrative, The Fabelmans has no plot or structure.
It's a series of carefully edited anecdotes concerning camps and beaches, dinner table moments and meltdowns and spontaneous home video shenanigans that give us a fond glimpse into Spielberg's film-maker origins and sporting siblings (though one of them cheekily questions the serious lack of women in central roles in his movies) but never to the point of indulgence.
Instead, there are quirky uncles offering advice, soul uncles offering cameras and a legendary director's cameo played by a legendary director reiterating Spielberg's prowess at poetic final scenes. And honing promising young talent.
Gabriel LaBelle has quite a responsibility on his shoulders. He's playing an icon in his most gawky, unsure, judgemental, timid, unevolved and unsophisticated phase. LaBelle conveys the rough edges as convincingly as the man's brilliance and emotionality.
Flipping through The Fabelmans' album wouldn't have its nostalgic value without Sam's parents, from whom he's inherited the best of both worlds. He has the artistic soul and sensitivity of Mitzi and Burt's fluency in technology.
But Spielberg's reflections acquire unspoken depth and disquiet in Mitzi's suffocation and sadness.
In Susan Lacy's wonderful 146 minutes documentary, Spielberg streaming on Disney+Hotstar, the director calls his mother, Peter Pan: 'She was our best friend, not a primary caregiver.'
Michelle Williams is instinctive as ever in bringing life to one of the most important and influential women in Spielberg's life but it is Paul Dano's ability to steal a frame by holding it all in, that impressed me immensely.
In the same documentary, a terrific companion piece to this movie, Ben Kingsley notes: 'There are very few directors who respect stillness. He's gonna catch every single gesture you offer to the camera and he's going to use it.'
Spielberg was born with a camera in his eye. And this one movie, he'd been recording all his life.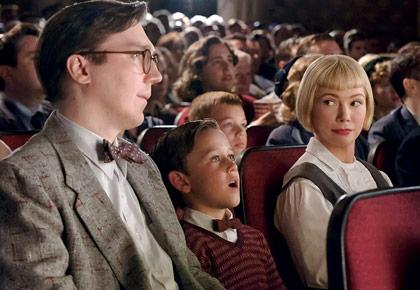 Source: Read Full Article