On January 24, when the Academy of Motion Picture Arts and Sciences announces the Oscar nominees for 2023, it would be a surprise if RRR doesn't make the cut, declares Vanita Kohli-Khandekar.
Not many foreign films have created the kind of buzz the way S S Rajamouli's RRR has in the US recently. And it could well be on its way to an Oscar nomination.
One may even risk saying that on January 24, when the US-based Academy of Motion Picture Arts and Sciences announces the Oscar nominees for 2023, it would be a surprise if RRR doesn't make the cut. After all, it does have a lot going for it.
The Golden Globe win for its song Naatu Naatu and the Best Director award at the New York Film Critics Circle are significant steps in its journey to winning over the hearts of Academy voters and audiences in the US.
At screenings across the US, people have been dancing and reacting as raucously to the film and to Naatu Naatu as any single-screen audience in India.
Granted that the nomination list of the Directors Guild of America, considered a strong predictor for an Oscar win, does not feature RRR, the voting for the Academy awards hasn't ended yet.
'I'm going with RRR winning best pic,' tweeted Jason Blum, CEO of Blumhouse Productions, which has produced films and horror franchises such as Get Out and Paranormal Activity.
RRR, the story of two mythical freedom fighters, is as masala as any '80s film. Rajamouli's imagination and some beautifully stylised visual effects raise it to high art.
At an estimated Rs 1,200 crore (Rs 12 billion) in global box office revenues, it is one of the highest grossing films after Aamir Khan's Dangal (2016), which made over Rs 2,000 crore (Rs 20 billion) at the global (including Indian) box office.
Lead actors N T Rama Rao Jr and Ram Charan (superstar Chiranjeevi's son) have played Bheem and Raju, respectively, with conviction and dollops of mischief, especially while bantering on screen.
RRR is a quintessentially Indian film with songs, dances, lots of drama and over-the-top action with excellent production values.
And Hollywood seems to have fallen in love with it.
'Watching this film was such a party,' said Oscar-winning actor Jessica Chastain (Interstellar, Zero Dark Thirty) on Twitter.
'I love its exuberance, friendship… I love the music, I love the insanity, the fever dream madness of this movie. It's more fun to watch this movie in a theatre than any other film… It's so wonderful and it's a privilege to introduce the man himself,' said Producer J J Abrams as he introduced Rajamouli to audience members at a sold-out screening at Los Angeles' Chinese Theatre.
Among the films Abrams has produced are some of Tom Cruise's Mission Impossible movies.
Dylan Marchetti of Variance Films, RRR's US distributor, has been a driving force behind getting the movie into the race for the Oscars, even though it is not the official entry.
India's official entry is the Gujarati film Chello Show.
Variance has submitted RRR for 14 categories, including Best Picture and Best Director.
Some Indians — Bhanu Athaiya, A R Rahman, Resul Pookutty, Gulzar — have won Oscars.
Some films — Mother India, Lagaan — have been nominated.
But no Indian film has ever won an Oscar.
The Indian film fraternity, which has been effusive in its praise and support for the film, is waiting with bated breath.
Ram Charan's congratulatory tweet on the trailer of Shah Rukh Khan's coming release Pathaan got an almost immediate reaction from Khan, among the best known symbols of India's soft power.
Khan tweeted: 'Thank U so much my mega power star @alwaysramcharan. When UR RRR team brings the Oscar to India, please let me touch it.'
That is what every Indian would love to do.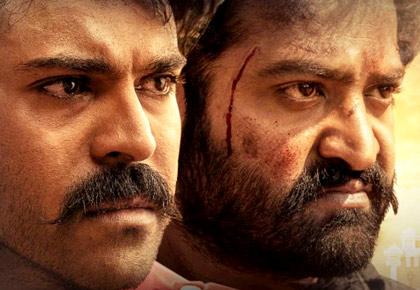 Source: Read Full Article