'The girl who helps me at home has had a tough life, yet her perspective of life is so much more positive than mine despite the hardships she's endured.'
It's been over four decades since Supriya Pathak Kapur entered the movies with Shaym Benegal's Kalyug and won hearts with her kohl-streaked eyes and shy smile.
Over the years, she's pulled off diverse characters with effortless ease.
One of them is Hansa, Praful Parekh's forever-tired wife in Khichdi who relies on her husband's errant translations to converse in English. Hansa has been entertaining us since the sitcom debuted on the Star Plus channel on September 10, 2002.
After several re-runs, a second and a third season, a sequel, Instant Khichdi, which transitioned into a film, Khichdi: The Movie, the superhit franchise was back in the theatres with Khichdi 2: Mission Paanthukistan, a follow-up to the 2010 film.
"Hansa Parekh makes Supriya Pathak Kapur happy," she tells Rediff.com Senior Contributor Roshmila Bhattacharya.
Khichdi is a franchise you have been associated with for 20 years.
Twenty-one actually.
(Laughs.) Woh kehte hain na, shagun ke ekkis saal ho gaye.
What is the one defining memory you will always associate with the laugh riot?
Khichdi has been an important part of our lives, particularly mine.
I've done a lot of other work too, but this franchise will always be special because it's the longest association with a character I've had.
Normally, I get bored playing a character over time and enjoy the variety in the roles I've been getting, but Hansa is still the most attractive woman I have impersonated.
Hansa Parekh makes Supriya Pathak Kapur happy.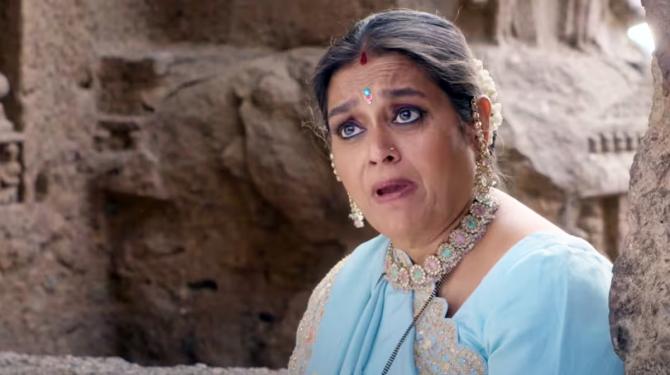 Do you like wearing gajra too?
(Laughs) I don't any more, but when I was a young girl with long hair, I'd wear them often.
Back then, I was living with my mother (Dina Pathak, the late veteran actress) in Dadar's Parsi Colony (north central Mumbai) and whenever I'd pass by Matunga (also in north central Mumbai), I'd pick up these strings of fresh flowers.
(Laughs) We got only mogra gajra mthen, so that's what I wore and that's what Hansa wears.
Over the last 21 years, what else have you contributed to this iconic character?
I don't remember exactly. We've done a lot of improvisations.
But yes, when Aatish (Writer-Director Aatish Kapadia) and I had initially planned on giving her a lethargic demeanour because she doesn't have a goal in her daily routine.
We wake up and start planning breakfast, but all that Hansa has to look forward to is dress up.
So we decided she'd walk very slowly. But while performing, I realised that it could get boring for viewers to watch her take so much time getting from one place to the next.
When I pointed this out, Aatish told me, 'Aap baithe rahe', so I sat tight but because Hansa is talkative, woh baithe-baithe bolti bahut hai aur bolte bolte hilti hai.
(Chuckles) Even while sitting and talking, her upper body is always in motion.
Also, I wanted her to be an innocent, likeable, character and as an actor, it was my job to bring out the purity in her.
I did not want a single quality that would have someone thinking even for a moment, 'I don't like this about Hansa.'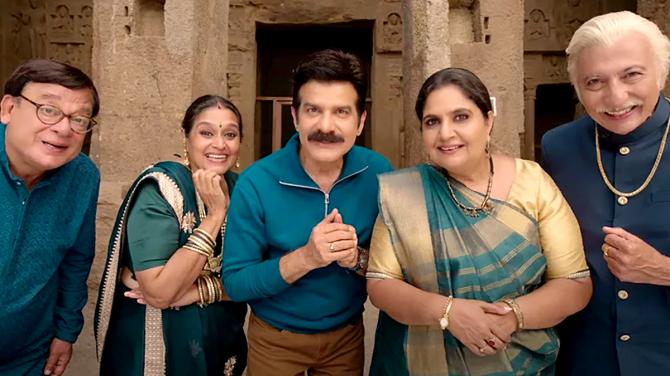 Is it true that you write too?
Yes, I have been writing fiction since I was 19-20.
Some of my short stories even got published in newspapers like The Asian Age and in magazines like Femina.
I haven't been published in a while, but I still write.
Ever thought of compiling them as a book or bringing them to the screen?
I've never thought along those lines.
So often you see something, and it can be something positive and inspiring that evokes certain thoughts and emotions.
These stories are an expression of what I experience.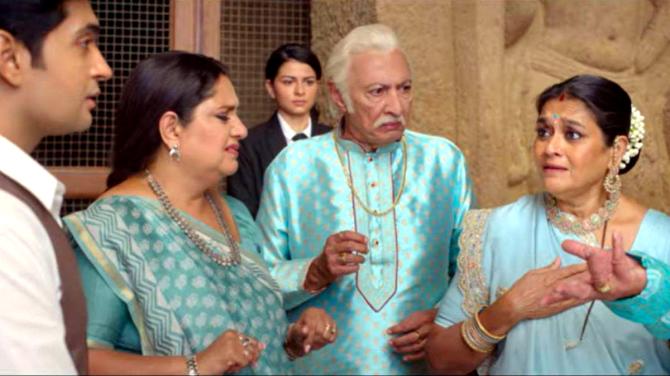 So what would be your recipe for a delicious pot of khichdi?
My khichdi would be a pot of bubbling creativity into which you would stir in the writing and direction skills of Aatish Kapadia, the production mind and passion of JD Majethia, iconic characters like Hansa, Praful, Jayshree and finally, the ghee.
The ghee?
Yes, that dollop of goodness which is the love of the audience.
That's what has kept us going.
You started your career playing Subhadra in Shyam Benegal's Kalyug, the modern day adaptation of the Mahabharata. She's such a beautiful character/
(Smiles) All the characters I've played have been beautiful, enriched women from different walks of life, different economic stratas.
I believe women are the most amazing creations of God.
The girl who helps me at home has had a tough life, yet her perspective of life is so much more positive than mine despite the hardships she's endured.
It is this positivity that I have tried to bring into my characters, be it Subhadra or Shabnam from Bazaar.
Bazaar, Sagar Sarhadi's 1982 drama, was an eye-opener, bringing to the practice of buying brides by affluent expatriate Indians in the Gulf. Were you able to help young girls like Shabnam being sold off by needy, desperate parents?
I was too young then to deal with such life-changing issues.
Even now, I don't believe in making bade daave (big promises) hard to fulfil. I try to do what I can in an individual capacity.
But I remember, after Bazaar released, this girl started writing to me.
The letters felt almost like love letters because she had fallen in love with Shabnam.
I don't know if her life was similar, but I sensed a major upheaval from her letters.
Maybe she was being married off too like Shabnam, but there was nothing I could do beyond writing back, urging her to be strong and happy.
I don't know if my reply made any difference to her life, but I don't know if I could have done anything more then.
I was more successful with another character a few years later.
Which one?
In 1987, there was this beautiful serial titled Zindagi, inspired by a story by Amrita Pritam.
Co-starring Sharmila Tagoreji, Parikshit Sahniji and Benjy (Benjamin Gilani), it had me playing a girl from an impoverished family who dreams of becoming a journalist.
The show details her struggle to become one, and then her subsequent struggle with the big media houses who try to muzzle her.
The show worked very well and at airports, young girls would walk up to me and tell me that my character had inspired them to chase after their goal, no matter how impossible.
That for me was more gratifying than being just praised for a performance because if I can make a difference in the life of even one woman, I'd be fulfilled.
During the recent COVID-19 pandemic, when we were all locked up in our homes, upset and depressed, many told me they would watch a few scenes from Khichdi: The Movie, and laugh uproariously watching Hansa in the courtroom and be momentarily diverted.
Hearing someone say I'd made them happy, was the greatest gift.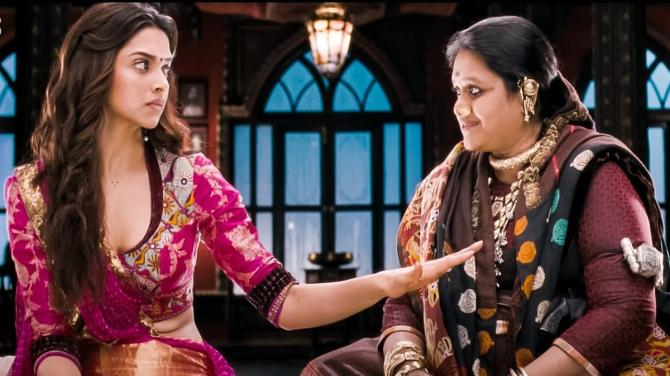 While one associates you with happy characters like Hansa, you have also played Dhankor Baa, the chieftan of the Saneras, in Galiyon Ki Rasleela Ram-Leela to perfection. How do you get into a character like this?
It was kind of Sanjay (Leela Bhansali) to give me this character.
For me, acting is a challenge and there are so many different women I want to play.
When I start prepping for a role, I stop thinking like Supriya Pathak Kapur, I begin thinking like that character,
You come from a family of brilliant actors, from your husband Pankaj Kapur to Shahid and Sanah, your sister, Ratna Pathak Shah, and brother-in-law Naseeruddin Shah to Manoj and Seema Pahwa, Sanah's in-laws…
(Laughing) There are too many to count, but it is heartening that people say we are a family of good actors and not just a family of actors.
The 'good' is a good addition.
Whatever we have done, we have tried to do well.
Entertaining people has been our motto.
Making the audience happy makes us all happy.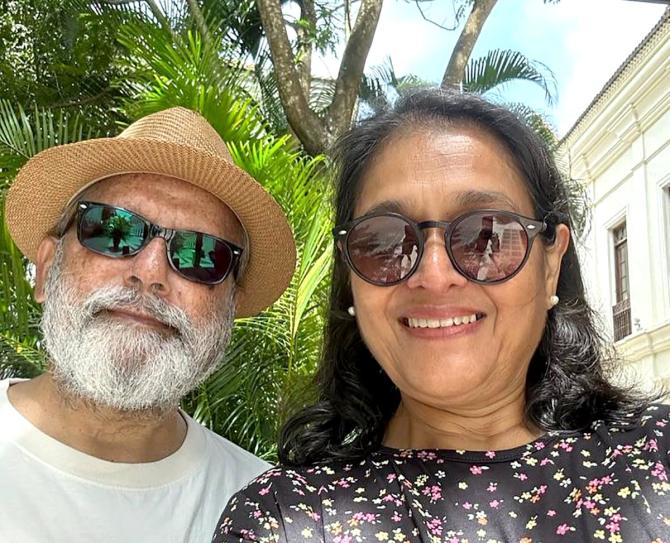 Even after 35 years, Pankajji and you are a matchless couple.
(Laughs) Thank you for saying this. Like with every marriage, we have had our ups and downs too.
We still fight today, but we also love each other very much. Since the only thing I'm scared of is tension, hum has-bol karke sort out our issues or set out stresses aside saying, 'Baad mein dekh lenge.'
It's friendship that makes a relationship last and today, I can honestly say I'm married to my best friend.
That's what your daughter says too.
(Laughs) Sanah is quite literally married to her best friend, Mayank Pahwa.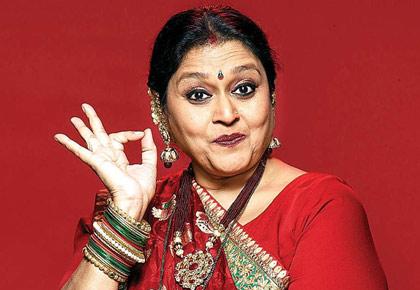 Source: Read Full Article