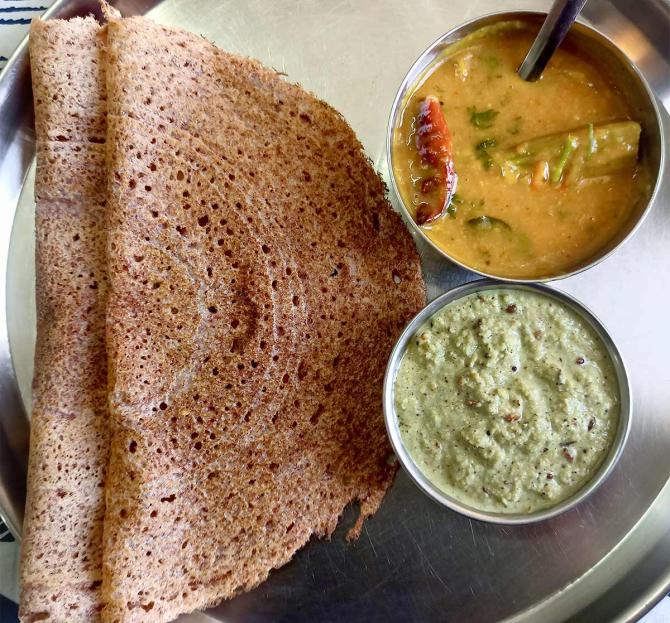 The millet-accented feast that President Droupadi Murmu hosted at Bharat Mandapam on Saturday, September 9, 2023, brings back into focus why we all need to make sure we get our few-millets-a-day-keeps-the-doctor-away quota of the magical and ancient grain.
It is time you, dear reader, replaced rice and wheat in your diet, daily, with the wonder food that is easy on the stomach and the pocket as well.
Jumpstart mornings on a healthy note with a bowl full of millets or with a millet creation; each millet has its own nutritional benefits.
Rediff Food has plenty of millet recipes that should work for you. Go ahead be our guest!
Ragi Dal Dosas can be made with six ingredients. It will fill you up and may be packed for an on-the-go breakfast as well.
Bajra and jowar are popular millets, but fans of idlis might rather ditch rice and urad dal for kodo millet to make soft and spongy Kodo Millet Idlis.
Jowar Idlis, served with sambar and your choice of chutney, will fill your stomach in a magnificent manner.
Millet Upma shall help you say goodbye to processed rava or sooji or semolina.
Millet Pancakes and Ragi Pancakes are a sure-shot way to please kids. Barnyard Millet Dosas require no fermentation and taste great with coriander and mint chutney.
Ever tried a Foxtail Millet Dosa? Follow the recipe and you'll realise it's not as complicated as you'd imagined it to be.
If you are tired of processed oats, carb-filled cornflakes and too buttery toast for brekker, then you must have Millet Porridge with fresh fruits and nuts.
For a frugal, nutritious lunch, dine on Boiled Millets instead of rice. Cook it in under 30 minutes — it goes well with a chicken curry or Paneer Butter Masala.
Millet Pulau is a wholesome meal, especially when it's packed with your favourite veggies.
Bajra Fried Rice is one-pot khaana that even matches a Chinese or Thai curry.
Boil and season pearl millets with mung dal to make a nourishing bowl of Bajra Khichdi.
Tea-time can be upgraded into a heathy and tasty affair — fry up Millet Cutlets or Millet Pattices.
Shoot for a light dinner: Rustle up steaming Chiru Dhanyalu Java for a four-millet soup.
With Ganesh Utsav around the corner, break traditions and craft batches of gluten-free, low-calorie Millet Sesame Modaks. They taste super!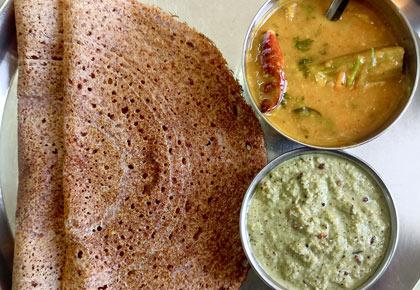 Source: Read Full Article