Every family has their own recipe to make kheer and the creamy milk-based dessert is the simplest prasad you could offer Ganeshji.
As you bid him goodbye, follow Chef Sohail Karimi's recipe and rustle up a yummy bowl of Rice Kheer.
With rose petals and nuts as garnish, it makes for an ideal offering on Anant Chaturdashi.
Chef Karimi has spent 16 years in the hospitality industry and cooked for then prime minister Manmohan Singh, the late Sultan Qaboos of Oman and Charles III, when he was the prince of Wales.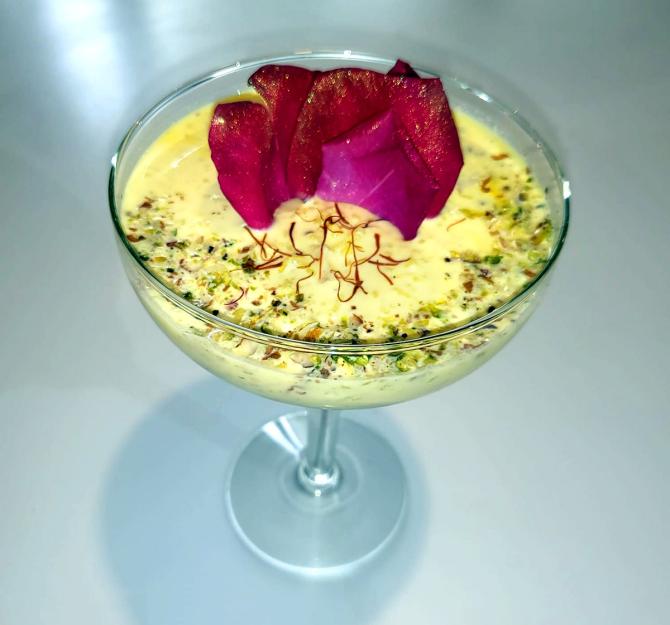 Rice Kheer
Serves: 4
Ingredients
½ cup long grain rice
½ cup sugar
Pinch kesar or saffron
1 tbsp warm milk, for soaking the saffron
3 cups full-fat milk
2 tbsp ghee
1 cup water
1 lavang or clove
2 green elaichi or cardamom
Small stick dalcheeni or cinnamon
¼ tbsp chopped almonds
¼ tbsp raisins
¼ tbsp broken cashews
¼ tbsp chopped pistachios
Rose petals, to garnish
Method
Wash the rice well and drain the excess water.
Keep aside.
Soak the saffron in a bowl with 1 tbsp warm milk.
Keep aside.
Heat ghee in a kadhai or frying pan over low heat.
Add the raisins and the cashews.
Fry, stirring continuously, so they don't burn, until golden brown.
Take off heat and keep aside.
In a large kadhai or saucepan, add the washed and drained rice.
Fry for a few minutes.
Add the green elaichi, dalcheeni and the clove.
Add the milk, water and the saffron milk.
Cook the kheer over medium heat.
Add the sugar and continue cooking over low heat.
Once the sugar melts and the kheer thickens, take off heat.
Remove the clove and the elaichi.
Serve the kheer either warm or chilled.
Just before serving, add in the fried raisins and the fried cashews, chopped pistachios, chopped almonds.
Decorate with the rose petals.
Chef Sohail Karimi is the executive chef at the Radisson Blu Resort and Convention Centre, Karjat, near Mumbai.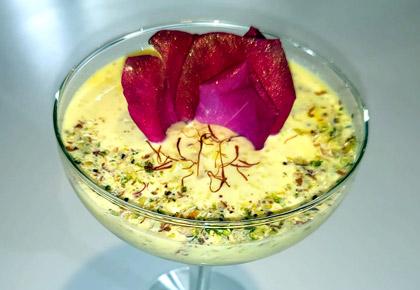 Source: Read Full Article