Even as cement companies continue to announce ambitious expansion plans, analysts turn cautious over the sector as incremental supply is expected to coincide with a weak demand growth period, and other headwinds of higher fuel costs, weak monsoons and general elections.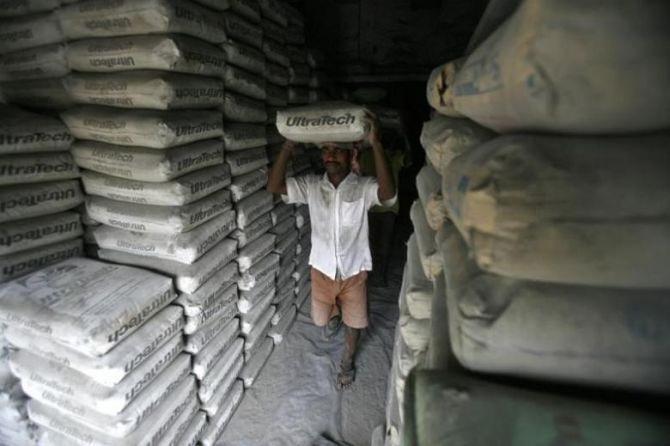 In August, JSW Cement said it will take its current 19 million tonnes (MT) capacity to 60 MT in the next five years.
The country's top producers have massive expansion plans underway – UltraTech Cement targeting 200 MT, Adani Cement aiming for 140 MT and Dalmia Cement planning for 110-130 MT.
Ravleen Sethi – associate director – CARE Ratings estimates an incremental capacity of 85 MT up to FY26 and a capacity utilisation of around 67-69 per cent for that, an indicator of the demand-supply gap.
This addition will coincide with a post-election weakness in demand.
Sethi points out the current year will be the third year of continuous strong growth and demand growth may taper off in FY25, as post general elections the construction activity generally slows down.
"That, however, should be a temporary dip in the growth trajectory," she added.
While, headwinds are imminent, analysts add the timing of it remains to be seen.
"The tailwinds of cost and demand seen are likely to turn into headwinds, what is to be seen is whether there is three to four months time before that happens.
"Concerns on the macro like crude remain, difficult to take a call there," said Satyadeep Jain, analyst with Ambit Capital.
Recent weakness in monsoons have further made analysts cautious on the sector.
"We are cautious on the cement sector due to deficient rains this year and upcoming general elections is likely to result in demand slowdown, operating costs have started inching up from their lows and supply intensity is picking up pace," wrote analysts with Centrum in a September 13 dated report.
Individual homebuilders (IHB)s, prevalent more in semi-urban and rural markets, are an important customer segment for cement producers.
Any potential drop in farm income has a direct impact on demand for cement from these markets.
With the rise in fuel prices, costs for cement companies may also come under pressure, according to analysts.
They point out both imported coal prices and petcoke prices have seen a double-digit rise in growth rates in the last three months.
"Fuel cost, another key factor for the cement sector, continues to exhibit volatility, and hence remains a key monitorable amidst not so strong pricing scenarios in the industry," said Sethi.
Pressure to pass on increase in costs is now playing out in India's eastern market.
"Our interactions with various dealers suggest that cement manufacturers have raised prices by Rs 30-35/bag in the East from the beginning of Sep'23 while there has not been any price hike in other regions until now.
"A further price hike of Rs 30/bag has been announced in a few markets of the East effective from 11th Sep'23," noted analysts with Motilal Oswal in a September 13 report.
The hike taken for the eastern market in September is a drastic change in a short period. As recently as the June-2023 ended quarter, Dalmia Cement, a major supplier to East India, informed analysts it lost market share in the East market owing to a failed attempt at price discipline.
"The East market has seen a drastic change in pricing, with price hikes seen in this quarter. Will it sustain remains to be seen," said Jain from Ambit.
Disclaimer: This article is meant for information purposes only. This article and information do not constitute a distribution, an endorsement, an investment advice, an offer to buy or sell or the solicitation of an offer to buy or sell any securities/schemes or any other financial products/investment products mentioned in this article to influence the opinion or behaviour of the investors/recipients.
Any use of the information/any investment and investment related decisions of the investors/recipients are at their sole discretion and risk. Any advice herein is made on a general basis and does not take into account the specific investment objectives of the specific person or group of persons. Opinions expressed herein are subject to change without notice.
Source: Read Full Article