The Akshay Kumar starrrer 'Mission Raniganj: The Great Bharat Rescue' has been released in cinemas. Upon release, it has been opened with fantastic word of mouth and is also the best-reviewed film of the year. The fans and the audience are loving the performance of Akshay Kumar in an as Jaswant Singh Gill. Since the whole nation is celebrating 'National Cinema Day' on October 13th this year, the love for the film has continued to grip the audience.
It is to be noted that on 'National Cinema Day' the ticket rates will be flat at 99 rupees across all the national chains: PVR, Cinepolis, and INOX combined. Taking this into consideration, audiences are flocking in large numbers to watch the story of the unsung hero of the nation, Jaswant Singh Gill. The shows of the film are also getting filled faster everywhere, and with the approach of National Cinema Day, this is the best chance for the audiences to watch the marvelous film with their entire family.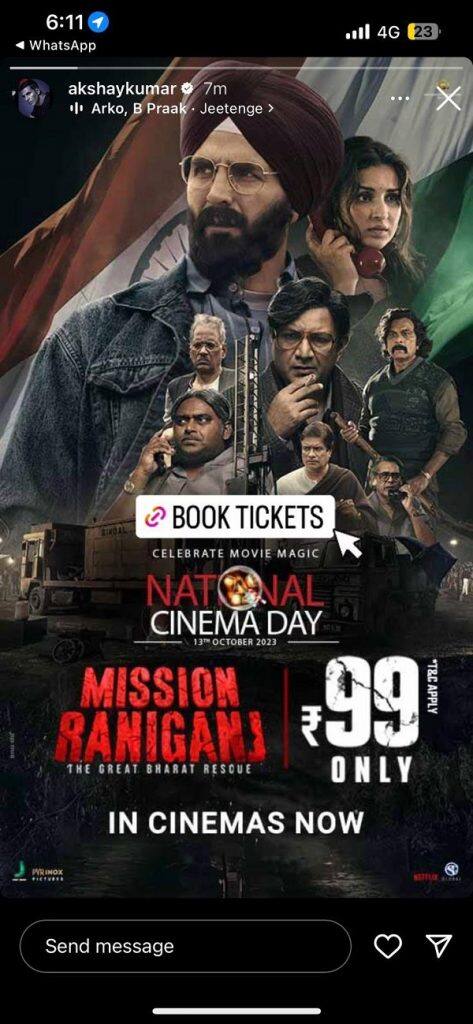 Trending Now
The film continues to be the masses choice, and with the initiative of National Cinema Day, a large chunk of the audience will get to watch the inspiring, motivational, and emotionally moving story of the nation's hero who rescued 65 coal mine workers.
Watch this entertainment news video on Mission Raniganj here:
Mission Raniganj: The Great Bharat Rescue, directed by Tinu Suresh Desai, showcases the relentless dedication of the rescue team, led by Jaswant Singh Gill, and is now screening in cinemas.
'+liveblog_title+'
Source: Read Full Article