'These crimes have left a dark mark on my thoughts and conscience.'
Nikhil Nagesh Bhat wants his stories to reach as many people as possible because he feels they are important.
One of the reasons is because they deal with crime and violence, and people need to be aware as it could happen to *anybody*.
The director has made Karan Johar not only sit up and notice him but also produce 'the most violent film in India'.
But before that, Bhat gives us Apurva, which has Tara Sutaria play a girl-next-door, who gets kidnapped and faces the worst ordeal of her life.
Bhat tells Patcy N/Rediff.com, "People who commit these crimes look like ordinary people. They don't have huge scars on their faces. They are normal people."
What inspired you to write Apurva?
I wrote this script around 2009-2010.
Unfortunately, at that time, and even today, there have been so many instances of crime against women.
It is one of the primary reasons that nudged me to write.
I have been brought up in Patna and unfortunately, these kinds of crimes are more in the north-east side of our country.
When I was growing up, there have been a lot of cases like this. Thankfully, they have reduced now but still not over.
These crimes have left a dark mark on my thoughts and conscience.
The second reason, when you watch the film, you will see that Apurva has hopes and dreams of getting married and living a good life. Everything is going great when suddenly one instance changes her entire life.
This can happen to anybody.
She's a girl next door. She's been protected all her life, a very normal girl, but when she's put in such extreme circumstances, she stands up. That is what the film is about.
She's a woman with a voice and she doesn't stand just for herself but for other people too.
Did you have any actor in mind when you wrote this film? Why did it take you so much time to make it?
Typically, when I write my scripts, I don't put a face to the character.
The logical reason is we don't know these actors in real life.
We know actors from their films and their characters in them.
So there was a casting process.
But the reason why it took so much of time was at that time when I'd written the script… unfortunately, I don't like to say this but this is a woman-centric film. There were hardly films made with a female protagonist at that time.
The producers I used to meet would say that you need to introduce a hero, who will be the saviour and come to her aid.
But this is her story.
I did not want to make any changes.
Thankfully, when I met Disney+Hotstar, they bought the vision I was bringing.
Why did you sign Tara Sutaria? What made you think she could pull off a role like this?
When I met Tara and narrated the story to her, I could see that her body was responding to the story — she was so engrossed and taken in.
Her expressions were constantly changing, as if it was happening to her personally.
Even after that, when we spoke about it, she got the story as if it was her own.
That was one of the biggest reasons why we cast Tara.
Secondly, there are two portions in the story. She's a normal girl-next-door, who is pretty and looks like she will be weak.
But she's put into that situation and she comes out with such a strong force. You don't expect that.
Even the goons in the film — played by Abhishek Banerjee, Rajpal Yadav, Sumit Gulati and Aaditya Gupta — think she is very weak and won't put up any resistance.
When I met Tara, it changed the way I was looking at Apurva.
She just fit in the process.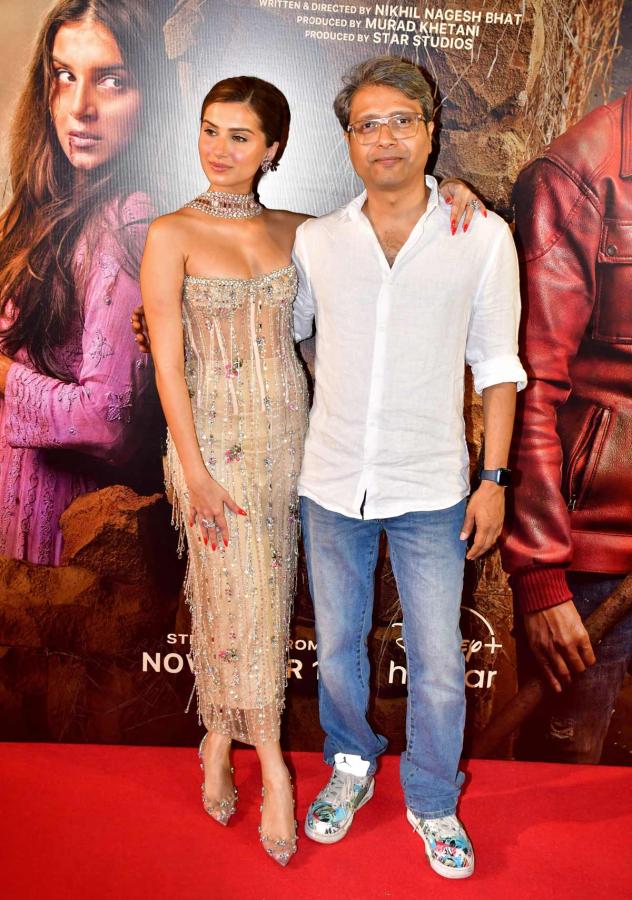 This thriller has a lot of action. How did Tara cope?
We were shooting in a place called Kuldhara 40 kilometres away from Jaisalmer.
The terrain is very hostile. It was full of gravel, shrubs, thorns, everything… There were snakes and scorpions too.
The days were very hot and the nights were very cold; we were shooting last November.
Tara had to run bare feet and no matter how much you clear the path, certain things you just can't (avoid). She would get injured everyday.
There was also a lot of dragging, lifting and falling.
Her shoulder got dislocated two-three times.
Not just her, Rajpal (Yadav) sir got hit in the back.
Abhishek (Banerjee) had a sore neck.
I'm blessed that these actors put themselves out there and did everything on their own.
There was no way we could use a body double; they did everything by themselves.
Tara and I did a lot of prep in terms of discussing the character and its world.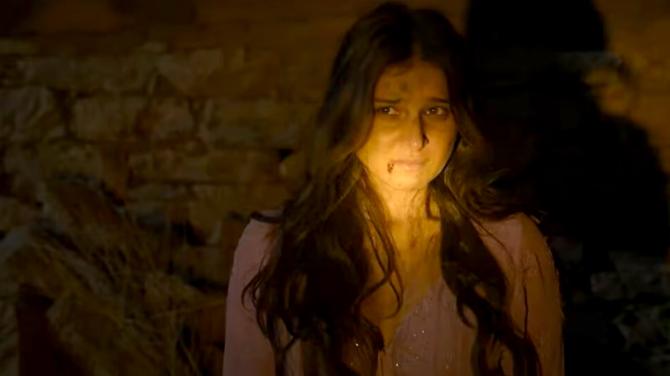 After Pataal Lok, Abhishek makes a brilliant villain. Rajpal Yadav is mostly seen in comedy roles. How did you choose your villains?
People who look innocent make the greatest villains.
Pransaab was so handsome, but I don't think we had a more devilish villain in cinema history.
Rajpal sir has been doing comedy for a long time and the moment you cast him in such a role, people will expect him to be comic again. But they will get the shock of their life!
People who commit these crimes look like ordinary people.
They don't have huge scars on their faces. They are normal people.
I told Rajpal sir, 'You don't need to smile in the film.'
He thought I was joking.
Abhishek's last few films are Stree and Bhediyanwhere he is doing comic roles. He looks so innocent.
But in this film, he is so menacing, it looks amazing.
The other two (kidnappers) are Sumit (Gulati) and Aaditya (Gupta).
Sumit looks cute and pudgy and you want to hug him, but in this film, you would not want to be around him.
Aaditya looks innocent too. He looks like a character who was picked up by these people to run errands, but he's actually one of them.
Why did you release your film on the OTT platform?
My first film Brij Mohan Amar Rahe was on Netflix and I have seen the kind of reach they have. A platform like Disney+Hotstar has about 14 million.
It has a reach beyond India. It's in North America, Southeast Asia… it travels to so many countries.
A story like this should travel because it needs to be told.
It needs to reach people.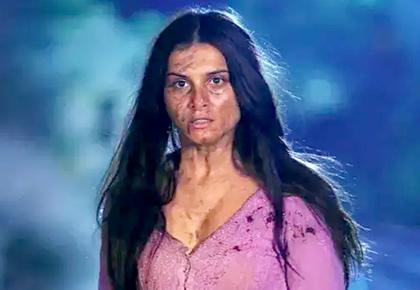 Source: Read Full Article